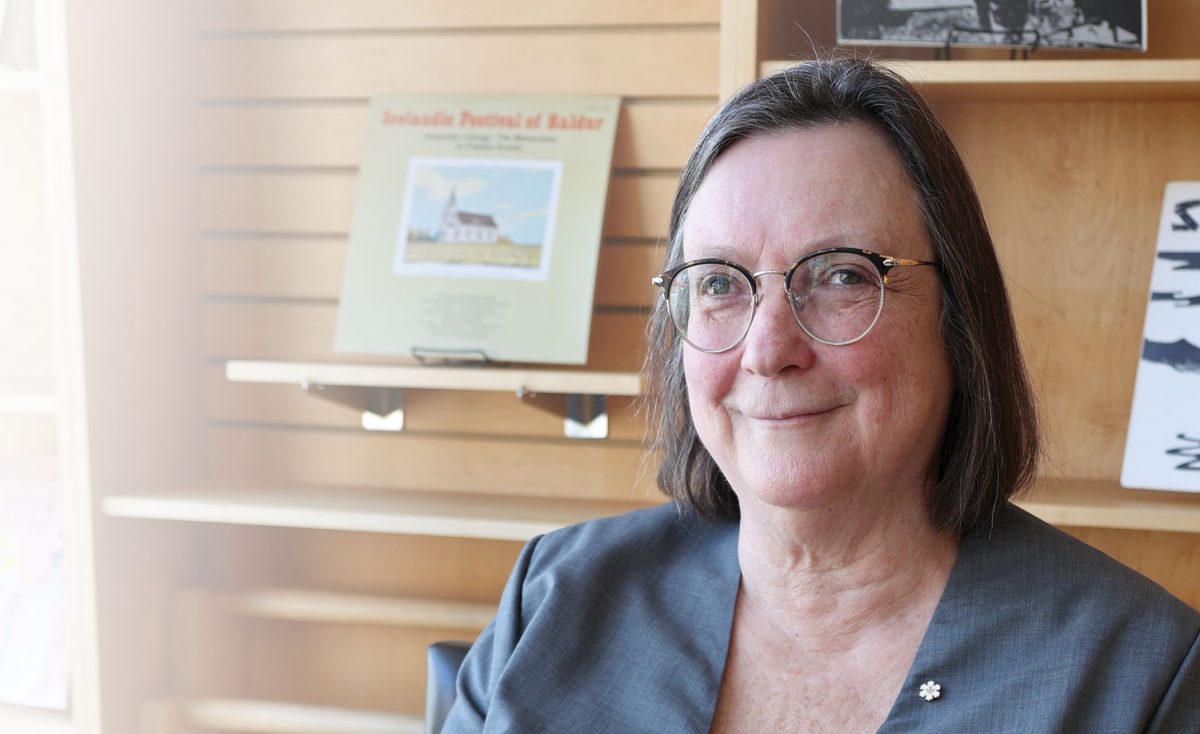 Meet Evelyn Forget, the 2022 Dr. John M. Bowman Memorial Winnipeg Rh Award winner
May 26, 2023 —
Evelyn L Forget is a professor of community health sciences at the Max Rady College of Medicine and is Academic Director at the Manitoba Research Data Centre. As a health economist, she has gained international renown for advancing anti-poverty initiatives such as guaranteed basic income.
Forget is the recipient of the 2022 Dr. John M. Bowman Memorial Winnipeg Rh Institute Foundation Award in recognition of the important impacts of her work to improve the lives of Canadians living in poverty. Her book "Basic Income for Canadians" was republished in 2020 with a new focus on the impacts of the COVID-19 pandemic. She also published "Radical Trust: Basic Income for Complicated Lives", with co-authored with Hannah Owczar in 2021. She is a Fellow of the Royal Society, and an Officer of the Order of Canada. UM Today caught up with her recently to learn more about her research.
Tell us a bit about yourself and your research.
I originally became an economist almost by accident. I was an undergrad in the mid-1970s in Toronto, at Glendon College, which is part of York University. Like other universities, York had distribution requirements, and so I found myself in need of another social science and the only thing that fit my timetable was economics. At the time, economics seemed like the discipline of the establishment. I was a psychology major, and I hesitated for a good long time.
So, I was really dreading it, but the professor introduced this experiment that was going on called Mincome. It was a basic income experiment that took place in Winnipeg and Dauphin, Manitoba. I was completely taken aback because I was expecting all this talk about inflation and interest rates and instead, we're talking about people and revolutionizing social programs. Like a lot of students at that time, I thought that maybe we could use the tools of economics to bring about some real social change – to use economics to make the lives of ordinary people a bit better. So, I changed my major from psychology to economics.
My first tenure track job was at the University of Winnipeg and then I was recruited to UM. I was in the economics department here for a long time, and I was working primarily in the history and philosophy of the discipline. In 2000, I transferred to Community Health Sciences and began working in health economics. It doesn't take very long in this environment to recognize that we spend a lot of time trying to deal with the consequences of poverty through the healthcare system and so my interest returned to better, more efficient, and more dignified ways to address poverty and, by addressing poverty, to bring about better population health.
Why is this research important?
In Canada we have a lot of different programs to address poverty, but they're disjointed; people fall through the gaps. People who need help are forced to apply separately for each different program; each program has different eligibility requirements and different processes for accessing them. Sometimes participating in one program makes you ineligible for another, and you find yourself being asked to return money you've already spent trying to buy groceries or shoes for your kids. Very few people actually receive all of the support to which they are entitled because the system is so complex and difficult to access. All kinds of terrible things happen, and so one of the things that basic income does is to try to clean it up. If we had basic income, people could access support in a coherent way, and that would ensure that they have the resources they need to live with dignity and to think beyond just putting food on the table. And, for those of us who think a lot about the social and structural determinants of health, a society in which everyone has enough money to meet their needs is a game-changer.
What does the Rh Award mean to you?
The Rh Awards are a wonderful recognition, especially for the many people that have contributed to projects like mine over the years. I work very closely with students and colleagues across Canada and around the world, so it's not just an individual award. It's been a long time coming, but we've made progress and we continue to make progress. We now have two groups of Canadians with access to a basic income – families with kids under 18 who receive the Canada Child Benefit, and seniors who receive OAS and, if they qualify, the Guaranteed Income Supplement. Programs for people with disabilities are slowly being transformed into something like a basic income. Some of the pilots around the world are being made permanent. We're making progress.
This award recognizes the progress that sometimes seems so elusive.
What do you hope to achieve in the future?
We need a basic income for working-age Canadians.
The gaps that still exist are mainly for working age adults and that's what our focus has been on most recently. It's not hard to see that poverty plays a big role in health and, especially, the development of chronic conditions. I'd like to see all Canadians have access to the resources they need to live decent lives.
What about you would people find surprising?
I'm a beekeeper, maybe that's a surprise?
I make honey. One of the cool things about keeping bees is — I'm not a patient person, but you can't be impatient when you're dealing with bees because, you know, they'll attack. One of the things you really need to do is calm yourself when you walk into the center of it. You can understand why monasteries and convents used to keep bees, there is a very strong spiritual dimension to it. I have little land in the Interlake close to Gimli, and my bees like it very much.
Any advice for early career researchers and students?
I think one of the things that you become aware of as you go through life as an academic is that things happen to you over which you have no control. All you can do is — I'm going to use this huge cliche here – to play the hand you're dealt. But play it.
I'm not arguing that you just passively accept whatever comes your way, but we're all operating under constraints and those constraints change over time. I think you need to be alert to the opportunities that emerge and move forward on that basis. Don't stop moving, keep playing your cards.
Research at the University of Manitoba is partially supported by funding from the Government of Canada Research Support Fund.