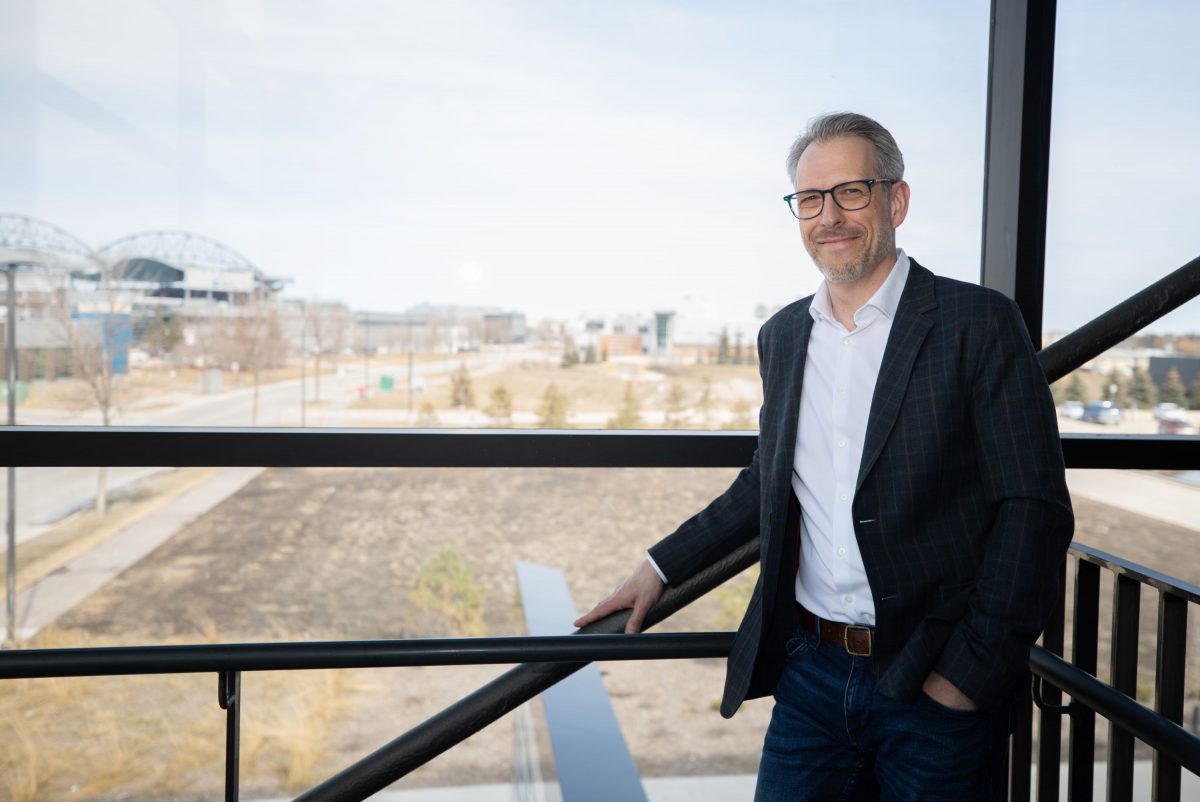 Meet Dr. Hans-Joachim Wieden, UM's new AVP Partnerships, Knowledge Mobilization, and Innovation
May 1, 2023 —
This week Dr. Hans-Joachim Wieden takes office as UM's new Associate Vice-President (Partnerships, Knowledge Mobilization, and Innovation) for the period of May 1st, 2023 to April 30, 2028.
Within the portfolio of the Vice-President (Research & International) (VPRI), the office of Partnerships, Knowledge Mobilization, and Innovation is dedicated to supporting the deployment of UM's research and scholarly activity. This means among others, supporting researchers with the patent process for their inventions and facilitating trans-disciplinary partnerships beyond academic circles, locally and internationally, with industry investors and other community stakeholders.
Wieden is a professor in the UM Department of Microbiology and serves as the Lead for Biosciences Entrepreneurship and Industry Partnerships in the Faculty of Science, and as President of the Canadian Society for Molecular Bioscience. Wieden is a widely published innovator on the topics of synthetic biology, next-generation sequencing, and biomolecular design. During his decades-long career he has secured more than $11 million in federal funding, including the development of an industry partnered training program in RNA innovation and to establish a synthetic biology/life science maker space.
"Dr. Wieden has demonstrated a strong commitment to establishing self-sustaining initiatives to foster deeper collaboration between university researchers and external partners," says Dr. Mario Pinto, Vice-President (Research & International). "He brings a maturity with respect to equity, diversity, and inclusion, and was previously engaged in a process to Indigenize curriculum at the University of Lethbridge. Please join me in extending congratulations to Dr. Wieden on his appointment, I very much look forward to working with him as part of the VPRI team."
Hans-Joachim (H-J) Wieden came to Canada in 2005 from his home in Solingen, Germany, where he was the first member of his family to attend university. His Canadian career began with the University of Lethbridge where he was recruited as a Canada Research Chair in Physical Biochemistry, and where he was the founding director of the Alberta RNA Research and Training Institute. During his time at the University of Lethbridge he was awarded a prestigious Alberta Innovates Strategic Research Chair and a Tier I Board of Governors Research Chair in Biomolecular Design and Function. He is a founding member of the RNA Canada/Canadian Consortium for RNA.
Dr. Wieden's interest in policy development and societal impact of research and innovation is reflected in his work on Dual Use of Research and the Nuclear Threat Initiative (NTI:Bio), the latter is funded by Open Philanthropy and Melinda Gates Foundation. In Lethbridge, Wieden was also involved in the fundraising, design, and construction of the $280M Science and Academic building, combining academic training with providing cross-disciplinary collision and innovation spaces similar to UM's Smartpark. His knack for entrepreneurship and student driven commercialization is reflected in the fact that several of his own graduate students have successful launched businesses.
"I am thrilled to take on the challenge of this new position," says Hans-Joachim Wieden. "I believe that students are the drivers of change, and we can best prepare them with a solid world-class academic training and a focus on their careers, rather than degrees, as part of a life-long learning model. To address pressing global and societal challenges such as climate change and Indigenous Reconciliation, we need to empower entrepreneurs and innovators across disciplines and the whole academic spectrum to further develop and deploy their ideas and innovations."
Wieden joins Pinto's team with Dr. Annemieke Farenhorst, who has served as Associate Vice-President since July 1, 2021.
Research at the University of Manitoba is partially supported by funding from the Government of Canada Research Support Fund.