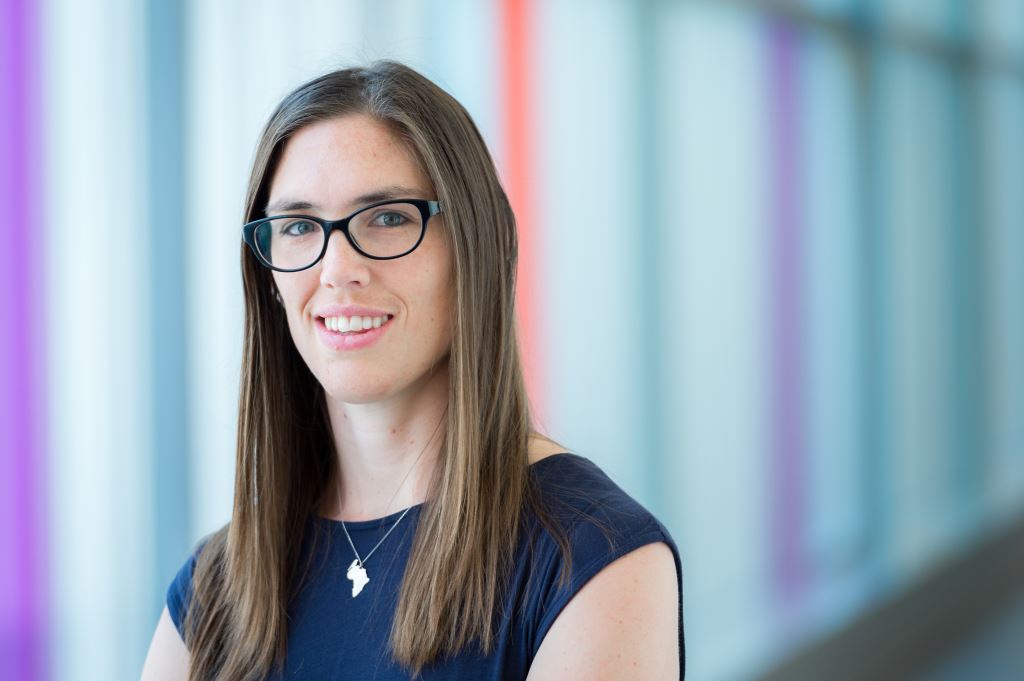 Meet Britt Drӧgemӧller, the new Canada Research Chair in Pharmacogenomics and Precision Medicine.
December 16, 2020 —
Britt Drӧgemӧller, the new UM Canada Research Chair (CRC) in Pharmacogenomics and Precision Medicine joined the UM in April as an assistant professor, biochemistry and medical genetics, Max Rady College of Medicine, Rady Faculty of Health Sciences. She is also a member of the Children's Hospital Research Institute of Manitoba and the Research Institute in Oncology and Hematology (a joint institute of the UM and CancerCare Manitoba). She was awarded a Tier 2 CRC, which comes with $500,000 in funding over five years, from the Canadian Institutes of Health Research. UM Today caught up with her to learn a bit about her and the research she is undertaking.
Tell us about your research
Advances in modern medicine have transformed the treatment of disease. Unfortunately, the life-saving properties of therapeutic drugs often come at a cost, and many patients will experience severe, and sometimes lethal, adverse drug reactions as a result of these treatments. My research uses large-scale genomic data to identify genetic variants that contribute to the undesirable outcomes of medications. This genetic information can be used to guide the development of safer and more effective medications and can inform the selection of personalized treatments. I will focus specifically on vulnerable and understudied populations, such as pediatric and maternal populations, as therapeutic drugs are often not designed with these populations in mind. By reducing the adverse effects of therapeutic treatments, my lab aims to reduce the burdens placed on Canadians, who are already suffering the devastating consequences of the diseases that they are being treated for.
Tell us a bit about yourself.
Prior to joining UM in 2020, I completed a PhD at Stellenbosch University in South Africa and travelled more or less to the opposite side of the world to take up a position as a postdoctoral fellow in the Canadian Pharmacogenomics Network for Drug Safety at the University of British Columbia. There are many things that attracted me to the University of Manitoba, including the growing focus on data science initiatives, the passionate community of new investigators, the wealth of research expertise in my department and the supportive and collaborative environment that is characteristic of the university. As an added bonus, the sunsets in Winnipeg are phenomenal, and I look forward to exploring the city more in the coming years!
What does CRC funding mean to you as a researcher?
Receiving the CRC funding will open up many opportunities for me and provide me with the resources to generate genomic data that can be used to uncover meaningful findings that can ultimately be translated into the clinic. It also provideds me with opportunities to hire talented and diverse individuals to join my lab, which is something I am particularly excited about. Through this award, I hope to create awareness about the research that I am performing, and in so doing, improve health outcomes in Canada and the rest of the world.
How did you feel when you learned you were awarded your CRC?
I was truly honoured and humbled to receive this award. While my journey as an independent investigator is just beginning, I have only reached this point in my career by collaborating with, and receiving mentorship from, many talented researchers from across Canada and the globe. It is my hope that this CRC will provide me with the resources to provide future young scientists with opportunities to embark on their own independent and successful careers.
What inspires you? Who is your research role model, or someone who has inspired your work, and why?
Throughout my career, I have had the privilege of working with many people who inspire me. My undergraduate genetics lecturers steered me towards a career in genomics research and my PhD supervisor, Prof. Louise Warnich, played an important role in solidifying my passion for research and human genomics. Beyond this, each mentor and colleague that I have worked with has taught me something new. I am also fortunate to be married to a fellow genomics researcher (Dr. Galen Wright, also a recent CRC awardee at UM) and the conversations that we have about our research is something that provides constant inspiration.
What about you would people find surprising?
When I am not sitting in front of my computer trying to uncover new links between genetics and human disease, I love exploring the outdoors. I am an adventurer at heart and enjoy camping and travelling (pre-COVID) to new and remote places. The longest camping trip I have been on was 27 days and consisted of hiking, cycling and canoeing through different parts of South Africa. I have camped in various places in Africa, Europe and North America and am extremely excited to begin exploring Manitoba.
Do you have any advice for students/young grad students starting their career?
Surround yourself with people that inspire you and take the opportunity to learn as much as you can from them. Collaborate and build connections with people outside of your immediate research environment. Join networks and expose yourself to diverse aspects of research. Don't be discouraged by inevitable rejections or failures – they can lead to new discoveries and opportunities. Although the obstacles that you encounter along the way can be frustrating, solving these problems is ultimately the most rewarding aspect of research.
Research at the University of Manitoba is partially supported by funding from the Government of Canada Research Support Fund.