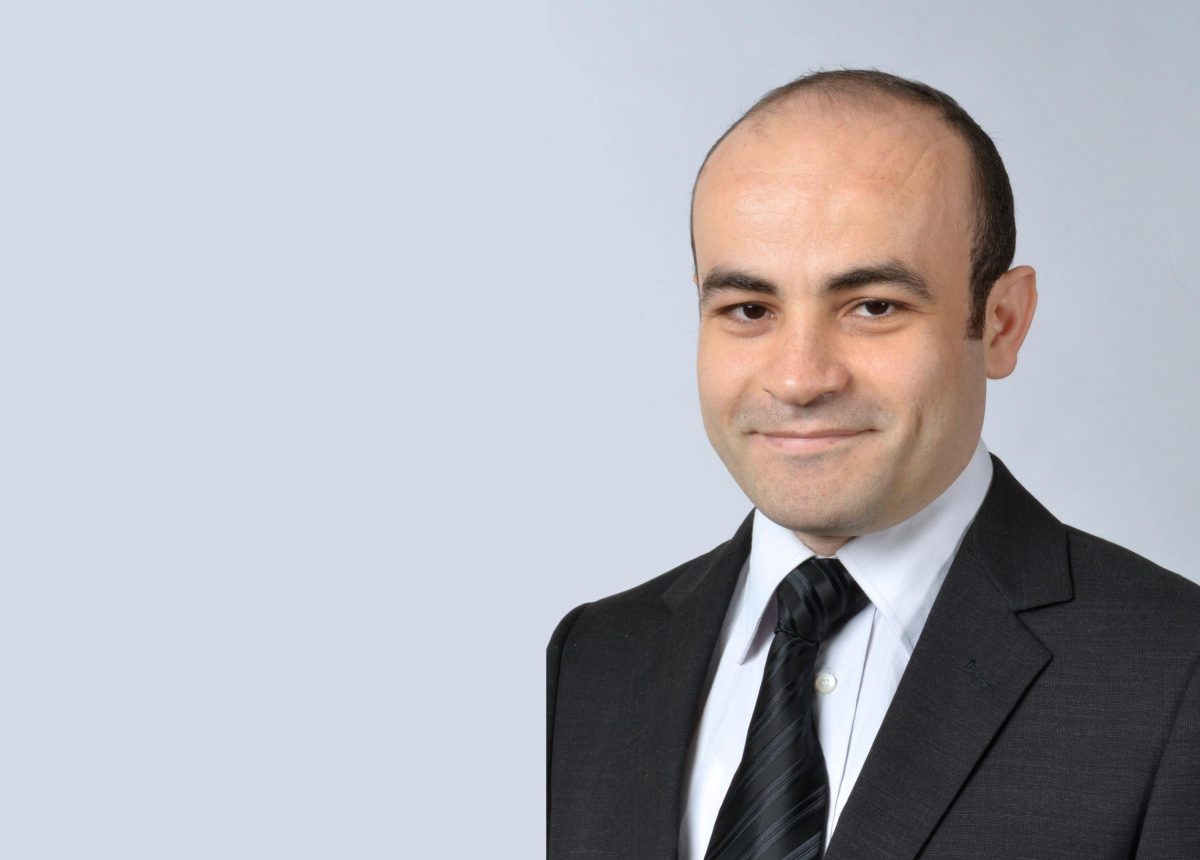 Meet Amine Mezghani, 2022 Rh Award Winner in the Applied Science category
May 26, 2023 —
Amine Mezghani is an assistant professor in the department of electrical and computer engineering who researches signal processing in wireless communication. He is particularly interested in developing new techniques to address the challenges posed by the growing complexity of data transmission.
Mezghani is the 2022 recipient of the Terry G. Falconer Memorial Rh Institute Foundation Emerging Researcher Award in the Applied Science category, in recognition of his innovative work to enhance the capacity, efficiency and sustainability of wireless communication systems. UM Today caught up with Mezghani to learn more about him and the research he is undertaking.
Tell us a bit about yourself and your research.
My research focuses on the design and development of future wireless communication systems and cellular networks, and my research team is part of the communication laboratory at the electrical and computer engineering department.
We are interested in improving the performance and efficiency of wireless communication systems to meet the growing demand for reliable and high-speed wireless connectivity. We are also exploring new, innovative ways to reduce the carbon footprint of wireless networks and make them more sustainable. We are also interested in the application of wireless communication in various domains, such as robotics, health care, transportation and the Internet of Things.
In addition to my research, I enjoy mentoring students and encouraging them to explore all of these fascinating applications of wireless communication.
Why is this research important?
The world is increasingly reliant on digital technologies, and the demand for high-speed, resilient connectivity is growing exponentially. The COVID-19 pandemic has accelerated this trend. Wireless communication is almost everywhere, and we take being connected for granted, from remote work to telemedicine to online education. High-quality broadband connectivity has become essential for many use cases, and it's expected to be more and more critical for our future societies and economies.
What does the Rh Award mean to you?
This award is validation not just for my own work but also for all the people, colleagues and students who have been instrumental in helping me. It also motivates me to continue pushing boundaries and looking for excellence.
This award also provides a platform for me to work on a new vision for future wireless communication systems, particularly in terms of sustainability and energy efficiency. I'm truly grateful for this recognition, and I will continue to work towards making a meaningful impact in my research category.
What do you hope to achieve in the future?
In terms of research, I would like to contribute to the creation of a sustainable communication infrastructure which has much less impact on our environment and our cities. I would like to address the fundamental challenge of connectivity in rural areas and universal coverage by developing low-cost, energy-efficient solutions for wireless networks, which I think is going to be critical to bridge the digital divide problem. What would make me feel very proud in the future is, of course, to see my current graduate students succeeding, flourishing and becoming leaders in the industry and academia.
What about you would people find surprising?
I have lived in five different countries on three different continents—Tunisia, Germany, France, United States and Canada. It has been an incredible experience getting to know different languages, different ways of life, and that definitely shaped the way I am today.
Any advice for early career researchers and students?
Finding a topic that you are very passionate about can make a lot of difference in your work. When you are passionate about your work, about your topic, you are more likely to be curious, persistent and motivated to overcome the challenges that generally come with any research activity, because we are somehow trying to do something that nobody did before.
I also think that engagement in interdisciplinary research and collaboration can offer opportunities for more creative and original research outcomes. Working on the interface between different domains might be challenging because it requires leaving our comfort zones and working with colleagues from different disciplines, but it can also be very rewarding because most original ideas and interesting problems are somewhere in the interface between different areas.
Research at the University of Manitoba is partially supported by funding from the Government of Canada Research Support Fund.