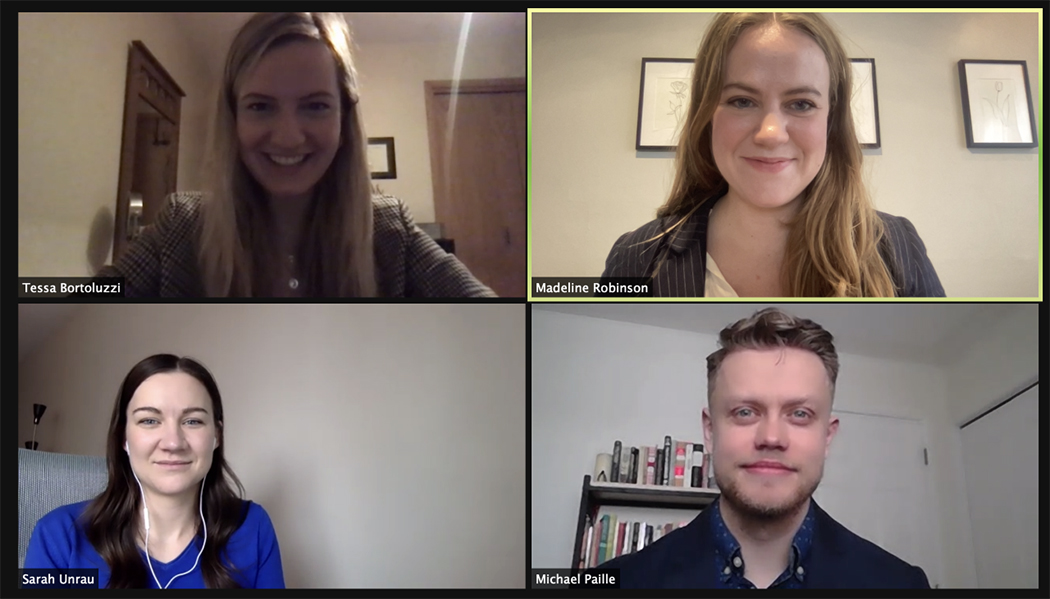 Medical students lobby province for universal coverage of contraception
April 22, 2021 —
A group of Max Rady College of Medicine students is calling on the provincial government to implement universal coverage of all contraception for Manitobans.
Members of the Manitoba Medical Students' Association's (MMSA) student advocacy committee met with representatives from Manitoba's three main political parties last week as part of its Provincial Day of Action. Each year, the committee chooses a health-related issue and lobbies the Manitoba government for change.
'ÄúWith improper access to contraception we end up having a lot of unplanned pregnancies which cause a lot of emotional, financial and physical stress for patients,'ÄĚ said Kitty Toews, a second-year medical student and the MLA representative for MMSA'Äôs student advocacy committee. 'ÄúIt also leads to patients receiving less prenatal care because they hadn'Äôt planned on pregnancy.'ÄĚ
But Toews said that contraception has many health benefits beyond preventing pregnancies. She said that contraception is used to treat health conditions such as painful menstrual bleeding, endometriosis and acne, and can help to prevent against several gynecological cancers.
The medical students asked members of the governing Progressive Conservative Party of Manitoba to match what other provinces are doing. Michael Paille, a second-year medical student, co-chair of MMSA's student advocacy committee, and the government affairs and advocacy committee representative for the Canadian Federation of Medical Students, said that Ontario provides comprehensive pharmaceutical coverage of all individuals below the age of 25 and Quebec has coverage of contraception for people below the age of 25 if their parents are registered with the provincial pharmaceutical plan.
Paille said the Progressive Conservative representatives they met with on April 15 were enthusiastic and impressed by the level of research the students presented. Families Minister Rochelle Squires said she would like to meet with the students again.
'ÄúWe hope the government will take our request seriously, study it and make sure it makes sense to enact in Manitoba,'ÄĚ Paille said. 'ÄúThe best next step would be to match what other provinces are doing and to cover contraception for all individuals under the age of 25 in Manitoba immediately.'ÄĚ
Alyssa Kidd, a second-year medical student and media communications lead for the MMSA's student advocacy committee, said the Manitoba NDP representatives were receptive and sympathetic to their cause as well. Toews said the Manitoba Liberal Party representatives were extremely supportive and encouraging.
'ÄúBeing a part of this committee, I really wanted to get the experience of what it means to advocate on a higher level,'ÄĚ Kidd said. 'ÄúDoctors advocate for their patients every day as individuals. We'Äôre always told that we need to learn to advocate at a policy decision level. I think this has given me some great experience.'ÄĚ
Paille said that it might be difficult to convince some people of the merits of preventative medicine, but the evidence strongly supports preventative medicine like contraception.
'ÄúWith the health-care system under strain, we need to find other ways to improve the health of Manitobans that isn'Äôt just waiting until they get sick,'ÄĚ Paille said. 'ÄúContraception is not just a women'Äôs issue, but it'Äôs a universal issue for all Manitobans.'ÄĚ
The MMSA student advocacy committee is asking people to join its public letter writing campaign.