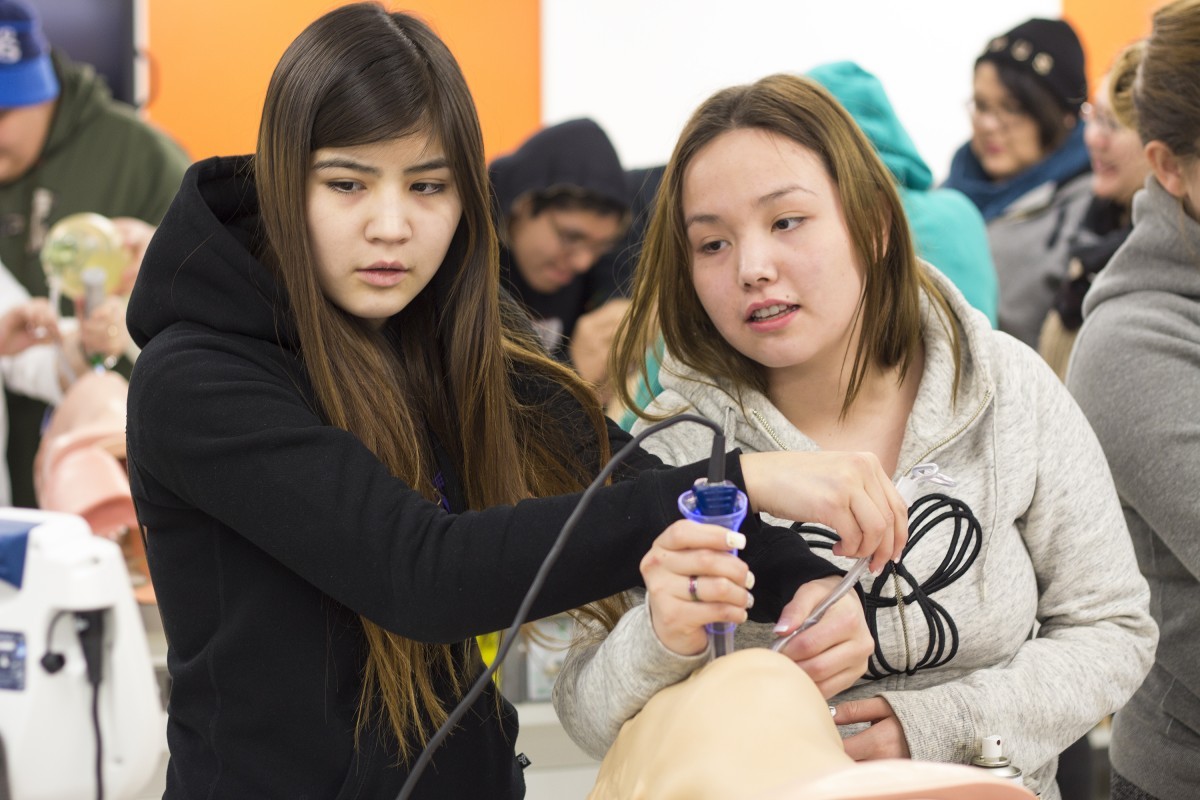 Medical and science research inspires First Nations youth
February 24, 2015 —
Nearly 40 students from eight First Nations communities across the province spent an afternoon at the Faculty of Health Sciences, University of Manitoba last week learning about biomedical science and participating in hands on activities with the College of Medicine's state-of-the-art simulation equipment.
As part of the Advanced Senior High Science Mentorship and Symposium program, the students, ranging from grades 8 to 12, engaged in a variety of research activities over a three day period, including a visit to Oak Hammock Marsh, working with librarians at the Fort Garry campus and spending time with researchers from the Lake Winnipeg Research Consortium.
Students also visited the Clinical Skills Lab at the Bannatyne campus, where they were able to learn about various diagnostic tests and treatments, such as cast application to fractures; operating room triage and basic surgery techniques in the simulation centre.
One of those students, Katelyn Blaise Spence, from Sandy Bay First Nation, has a personal interest in pursuing health care as a career path.
"At one time I wanted to be a neurologist because a lot of my family has been sick and suffered from strokes and heart attacks," the Grade 11 student said. "I want to have a future career in medicine and hopefully become a nurse practitioner."
For Rudy Subedar, integrated programs manager for the Manitoba First Nations Education Resource Centre (MFNERC) and coordinator of the program, the interest of young students like Spence makes the program worthwhile.
"The purpose of coming to the Skills Lab achieves two ends," Subedar says. "On the one hand, students with an interest in health or human anatomy get some hands on experience and a look at how health care is done in the real world. Secondly, students get exposure to the facility, to the environment and to the kind of training that medical students go through. It broadens their horizons and opens up their realm of thinking in terms of career and university opportunities."
Dr. Rob Brown, medical director, Clinical Learning & Simulation, College of Medicine provided a highlight of the afternoon when he demonstrated how to perform CPR on a robotic patient – and invited students to give it a try. Many enthusiastically took pointers on correct form before attempting it on the robotic patient – happy when they succeeded.
Dr. James Gilchrist, director, Biomedical Youth Program (BYP), Faculty of Health Sciences gave students an overview of BYP and the Inner-City Science Centre, shared some of his life story, and  encouraged them to " always question and stay curious."