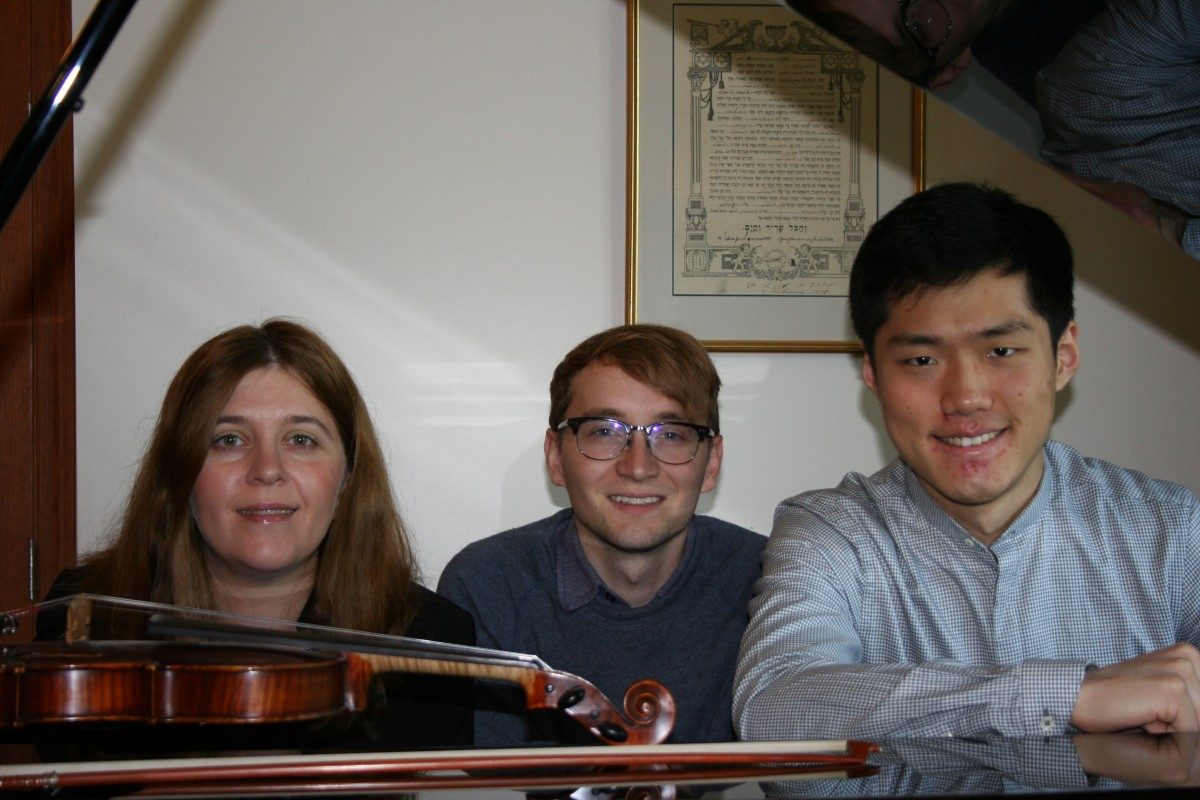 Med students make time for serious music
March 1, 2017 —
When Anna Schwartz enrolled in medical school in the fall of 2015, she was already accustomed to a jam-packed schedule.
She had been an occupational therapist and was a busy mom to six children. But when she met two of her new classmates in the Max Rady College of Medicine, Schwartz discovered a shared passion that would lead to even more commitments.
During the first week of classes, Richard Zhang, a classmate who had grown up in Calgary, posted a video on Facebook of himself performing a Tchaikovsky piano concerto while still in high school. He had won a competition that enabled the winner to perform with an orchestra. That's how Schwartz discovered she wasn't the only member of the class who had studied classical piano seriously enough to consider a musical career.
Schwartz, 37, also learned that she and Zhang, 24, were studying side-by-side with Nicholas Krueger, 28, an accomplished violinist and composer who is originally from Louisiana.
"It was very exciting to find out that there are other musicians in the class," says Schwartz, who grew up playing the piano in Russia and studied for two years as a teenager in a professional piano program at an arts college.
She has found that her two classmates, like her, feel dually devoted to art and medicine. "I love music very much and I never want to stop playing," she says. "But I've always loved math and science."
More than a year ago, the three started performing together and separately at Rady Faculty of Health Sciences events, such as the medical college's annual coffeehouse, teacher recognition dinner and art show gala opening.
Now they've dubbed themselves "Noted Docs" and are set to perform a one-hour concert on March 2 at 2 p.m. at the Rady Jewish Community Centre as part of the Music 'N' Mavens series. Tickets are $11 ($7 for Rady JCC members) at the door.
The performance will include works by Beethoven, Bach, Dvorak, Liszt, Tchaikovsky and other composers. Schwartz's 13-year-old daughter Sheva will make a guest appearance on cello. The group is donating its performance fee to the Max Rady College of Medicine.
Zhang manages to find time to be an accompanist for the Rady To Sing choir on the Bannatyne campus. He practises on an upright piano in his apartment. So far, there have been no noise complaints. "I did have two neighbours ask about piano lessons," he says.
It was difficult to choose between a music career and medicine, Zhang says. "In the end, I chose to go the medicine route more out of pragmatism. But there was never any intention of giving up music.
"I think we, as medical students, recognize the importance of balance and being a whole person throughout our lives."
For Schwartz, whose six kids range in age from six to 16, life is a constant balancing act. Several of her children are serious music students. She has to carve out time for her own practice and supervise theirs.
"It's very difficult to find the time," she says. "But as a mom of kids who are trying to find themselves in math and science subjects as well as music, I think I'm a good example for them to combine what they're passionate about with school."
Schwartz is convinced that music and science reinforce each other. "I believe that developing your musical ability or other arts ability helps you become more creative in the scientific realm," she says.