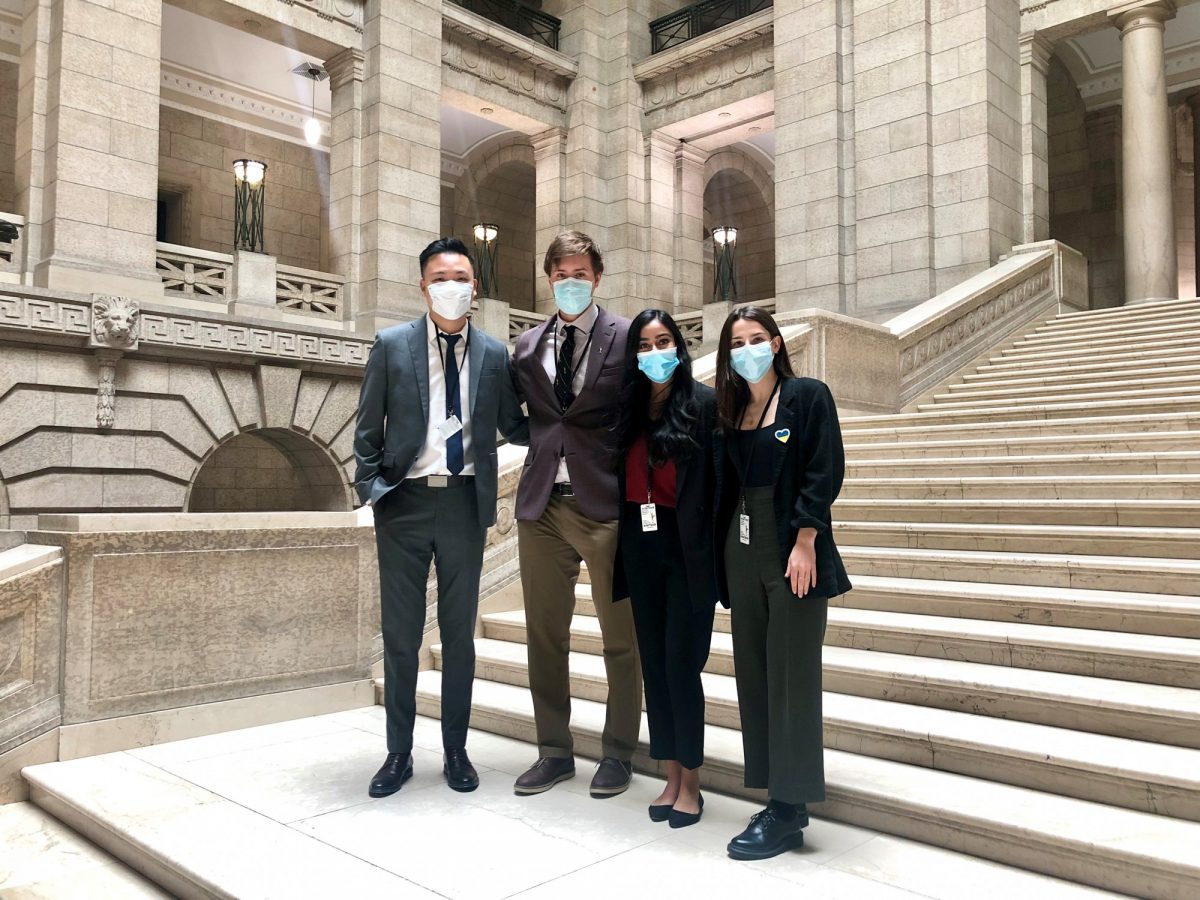 Med students advocate for harm reduction
June 13, 2022 —
Students from the Max Rady College of Medicine spoke with politicians from the New Democratic Party, Liberal party and governing Progressive Conservative party at the legislative building last month to discuss implementing harm reduction strategies in Manitoba as part of their annual Provincial Lobby Day.
Harm reduction aims to reduce negative health impacts when engaging in risky behaviour like drug use. The goal is to prevent overdoses and the spread of bloodborne diseases, not to punish or prevent drug use. Harm reduction can look like safe consumption sites, providing equipment to check if drugs have been contaminated, or access to information on safer drug use.
According to the Manitoba Medical Students' Association (MMSA) student advocacy committee, Manitoba is not meeting the needs of citizens when it comes to harm reduction. While other provinces like Saskatchewan, Alberta and Ontario all have safe consumption sites, Winnipeg still does not.
The advocacy committee has three main asks for the Government of Manitoba: Acknowledging harm reduction as a core tenet of future health plans, funding grassroots community harm reduction efforts, and providing a letter of support for the development of safe consumption sites in Manitoba.
Harm reduction is a topic close to hearts of MMSA government advocacy committee senior Zenia Michno and media and communications strategist Monica Sharma.
Both second-year med students saw first-hand how much Winnipeg citizens needed better access to harm reduction while volunteering for WISH clinic, a student-run health clinic serving people in Point Douglas.
"When I was speaking to people in the community who were looking for naloxone, the need for harm reduction was obvious. I don't think it's talked about enough. It's our collective responsibility to make sure harm reduction is implemented here," says Sharma.
The advocates say stigma around drug use has complicated the process of implementing harm reduction strategies. Some people believe that safe consumption sites may encourage people to use drugs, although Sharma points to evidence to the contrary.
"We know harm reduction saves lives and that's the most important thing. It's about taking small steps toward reducing the harm of taking substances. We know quitting cold turkey doesn't work and leads to higher rates of relapse," says Sharma.
She also notes that harm reduction strategies can prevent hospitalizations, which would take some pressure off a health care system that is struggling due to COVID-19.
Using Saskatchewan as an example, Michno says that when the province implemented a safe injection site in 2020, they saw zero fatal overdoses at the site. In comparison, there were 442 overdose deaths of people in the province who did not have access to the site in the same year.
"There's something we can do to limit the harm of using drugs, and we aren't doing it," says Michno. "Manitoba is lacking when it comes to harm reduction. Money is placed in a vague category of mental health services and community wellness, but there's no delegation for harm reduction and it's being forgotten."
Some of the politicians they spoke to were worried about the resale values of homes decreasing in an area with a safe injection site, which the advocate argued is not as important as saving lives.
This isn't the first year harm reduction has been chosen for Provincial Lobby Day. The two students saw their peers in 2019 advocate for harm reduction as well.
Throughout the pandemic, overdose deaths and opioid use have increased disproportionately in Manitoba. In early 2020, Sharma notes that there was an 87 per cent increase in overdose deaths, with most being related to opioid use compared to 2019.
"There is a need in the community that is not being met. It's important to advocate for what is not being provided in our community. I wanted to get involved as much as I could to help make progress. I think that it's helpful even if it's just us bringing up the topic, again and again, to let the government know this is important," says Michno.