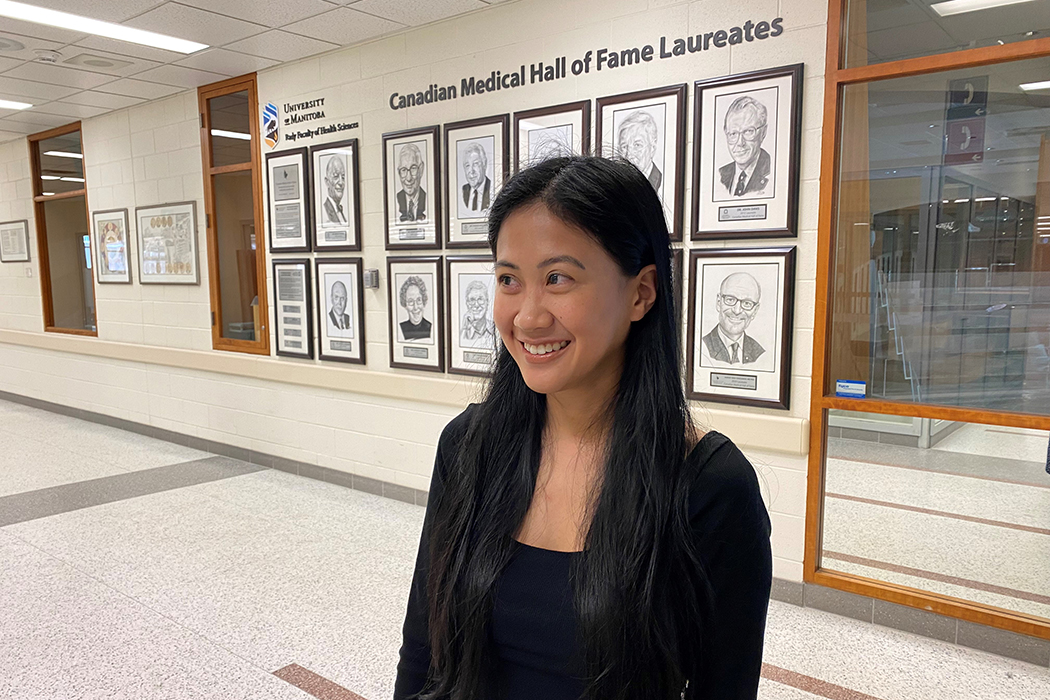 Med student, passionate researcher wins CMHF Award
October 20, 2022 —
Max Rady College of Medicine student Emelissa Valcourt is a winner of the 2022 Canadian Medical Hall of Fame Award.
The honour goes to one second-year student at each Canadian medical school who has an established track record of community leadership, a demonstrated interest in advancing knowledge and superior communication skills.
"The Canadian Medical Hall of Fame Award recognizes medical students who demonstrate qualities similar to that of the Laureates, such as perseverance, collaboration and entrepreneurial spirit," said Lissa Foster, executive director of the Canadian Medical Hall of Fame. "Emelissa Valcourt shows outstanding potential as a future health care innovator through her leadership, community involvement and academic excellence."
The award winners receive a cash prize of $5,000 and a travel subsidy to attend the Canadian Medical Hall of Fame induction ceremony in Halifax, N.S. in June 2023.
"It's an honour to receive the award," Valcourt said. "There are a lot of really strong candidates at our school. We have a class that's so diverse and so qualified, so I am humbled to have won."
Valcourt's passion for science led her to the University of Manitoba, where she earned her bachelor of science in 2014 and her master of science in 2016.
Her master's research in the Max Rady College of Medicine's department of immunology coincided with the 2014 Ebola virus outbreak so she designed a dual-acting vaccine for cost-effective protection against HIV and Ebola. She received several awards for this work, including the prestigious Canadian Institutes of Health Research Canada Graduate Student Scholarship.
After graduation, Valcourt worked for the Public Health Agency of Canada at the National Microbiology Laboratory in Winnipeg. She worked her way up from the role of technician to research biologist.
While with the Public Health Agency of Canada, Valcourt was involved in the national response to several outbreaks. During the Zika virus outbreak, she evaluated diagnostic tests and helped establish a diagnostic algorithm. During the COVID-19 pandemic, she developed a serologic test, which was used to detect protective antibodies in COVID-19 patients throughout Canada.
Valcourt has published more than 24 peer-reviewed articles, including 11 first-author publications.
"I love writing papers," she says. "I love the idea that the little things we discover can contribute to the scientific community."
While she enjoyed working in a lab, Valcourt wanted to do clinical research and see the impact of her work up close, so she enrolled in the Max Rady College of Medicine MD program.
"Bridging the gap between the bench and bedside was really important to me," she said. "It's one thing to develop vaccines or therapeutics and test them out, but it's another thing to see how those interventions can affect a person and their quality of life."
After just two years of medical school, Valcourt has a taste of the life of a clinician-scientist through the bachelor of science in medicine (B.Sc. (Med.) program.
Her project aimed to identify better markers to predict outcomes in heart failure. She connected patients to a monitor and took readings when they were resting, laying down, sitting and after 12 minutes of exercise. She found that there were some markers that were significantly different between people who did poorly and those who were relatively stable after six months.
For her B.Sc. (Med.) work she received a Joe Doupe Honour Presentation Award and the Manitoba Medical Services Foundation Dr. Norman and Margaret Corne Memorial Award.
Valcourt is committed to harm reduction and community empowerment. She co-chairs the Winnipeg Interprofessional Student-Run Health Clinic (WISH Clinic) and oversees the student executive committee and learners from the Rady Faculty colleges.
Valcourt is also the founder and president of the Filipino Association of Medical Students at UM. She created the organization last year to increase Filipino representation in medicine and advocate health disparities faced by the Filipino community.
"I wanted to make sure we had a voice in medicine," she said.
On top of her studies and extracurricular activities, Valcourt became a parent last year. Her daughter, Arlowe, is 11 months old.
"Medical school has been really exhilarating because now I've got to balance being a student with being a parent," Valcourt said. "None of my accomplishments would have been possible if it wasn't for my friends, family and mentors. I'm so thankful for all their support."