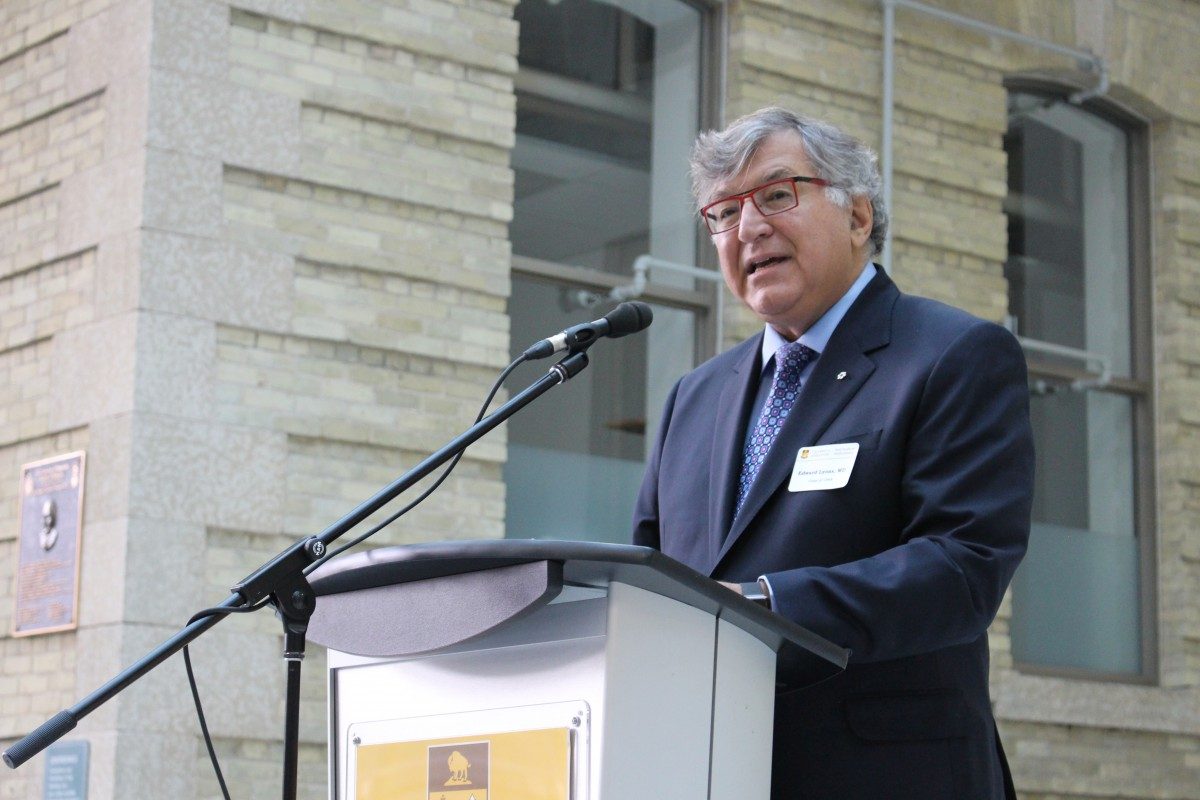 Med Class of 1968 Closing in on $500-K Donation:
50th milestone reunion provides final push
October 2, 2018 —
It was more than 50 years ago, but when Edward Pavlin talks about the bursary he received from the University of Manitoba, he still chokes up.
Born and raised on a farm in Dauphin, Pavlin was no stranger to hard work. He was a diligent student, too, and had earned a scholarship to help him on his way to his studies at the U of M. As far as he knew, as long as he kept his grades up and stayed focussed, the future was looking bright.
Then between his second and third years, his father passed away. Everything changed in an instant.
"I was going to drop out of school," said Pavlin. "But somebody, somewhere, put me in for this bursary. It was more than the money. It put a face on the university – it gave me confidence. That's what made it all possible for me."
The Class of 1968 wants to be there for students like the university was for their classmate Pavlin. That's why at their 25th anniversary class reunion in 1993, they decided to create a bursary fund for medical students. Every five years, to mark their milestone reunions, some of the members of the class donated $5,000. Because of their ongoing commitment to this cause, Dr. Edward (Ted) Lyons, a class leader, was able to announce at Homecoming 2018 that the fund has reached nearly $500,000 at their 50th anniversary!
"It's only fitting that each class consider how it can give back to the university," said Lyons to the crowd of 120 alumni assembled at the Dean's Homecoming Breakfast. "I know I can speak for all the graduates here today when I say how grateful we are. Thank you [University of Manitoba] for the gift of a great education and the opportunity we have been given to make a difference in the lives of our patients and our students."
Classmate Dr. Robert (Bob) Ramsay points out that the desire to help goes way back for the Class of 1968. "We all worked like crazy, but we weren't competitive with each other," he said. "For example, about a month after we started, one of the group lost his brother in a tragic car accident. He missed two or three weeks of school." Between the stress and the lost time, that student could have fallen so far behind he might not have been able to catch up. The Class of '68 wasn't about to let that happen. "He got all the notes from Norma Chipperfield and Alison Dugart – two of the smartest kids in the class!"
The Class of 1968 is still tight. They stay in touch and it's like old times as they tease each other and laugh as they tour Bannatyne campus. They certainly appreciate the thanks they've received for their gift, but they'd rather focus on the future than what they've done so far. "We'd like it to serve as an example for other classes in the university as to how they too can make a difference," said Lyons, offering a challenge to other alumni.
Final thoughts after a long weekend of Homecoming celebrations? Pavlin says to keep thinking about those coming up in the ranks. "One day, there's going to be a medical student in hard times and this bursary is going to make a difference," he said. "It's a gift – you don't have to pay it back. Take it. And go do good things."