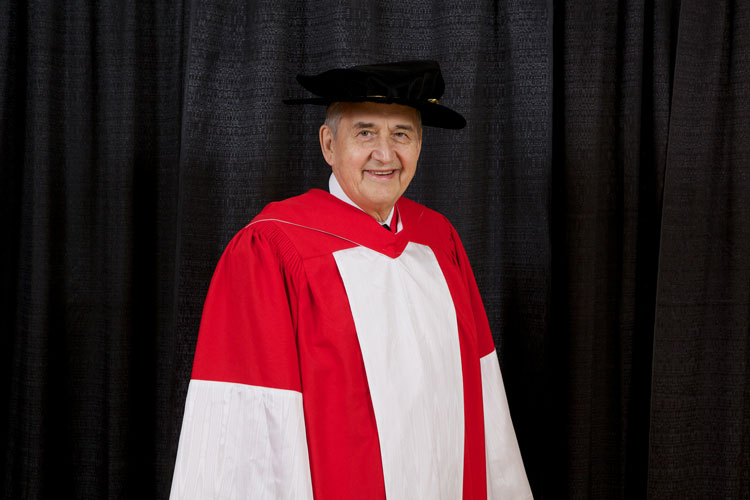 MD alum born 'a galaxy away from academia' tops $3M in donations to U of M
October 31, 2014 —
The University of Manitoba, Faculty of Health Sciences received a $500,000 boost to support its new Anatomical Sciences Laboratory, thanks to a generous donation from celebrated pathologist and philanthropist George Yee [MD/60].
This builds on a remarkable history of giving by one of the College of Medicine's most dedicated donors. In 2008, Yee and his wife Fay donated $2.5 million to establish the George & Fay Yee Centre for Healthcare Innovation and the George & Fay Yee Fellowship in Health Service Design and Quality Improvement. In total, the Yees have contributed more than $3.3 million to the University of Manitoba illustrating a commitment to Yee's alma mater, medical education and medical student support.
"We are privileged to have among our alumni such unwavering donors as George Yee," said Dr. Brian Postl, Vice-Provost (Health Sciences) and Dean, Faculty of Health Sciences, University of Manitoba. "This latest gift will provide our medical students with a new, state-of-the-art anatomy lab and position the College of Medicine as a leader in anatomical sciences in our province and our country."
Yee grew up in one of Winnipeg's poorest neighbourhoods and despite his family's financial challenges his parents supported and encouraged his pursuit of a university education.
"I was born a galaxy away from academia," he noted in his address at the U of M Faculty of Medicine convocation in 2012 at which he was awarded an Honorary Doctor of Sciences.
He described entering the University of Manitoba for the first time as an "astounding" new experience:  "The gift and sharing of knowledge together with the transfer of a little bit of wisdom had a great awakening effect on me.  I began to understand that this was the essence of a great institute of learning.  I so admired the generosity of spirit of the professors and physicians who taught me.  The financial assistance I received also had a profound impact on me since I had so little," he said in his convocation address.
In 1960, Yee graduated from the Faculty of Medicine. During medical school, Yee received a bursary to continue his studies. Grateful for this support, he vowed that if he were ever fortunate enough to do so, he would give back to the University of Manitoba.
He has more than kept his word impacting students and their pursuit of a medical education through numerous avenues including establishing the Charles and Pauline Yee Bursary in Medicine (in honour of his parents), and contributing to the Medicine Class of 1960 Bursary and Entrance Scholarship funds toassist medical students.
The George & Fay Yee Centre for Healthcare Innovation is a hugely successful enterprise that has experts and leaders in the areas of Knowledge Synthesis, Knowledge Translation, Project Management, Data Science, Health System Performance, Evaluation and Real-World Clinical Trials working to develop projects that will challenge, innovate and transform patient care and the health-care system.
On a similar innovative path, the new anatomy lab will feature demonstration areas with elevated viewing platforms and state-of-the-art technology to enhance learning; and touchscreen computers at each dissection table to allow students access to course material and online resources. It will facilitate collaborations with clinical departments and the Clinical Learning and Simulation Facility to connect the study of anatomy with clinical practice and will also create a platform for distance education.
Throughout his career Dr. Yee has worked in various hospitals, often as their chief pathologist, and since 1966 has served as the CEO and Laboratory Director of Medical Laboratories of Windsor, Ontario, the busiest laboratory in Canada.
For more information and to arrange interviews, contact Ilana Simon, Director of Communications & Marketing, College of Medicine, Faculty of Health Sciences, University of Manitoba, 204-789-3427, (cell) 204-295-6777 or ilana [dot] simon [at] med [dot] umanitoba [dot] ca.