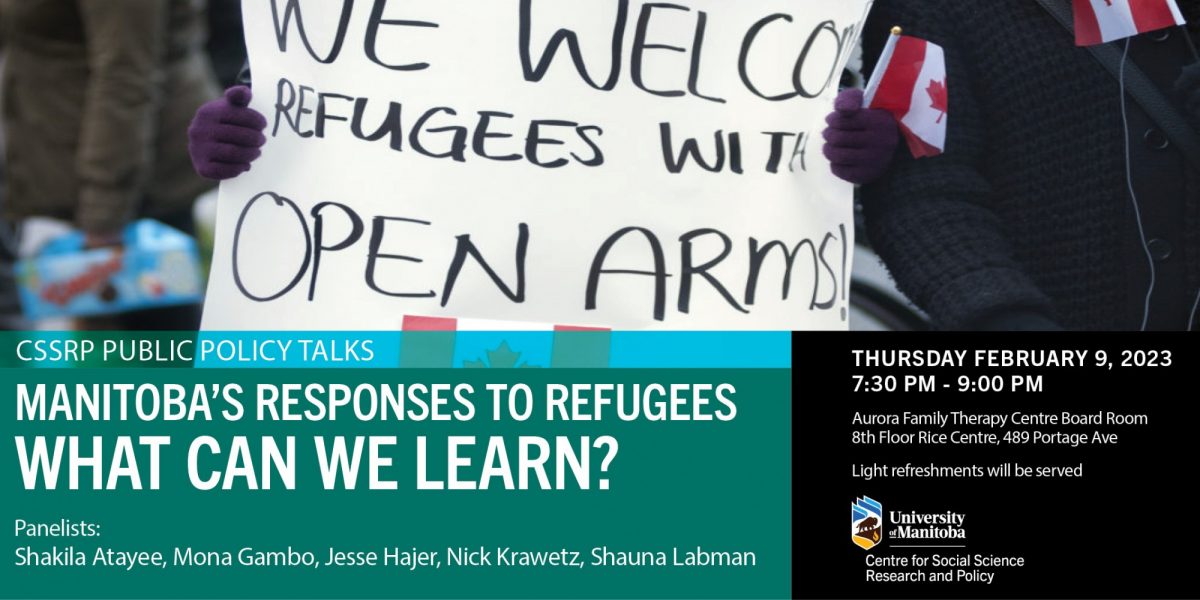 Manitoba's response to refugees: What can we learn?
January 31, 2023 —
The Centre for Social Science Research and Policy is hosting a policy talk that will explore Manitoba's response to refugees and others seeking safety.
This free roundtable aims to unpack what can be learned from Manitoba's differing response to refugees over the past decade with the goal of developing better policies.
"Manitoba has been home to Indigenous peoples for millennia and has provided safety for people during times of conflict, from the Métis rebellion to more recent conflicts world wide," says Shayna Plaut, executive director of the CSSRP. This talk is happening on the eve of the one-year anniversary of the start of the war in Ukraine, 18 months since Canada's promise to bring in Afghan refugees, and seven years since Syrian refugees began arriving in Canada. Plaut anticipates the talk will attract a robust and engaged crowd of students, practitioners, researchers, refugees (and those who work with refugees) as well as people who may identify with many hats.
"Behind these world headlines are people – people who are exercising their right to flee persecution and seek refuge. Many of these people have come to Manitoba and their arrival has been met with different responses from the government, civil society and diaspora community, and there is much we can learn," says Plaut, who is facilitating the discussion.
"The roundtable discussion will focus on what has worked well and what hasn't, over the past 10 years to create better polices for refugees and others who are forced to flee their homes," says Plaut.
Jesse Hajer, assistant professor, economics and labour studies at UM, and Mona Gambo, an economics graduate student, will present their ongoing research comparing Manitoba's response in terms of what was made available to refugees from Syria, Afghanistan and people fleeing war in Ukraine.
Other panelists include:
Shauna Labman, executive director of Global College at the University of Winnipeg and an expert in Canadian refugee protection and policy;
Nick Krawetz, head of communications for the Association of Manitoba Municipalities who is also an active member of the Ukrainian Canadian diaspora and one of the architects of Manitoba's response to welcoming Ukrainians fleeing for their safety; and
Shakila Atayee, originally a refugee from Afghanistan, who has been a frontline worker in newcomer settlement services for nearly a decade as well as a UM masters student in social work and manager of "Be the Leader", a youth leadership program at the Aurora Family Centre.
Plaut notes that the public policy talks, which provide outreach opportunities for faculty to present and discuss their research within the wider community in Manitoba, are one of four offerings of the CSSRP, which also include:
bi-monthly skills workshops, which provide professional development for students, UM faculty and staff, professional organizations and the broader Manitoba community;
a social science research series, which highlights outstanding social science research at UM; and
research services for hire, including design consultations, ethics, data collection and analysis for non-profits, government, community-based organizations and academics.
This is the second public policy talk the centre has held, the first one being "Imagining the Peg as a Human Rights City" which had more than 100 attendees.
Upcoming talks include: "What will harm reduction look like in Manitoba?" (April) and "Newcomer and Indigenous Relations in Manitoba" (June).
"This talk is part of the CSSRP's commitment to ensuing that policy is accessible and accountable to the wider public – and can be discussed and debated through a lens of theory and practice and lived experience," says Plaut. The public policy talk is free and registration is required.
Manitoba's Response to Refugees: What can we learn?
Thursday, February 9
7:30 to 9 p.m.
Aurora Family Therapy Centre Board Room
8th Floor Rice Centre, 489 Portage Ave.
Light refreshments from Daanook.