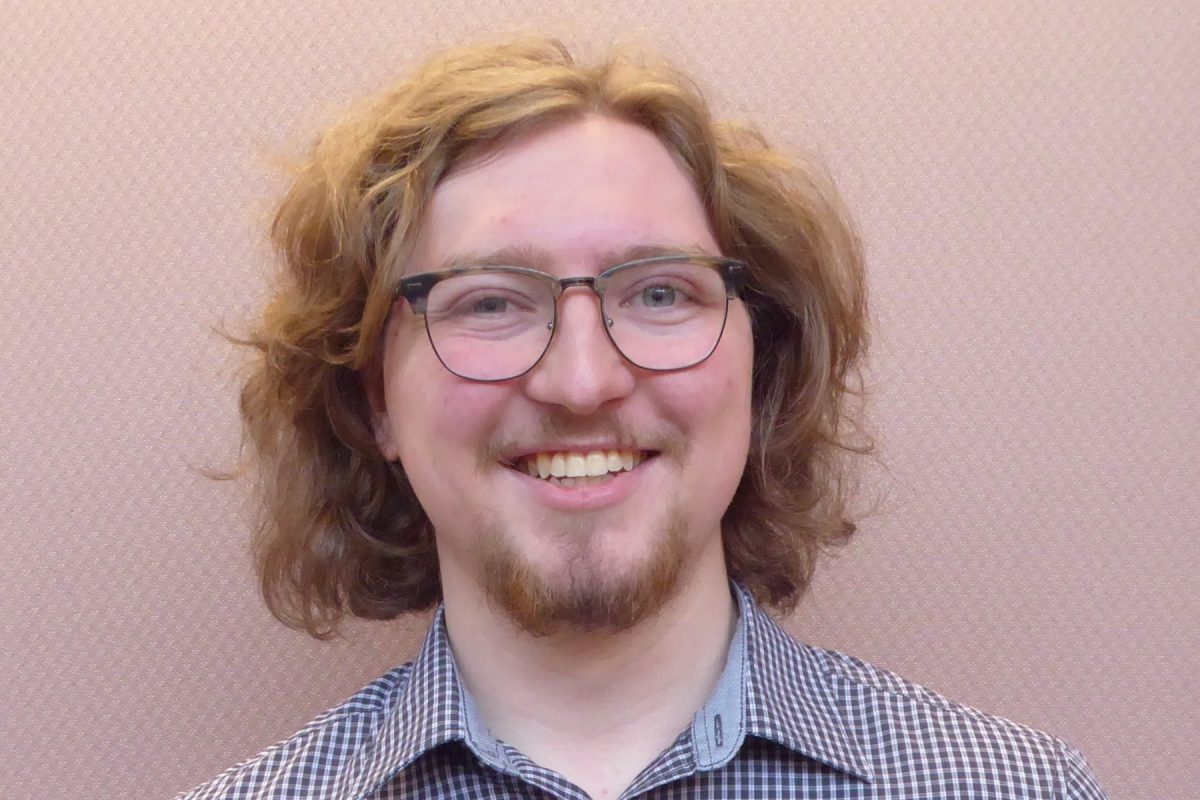 Lukas Sawatsky's impressive talent is matched only by his curiosity for the world of music
June 20, 2023 —
Lukas Sawatsky has had the performance bug since he was little. His foray into singing in public came when he was eight years old, when he joined the Winnipeg Children's Choir. From there, he also began singing with the First Mennonite Church Choir.
It was in this second choir, while performing Das Sühnopfer (The Atonement or The Sacrifice in German), that Lukas realized he wanted to pursue music as a career.
Young men tend to go through pretty dramatic voice changes, which can throw a wrench in their musical plans.
"I was a soprano from age eight through age fourteen, and then a baritone from age fourteen to the present," says Lukas.
While it can often be a pretty awkward experience to have one's voice change, Lukas, a native of Winnipeg who attended River East Collegiate, managed it with grace! Performing at the Winnipeg Music Festival in 2015, Lukas won the Winnipeg Male Chorus Trophy, which is awarded for the most outstanding performance by a vocalist with a changed voice under the age of eighteen.
A few years later at the Winnipeg Music Festival, he was recommended for provincials, and ultimately won first place in the junior vocal class at the Associated Manitoba Arts Festivals' provincial competition. Before the end of high school, he was already well on his way to a successful future in music.
In the faculty
All those chorister skills have taken him far. After a successful audition to the Desautels Faculty of Music, and the awarding of a number of scholarships, including the President's Scholarship, the Stella Irene Boyd Scholarship, and the Winona Lightcap Scholarship, Lukas threw himself into choirs, both in the faculty and outside of it. He was a valuable member of the University Singers, Cantata Singers, Young United Church Choir, Dead of Winter, and Canzona.
He also served on the Faculty of Music Student Association, where he oversaw finances for the University Singers as their group's treasurer.
His work with choirs also took him far, geographically. The University Singers regularly engage in performance tours of Europe, where they show the world the talent of Manitoba singers. This May, they traveled to Spain, where they performed in churches and cathedrals, and even treated people to impromptu sidewalk performances! Though at the end of his undergraduate career, it was during this Spanish excursion that Lukas experienced his favourite moment as a UM student. The University Singers performed several Spanish language pieces, but they also brought with them a language that would have been new to most Spanish people: Cree.
"My proudest moment as a DFOM student was presenting new music by Andrew Balfour at the Sagrada Família," says Lukas.
The Sagrada Família is the world's largest unfinished Catholic Church, located in Barcelona. The church has been almost 150 years in the making. The University Singers chose to perform works by Andrew Balfour, a self-described "Sixties scooper" who hails from Fisher River First Nation. Balfour himself grew up steeped in cathedral-style tradition as a choral performer with his adoptive family, and, many years later, while exploring his heritage, he began composing works that wove together Cree language music with sacred music from the Christian tradition, creating powerful works that honoured the two parts of his life experience, and spoke to what could have been, had Christian missionaries and the Canadian government not been set on eliminating Indigeneity. Excerpts from the performance at the Sagrada Família can be found in the Desautels Faculty of Music's stories on Instagram.
In addition to his work with so many choirs, Lukas also performed with the University of Manitoba Opera Theatre Ensemble. Of course, COVID-19 lockdowns sidelined a lot of performing opportunities for musicians during Lukas' time as an undergraduate. By early 2021, though, DFOM students were finding innovative ways to continue performing while also staying safe. For the Opera Theatre Ensemble, this meant recording music separately from their respective homes, and combining it into a video performance that they premiered on YouTube, "Opera in the House."
In it, Lukas performs as Don Alfonso in "La mia Dorabella" from Mozart's Cosi fan Tutte, and Sergeant Sulpice in "Tous les trois reunis" from Donizetti's La fille du regiment. The production was a breathe of fresh air, and a much-needed reminder that music, like life, always finds a way.
When it comes to advice for future students, COVID is still on Lukas' mind.
"Try to work on your degree when the world isn't in a massive pandemic," he advises.
"Just kidding! The main thing is to not take it too seriously. Everyone in the faculty is rooting for you and wants you to succeed," he says.
"You have more help than you think!"
An evolution in music
Lukas' love of performing in languages other than his native tongue is noted in the faculty, and has guided his musical education.
"Lukas is a terrific young singer with a real gift for language and communication," says Mel Braun, a professor in the Desautels Faculty of Music, Area Head for Voice, and Lukas' major practical study (MPS) instructor.
"Always curious, Lukas brought more new repertoire my way than any student in the last 40 years," notes Braun of Lukas' talents and drive for discovering new music.
Lukas is thankful for Braun's guidance during his degree.
"Mel Braun is endlessly supportive and forgiving, yet knows when to push a student just a little outside of their comfort zone," Lukas notes of his mentor.
This passion for discovery and doing deep dives on music and its origins has led Lukas towards the next step of his musical journey, which will see him stay with us for a few more years while he undertakes his Master of Arts in Music Research, the Desautels Faculty of Music's newest graduate program!
"This curiosity and his research skills bode well for his move into the music research graduate program," says Braun.
After a pandemic-ridden undergraduate degree, Lukas has truly earned his Bachelor of Music in vocal performance, and he has so much to be proud of. As he looks back, he has gratitude to give for the support he received during his undergraduate.
"I want to thank my family for supporting me through the worst parts of pandemic learning and for showing up at my gigs!" he says.
We're thrilled that Lukas, his talent, his curiosity, and his humour will be staying in the faculty!
"Born with an old soul and the vocal and musical skills to match, he brings an old-world intensity to all his performances," says Braun.
"That sneaky Sawatsky sense of humour always keeps him grounded!"
Congratulations, Lukas!