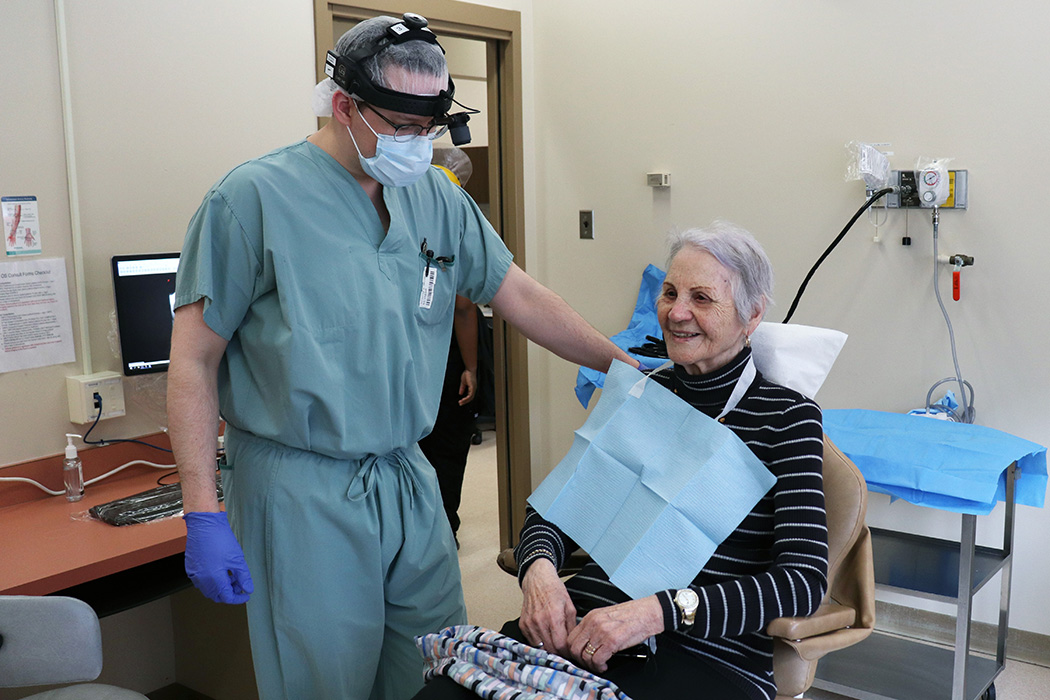 Loyal patient at UM dental school clinic praises 57 years of care
April 19, 2023 —
Catherine Hyska sat patiently in the Dr. Gerald Niznick College of Dentistry's clinic waiting room. She's spent a lot of time in that space over the years. The 93-year-old has been a patient at the dental school since 1966.
In decades past, Hyska would have passed the time reading a book or knitting. Today, her eyesight doesn't allow her, so she just waited.
When her name was called, she was guided down the hall to the oral surgery clinic to have a tooth pulled. She passed the graduation photos from each class in the '70s, '80s, '90s and '00s that lined the hallway. She walked by photos of students who cared for her teeth over the past 57 years.
Not far away was a black-and-white photo of Class of 1968 graduate Dr. Harry Spiegel. He was the first student that cared for Hyska's teeth at what was then called the Faculty of Dentistry. And he was the reason she returned.
"He was a nice guy," Hyska said. "I stayed with him for about two years."
Hyska first heard about the clinic from her cousin, Russel Orr. He was told by a dentist that all of his teeth had to be pulled and he'd have to wear a dental plate. He wanted to keep his teeth and sought a second opinion at UM's dental school. Instead of pulling his teeth, they were cleaned at the clinic and he was sent on his way with his smile intact.
When Hyska heard her cousin's glowing review, she decided to go to the dental school clinic as well. But her husband, Michael, was against it.
"He didn't want me to come. He said, 'why don't you get all your teeth out and put in a plate?' I said 'no way. I want to die with my teeth.' But now my teeth are dying before me," she said with a laugh.
She eventually convinced her husband to visit the clinic as well. That was around the time when fillings were 25 cents, and crowns cost between $5 and $10, she recalled.
Born in Roblin, Man., Hyska and her husband moved to Winnipeg after they were married in 1951. They eventually moved to Thompson, Man., but 761 kilometers didn't keep her away from the clinic. When she visited Winnipeg she'd head to the dental school for all her oral health care needs.
Over the years, Hyska said she enjoyed going to the dental school and kept returning because she received excellent care.
"I just loved coming here," she said. "I knew I was looked after, I got good care and everybody is so friendly."
When asked if she ever thought of going anywhere else, she was quick to respond, "No. Not at all."
"This is my second home," she said with a laugh.
Dr. Anastasia Kelekis-Cholakis, dean of the Dr. Gerald Niznick College of Dentistry, met Hyska on the longtime patient's most recent visit to the dental school.
"I think it's amazing that Catherine has been a patient for 57 years," Kelekis-Cholakis said. "We are so lucky to have patients that see value in the care that we offer here – but beyond the care, they are loyal to the educational opportunities they offer the students in our facility. It's truly wonderful."
Hyska said the secret to keeping her teeth healthy is to listen to the students that treat her.
"I do whatever they tell me," she said. "I floss them. I brush them. Whatever I was told here, I did."
As Hyska sat in the dental chair waiting for her procedure to begin, she hoped it would be fast so she could get home to watch curling. But she's eager to return to the dental school for many more years to come.
"I hope to come when I'm 100. I hope I'll have my teeth."
If you would like to be a patient like Hyska, you can find more information about the services offered at the Dr. Gerald Niznick College of Dentistry here: https://www.umanitoba.ca/dentistry/general-clinic.