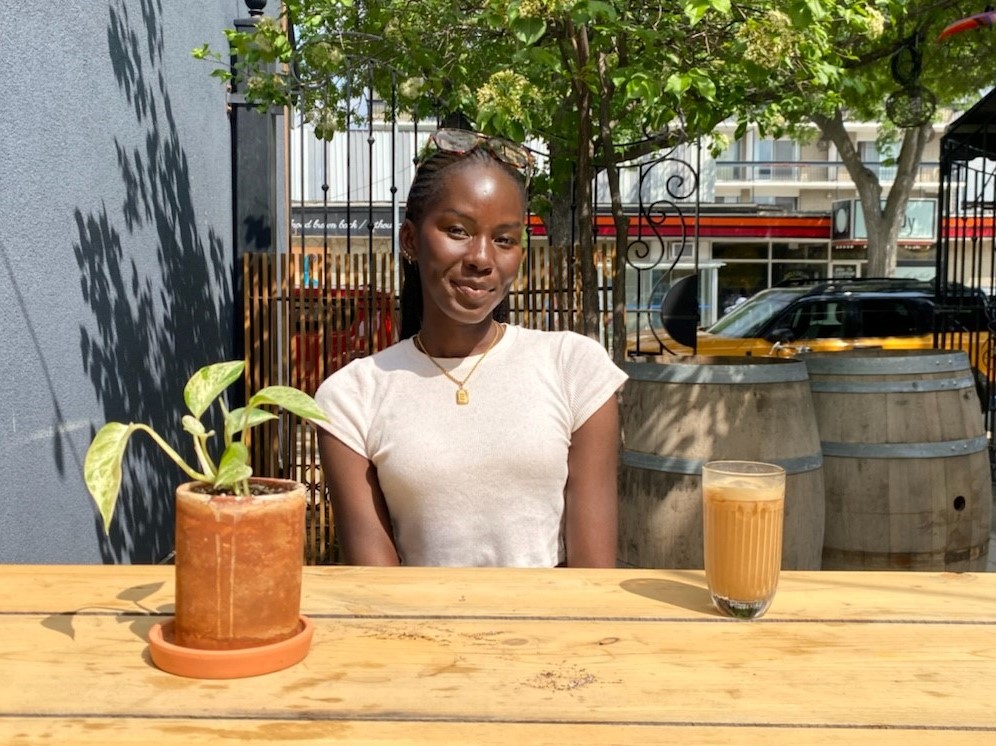 Love of political studies turns into MLA internship
2023 grad excited to apply their recent education to practical experience
June 5, 2023 —
Back in high school, El-Shaddai Nyakiir, knew she wanted to attend university but was unsure of what to study. UM's University 1 program was the perfect solution. After taking a variety of first year courses, the political studies program from the Faculty of Arts rose to the top of her list. In spring 2023, El-Shaddai will graduate with a bachelor of arts advanced degree in political studies with a minor in philosophy.
Students regularly share that participating in university life beyond the classroom is what makes their undergraduate experience more complete and satisfying. El-Shaddai is no exception to that. Once in her program of choice, she pursued many opportunities to actively engage in extracurricular activities and contribute to her community. She demonstrated her commitment to empowering and supporting fellow students as a co-chair of the Black Student Empowerment Society. She has been honoured with various scholarships for her academic achievements and community work, such as the Hon. James A Richardson Minister of National Defense Scholarship, the Fred Penner Scholarship and the West Broadway Youth Outreach Infinity Scholarship. And, she was exposed to learning through hands-on research with a professor.
El-Shaddai worked as a research assistant for Dr. Orysia Kulick looking at the history of international tribunals and the precedents they set in prosecuting sex and gender-based violence. "This topic contains heavy and graphic material which, at times, was very difficult to review," shared El-Shaddai. "Dr. Kulick was amazingly supportive in ensuring our own wellbeing and promoting self-care." To deepen El-Shaddai's understanding of the process of conducting research, Dr. Kulick, "always asked the right questions to encourage deeper research to help us produce thorough results."
Sometimes a particular teacher or course can provide a favourite memory. El-Shaddai expressed her admiration for Dr. Lori Wilkinson in the Department of Sociology and Criminology, not only for her inspiring research in the settlement experiences of immigrants and refugees, but also for her kindness, patience and support as a professor. "Our time together during office hours ended up being broad discussions about life or social issues," said El-Shaddai. These office hours conversations often help guide students through their degree and on to their post-graduation path.
El-Shaddai is now moving on to a ten-month internship with the Legislative Assembly of Manitoba. It is open to six students per year and many UM graduates have taken this opportunity over the years to experience the legislative process firsthand. El-Shaddai is preparing to learn about the inner workings of a legislature, work with Manitoba political, business, communications and non-profit sector leaders and produce an academic paper on a Manitoba public policy issue.
"From very early in my studies, mentors, alumni and professors strongly recommended this internship to me so I kept my eye on it during my degree," said El-Shaddai. She is looking forward to the opportunity to apply what she's learned during her degree in a practical way and then bring that political experience back with her as she pursues graduate studies.
To fellow graduating students, El-Shaddai shared some valuable advice. "Don't be afraid to put yourself out there, even if it means failing sometimes! Some of my best experiences at UM were because I took a risk and was content with whatever came of it. This motto is what I will always try to live by."
As many exceptional students, such as El-Shaddai, graduate this spring, their accomplishments will serve as an inspiration to their peers. Their dedication, involvement in extracurricular activities, research contributions and pursuit of opportunities showcase their commitment to personal and academic growth. In their time at UM, they have embodied the spirit of the university and have left a positive impact on the university community.
The Faculty of Arts congratulates the graduates of 2023 and wishes everyone the best the future has to bring.