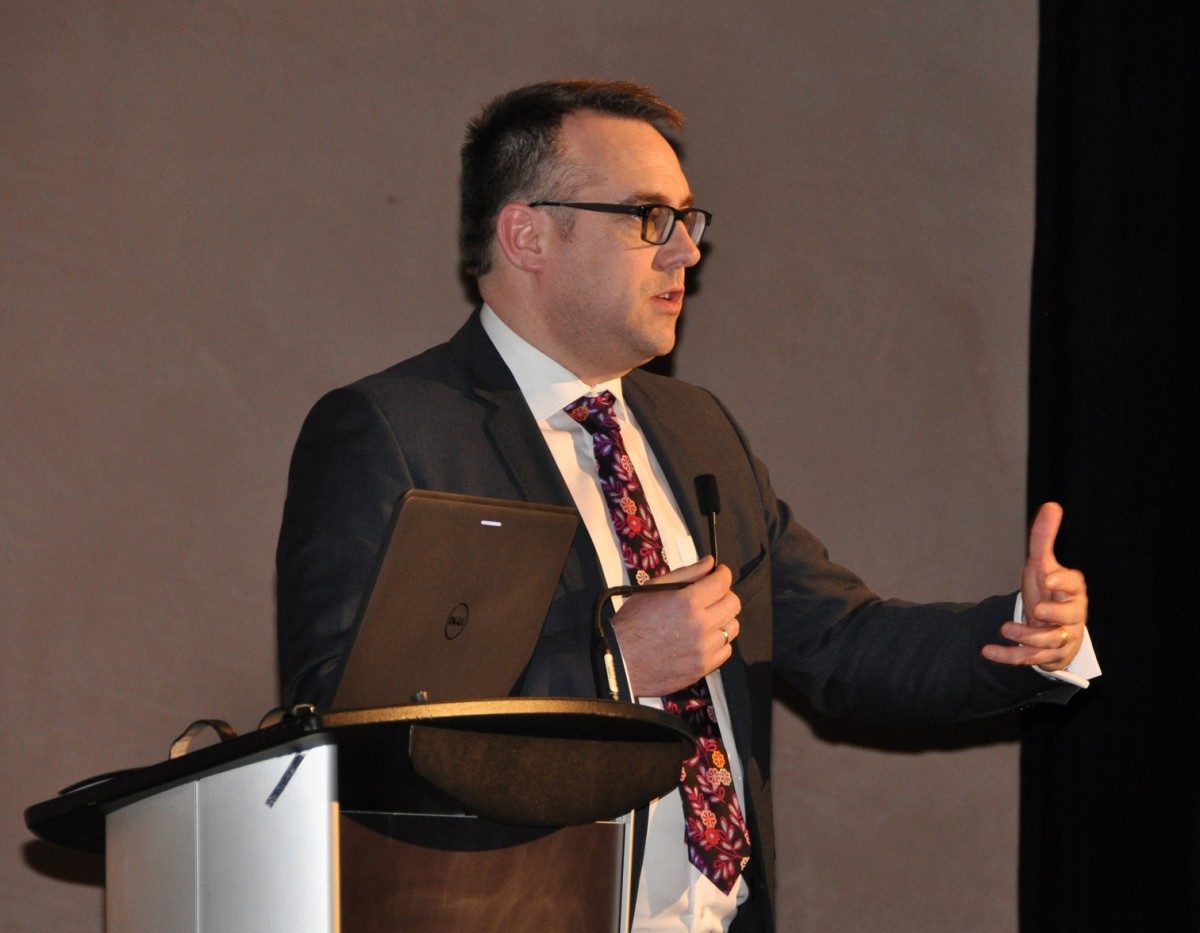 Lecture on heart health a highlight of Helen Glass Research Symposium
March 23, 2017 —
The heart is an incredible organ, a device of incredible durability and sophistication.
From the moment it starts beating three weeks after fertilization, the human heart will beat 3.3 billion more times over the course of an average lifetime, keeping cells nourished and carrying away dangerous waste. Fast or slow, day and night, your heart always knows how to keep the beat strong.
Most of the time, your heart does such a great job that you don't even need to think about it. The trouble is heart health isn't something you can take for granted. Cardiovascular disease is a leading cause of death among Canadians—men and women alike. But it doesn't have to be.
This was the theme of the annual Helen Glass Lecture delivered by Dr. Alex Clark from the University of Alberta. Held March 13 at the Canadian Museum for Human Rights, Clark's lecture – titled 'What's Your Heart Telling You? It's Time to Talk about Cardiovascular Health' – covered many misconceptions people have about heart disease.
Genetics play a minimal role, according to Clark, while lifestyle choices are crucial to good heart health.
"The heart is changed more by behaviour than by genes," Clark said, encouraging exercise, a diet rich in fruits and vegetables, and moderate alcohol intake. "It's never too late and never too early to start reducing your risk for heart disease."
Attended by close to a hundred faculty, students, and the public, the lecture was the centrepiece of the Helen Glass Research Symposium, a multi-day event hosted by the College of Nursing in the Rady Faculty of Health Sciences, that provides an opportunity to hear new perspectives from innovative researchers working on the frontlines of nursing.
Previously called the Dr. Helen Glass Researcher in Residence Program, the symposium is the vision of the late Dr. Helen Glass, former Director of the University of Manitoba School of Nursing and a dedicated pioneer of the nursing profession.
Dr. Clark also made a presentation to graduate students entitled 'Critical Realism: What Is It and How Is It Useful For Research?' As well, Clark co-hosted a research workshop with Bailey Sousa from the University of Alberta, and facilitated a research networking event as part of the symposium.
Clark and Sousa also participated in a graduate student poster presentation and attended presentations by PhD students at the PhD Showcase at the Helen Glass Centre.
"It was very exciting to see so many faculty, students and members of the public support this symposium and the Helen Glass lecture by Dr. Clark," said Christina West, a researcher and assistant professor at the College of Nursing. "As a college we owe Dr. Helen Glass an enormous debt and I feel this symposium is a wonderful opportunity to honour her legacy."