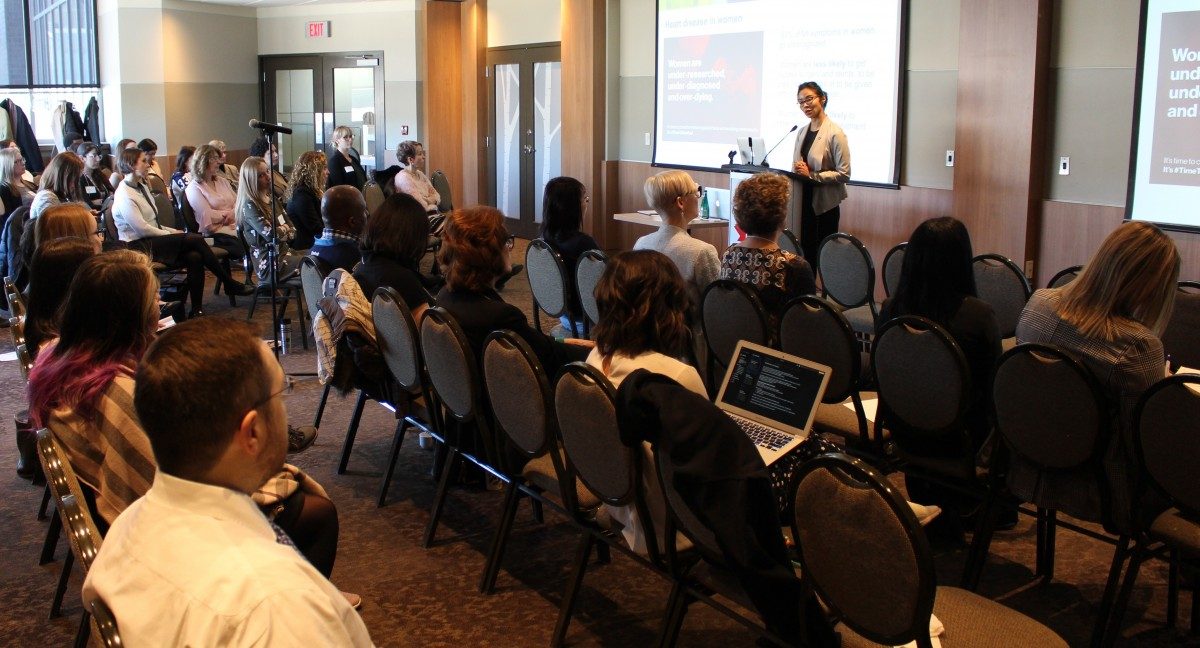 Leaders in science and medicine speak at WISDOM Equity Symposium
April 12, 2019 —
Two leaders in Canadian science and medicine spoke at the inaugural Women in Science: Development, Outreach & Mentoring (WISDOM) Equity Symposium on April 10.
Dr. Cara Tannenbaum, scientific director with the Canadian Institutes of Health Research (CIHR) Institute of Gender and Health, and Dr. F. Gigi Osler [B.Sc.Med./92, MD/92], president of the Canadian Medical Association, spoke to an engaged audience at Canad Inns, Health Sciences Centre.
The event aims to highlight women researchers and leaders in the fields of science and medicine and to create a dialogue on equity, diversity and inclusion.
Tannenbaum, whose presentation was entitled Science with Equal Benefits: Solutions to Promote Equity in Science and Research Content, said she wanted audience members to leave her talk with key actions they can implement themselves.
"If it's a faculty member, maybe they will pay more attention when they write performance letters not to use gender language," Tannenbaum said. "If it's an administrator, maybe they could advertise their gender-friendly policies more broadly to the university for people who just didn't think to go look on the website. If it's someone who sits on an administrative committee, then maybe they'll sponsor someone more junior to be either be an observer or actually to be the next person."
Osler, whose talk was entitled Equity in Science and Medicine: Why it Matters, said that equity, diversity and inclusion is important to many different people and organizations, but ultimately, it matters to patients.
"Canada's become increasingly diverse and I think that is probably the heart of why all of this matters because there's a growing body of evidence, research and data linking the diversity of the physician workforce to better outcomes for our patients," Osler said.
Tannenbaum called the Equity Symposium a "fabulous" event.
"Although we're unable to measure scientifically the direct quantitative benefits of events like this, qualitatively and anecdotally we've heard that they can be game changers for some staff and faculty who are feeling alone in some of the struggles that they face, either with feeling not included or maybe with some of the struggles that they have outside the workplace and sharing collective stories leads to collective knowledge and collective courage and power," Tannenbaum said.
Dr. Neeloffer Mookherjee, chair of WISDOM, said the organization was created last year to address equity, diversity and inclusion in science and medicine, and to create mentoring, networking and professional development opportunities for women at the University of Manitoba.
"We hope people get an idea of how encouraged and enthusiastic we are in terms of making meaningful contributions to equity, diversity and inclusion, not only in our faculty, but within Canadian science and medicine," Mookherjee said.