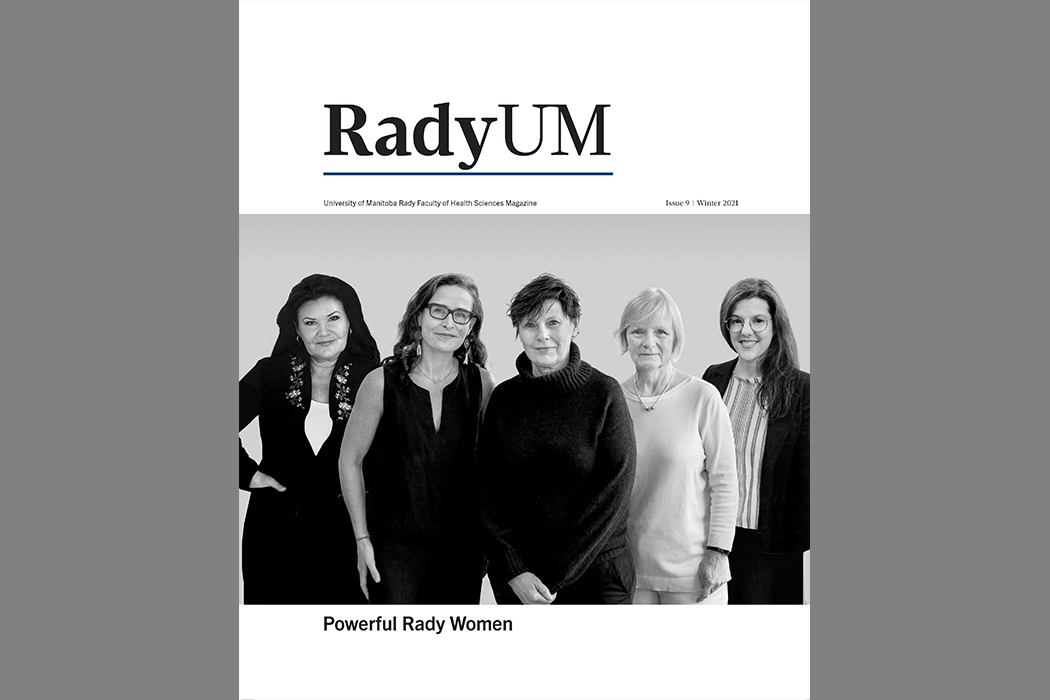 Latest issue of RadyUM magazine available now
March 16, 2022 —
The Winter 2021 issue of RadyUM magazine is now online, bringing you engaging stories of student and faculty achievement, alumni accomplishment, and research dedicated to advancing health and well-being.
The twice-yearly publication shares news from the five colleges of the Rady Faculty of Health Sciences: the Dr. Gerald Niznick College of Dentistry, Max Rady College of Medicine, College of Nursing, College of Pharmacy and College of Rehabilitation Sciences.
This issue's cover story celebrates five extraordinary leaders from the Rady Faculty who were named among Canada's Top 100 Most Powerful Women of 2021 by the Women's Executive Network.
In his Dean's Message, Dr. Brian Postl expresses gratitude to a British charity, The Tolkien Trust, for its ongoing support of the Rady Faculty's Alan Klass Memorial Program for Health Equity. The program funds scholarships and initiatives that address health inequities and social responsibility.
The Rady researchers profiled in this issue include an oral biology prof who aims to derive new antibacterial drugs from ancient Chinese medicines and a physical therapy prof who is developing computer game-based rehabilitation platforms.
Rady alumni profiles in this issue showcase grads such as a nurse who has held national leadership roles in public health and a pharmacist who manages the entire pharmacy team at St. Boniface Hospital.
Other features look at recently funded Inuit, First Nations and Métis health research projects that reflect Indigenous priorities and integrate Indigenous knowledge; the launch of a new educational module to introduce the Rady Faculty's anti-racism policy; and seven influential UM physical therapy alumni who were honoured by the Canadian Physiotherapy Association.
Explore the Awards and Honours earned by faculty members and stay current on what's happening in the Rady Faculty by checking out the Notable News section.
Read the latest issue of RadyUM now.