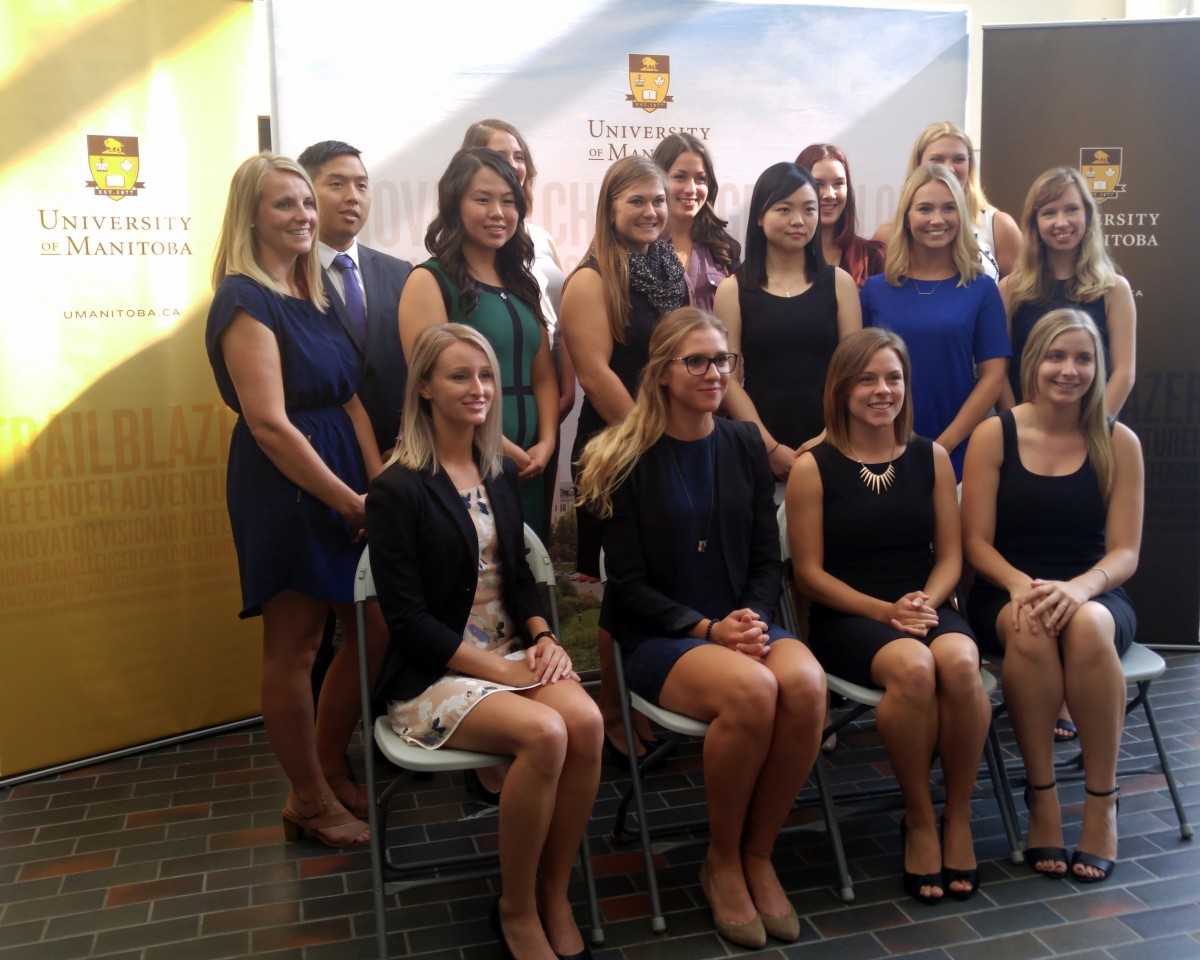 Largest-ever class enters unique Physician Assistant program
September 2, 2016 —
The only Physician Assistant master's degree program in Canada has expanded its intake to meet the increasing demand for graduates.
On Sept. 2 on the Bannatyne Campus, 15 students recited the Hippocratic Oath as part of Inaugural Exercises for the two-year Master of Physician Assistant Studies (MPAS) program. This is the largest class since the program's inception in 2008.
Physician Assistants are clinicians who work under the supervision and direction of physicians. They are qualified to perform duties such as assessing patients, ordering and interpreting diagnostic tests, providing therapeutic procedures and prescribing medications.
"Physician Assistants are part of the solution to improving health-care delivery in Manitoba," said Ian Jones, director of the MPAS program. "We have increased the class size from 12 to 15 students to address the demand for PAs, whose work with physicians provides a successful patient-centred model of care. With the support of the government of Manitoba, our graduates have made a difference in communities such as Brandon, The Pas, Thompson, Dauphin, Steinbach, Morden and Winnipeg."
Physician Assistants play a growing role in team-based multi-disciplinary care, said Dr. Brian Postl, dean, Max Rady College of Medicine; dean, Rady Faculty of Health Sciences; vice-provost, health sciences. "Increasingly, we're all recognizing the importance that the team brings," he told the new students. "Your future potential is enormous."
The MPAS program is offered through the Max Rady College of Medicine (Rady Faculty of Health Sciences) and the Faculty of Graduate Studies. It consists of one year of biomedical science and medicine courses followed by 13 months of clinical rotations. The in-demand program received 166 applications this year, representing every province. Nearly half the students accepted into the Class of 2018 have rural backgrounds.
Of the MPAS program's recent graduates (2013-2016), 45 out of 47 are currently working in Manitoba.  Since launching in 2008, the program has graduated 81 students, with 86 per cent currently employed in Manitoba.
This year's students arrive with degrees in fields such as human development and family studies, genetics, kinesiology, microbiology, sociology and pharmacology.
Dana Baker, a master's student in the class of 2018 and Ian Jones, the director of the program, spoke with Richard Cloutier on CJOB about the program.