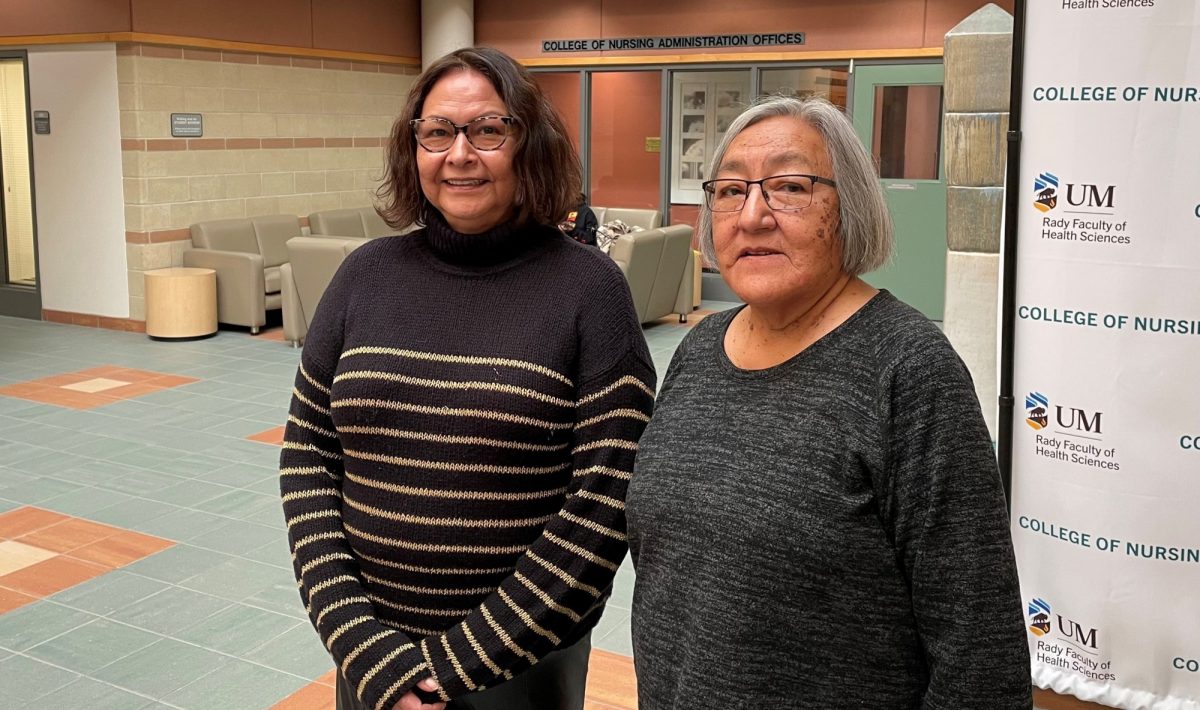 Knowledge Keepers bring wealth of experience to College of Nursing
March 3, 2023 —
For UM alumni Brenda Longclaws and Linda Williams, being a Knowledge Keeper means bringing cultural and spiritual knowledge to students and educators who wish to incorporate more of an Indigenous perspective into their programming.
Longclaws and Williams have been Knowledge Keepers with the College of Nursing, Rady Faculty of Health Sciences since September 2022. They bring a wealth of experience to their shared role.
The college has had an Elder/Knowledge Keeper in place for several years through the Mahkwa omushki kiim: Pathway to Indigenous Nursing Education (PINE) program, a pathway for First Nation, Inuit and Métis students entering the bachelor of nursing program.
Leslie Spillett, Knowledge Keeper for Ongomiizwin – Indigenous Institute of Health and Healing, last held the position.
Previously the Knowledge Keeper was onsite once a week, but Longclaws and Williams are each there two days a week, significantly increasing access for nursing students and faculty.
"With the growing number of Indigenous nursing students, it's important to provide additional support by Knowledge Keepers," said Dr. Netha Dyck, dean, College of Nursing.
"Students appreciate the ability to have one-on-one discussions and participate in sharing circles and cultural activities offered by the Knowledge Keeper," Dyck said. "In addition, Knowledge Keepers will support our faculty in their integration of Indigenous knowledge and practices into program curricula."
Longclaws and Williams will provide guidance and traditional knowledge, working with Indigenous nursing students and pre-nursing students in the PINE program.
"We come from different career backgrounds, but we bring our strength to the role in different ways," Longclaws said.
Longclaws comes to the role with 30 years of experience in education, a career focused on Indigenous learning, as well as working in mental health and wellness programs in First Nation communities. Born in Camperville, Man., a Métis community located on the shores of Lake Winnipegosis, she is a two-time UM graduate with both a bachelor's and master's degree in education.
Williams retired from nursing in 2015, after spending her 40-year career working primarily with First Nation communities. She grew up in Naotkamegwanning First Nation in northwestern Ontario, near Lake of the Woods. She was raised in cultural traditions and speaks Ojibway fluently. She obtained her nursing diploma and registered nurse designation in 1970 in Thunder Bay and earned a bachelor of nursing degree from UM in 1984
Williams and Longclaws said they are both honoured to share the Knowledge Keeper position, which they describe as a role that will continually evolve.
The Knowledge Keepers are on-site Monday to Thursday at room 266 in the Helen Glass Centre for Nursing. They can be reached via phone or email.