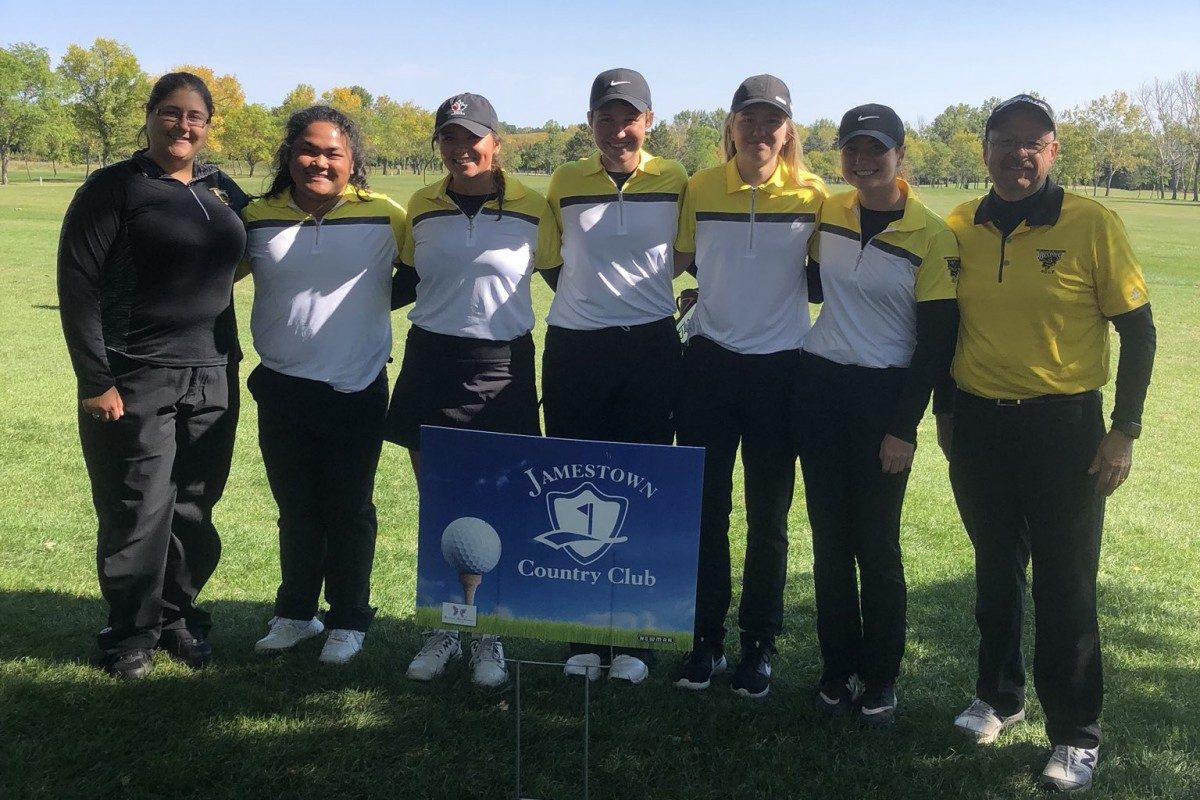 Kinrec student the 'definition of a two-sport star'
FKRM Recreation and Community Development major Marissa Naylor is sinking putts and spinning strikes outside the classroom
September 19, 2018 —
Marissa Naylor is the definition of a two-sport star. While the member of the Bison women's golf team is enjoying a tremendous run on the course, it's actually bowling that was her first love.
Naylor, a third-year Faculty of Kinesiology and Recreation Management student, started bowling when she was just five years old and had great success from the age of nine upwards, when she made it to nationals for the first time. Cumulatively, she's represented Manitoba in bowling ten times and is a three-time Manitoba Youth Bowler of the Year while also winning the Canadian Ten Pin Federation Provincial Championships from 2008-14. Most recently, she was a part of Team Canada at the 2018 World Bowling Youth Championships in Michigan in July.
Her golfing career, on the other hand, didn't take off until recently. She first picked up the clubs at age 12, getting into the sport because of the passion her dad and brother had.
"My whole family really got me into the sport," she says. "I didn't really enjoy it at first, but as time went on I just picked up the passion."
Up until a few years ago, Naylor didn't really have anything that drew her into the sport. But that all changed when she made the provincial team in 2016. At the end of that year, Bison women's golf head coach Bri-Ann Tokariwski approached her, asking if she'd like to be part of the newly-formed team, which had previously ceased operation in 2011.
Naylor had already started university at the U of M in 2015, so the request was received with a positive response.
"I said sure, why not. I had a couple offers from Texas and Arizona as well, but at that time I had already started university and didn't want to move away from home and transfer credits," Naylor says. "I'm a really family-oriented person, so staying close to home really drew to me."
The following year, the Faculty of Kinesiology and Recreation Management student continued her momentum on the green, winning the 2017 Manitoba Women's Amateur Championship in July, which is the biggest tournament in Manitoba. The cherry on top was the fact that she won the championship on her home course of Bel Acres Golf & Country Club.
"That week, everything just worked," she says. "It was solid golf, I hit fairways and greens and I just stayed in the moment. That for sure solidified that my game was coming together and I was doing something right."
Naylor is showing no signs of slowing down. She finished tied for first at the University of Jamestown Invitational in North Dakota in late August – which is the fall kickoff event for the Bison golf teams. As a team, the women placed second overall, with a total score of 351. She also got her first solo win of her Bisons career at Jamestown's Fall Invite this past weekend.
Naylor, who practices both golf and bowling during the summer and school year, says there are some critical parallels between the two sports.
"In terms of nerves and dealing with pressure, a lot of it comes from bowling as well," she says. "A lot of situations like tie-breakers or having to strike out to win a medal for your team definitely have helped with the amateur and with the Bison events."