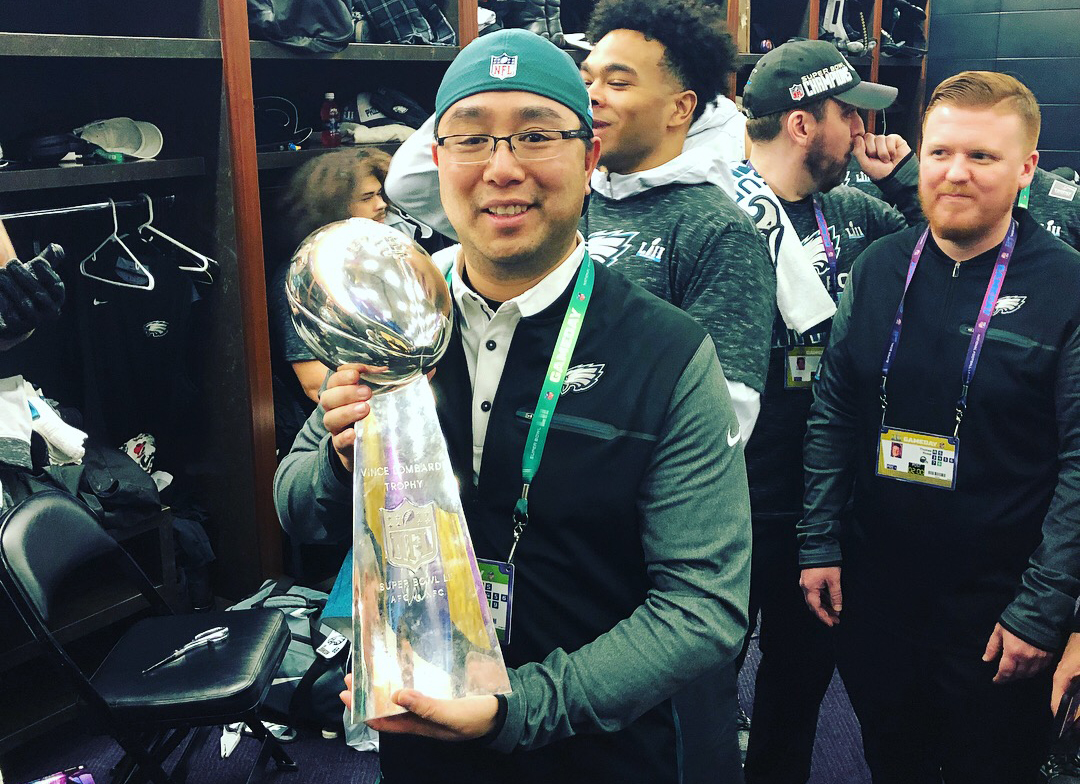 From U of M student to Super Bowl champion
November 1, 2018 —
The degree programs in the Faculty of Kinesiology and Recreation Management are designed to have graduates employment ready, fully prepared to seek a career path in their field(s) of study. Others obtain the necessary prerequisites while studying with us to gain entry to graduate programs, inching themselves closer to their dream job.
November is Career Month at the University of Manitoba. Over the next handful of weeks, we'll be highlighting a selection of our alumni, their fascinating careers, and paths they navigated to land The Job.
We thought it fitting to commence Career Month by re-sharing the story of Philadelphia Eagles' Physical Therapist/Assistant Athletic Trainer, Monte Wong.
Wong is a 2002 graduate of the Athletic Therapy stream in the Bachelor of Exercise and Sport Science degree (now called Bachelor of Kinesiology) program. He shares how he leveraged his education at U of M to ultimately spring-board himself to a career in the upper echelon of his field.
What year did you graduate from U of M and what was your degree/major?
I graduated with my Bachelor of Science in 1998, and then I graduated with my Bachelor of Exercise And Sport Science Degree [now Kinesiology], majoring in Athletic Therapy in 2002.
Could you tell us about your career since you graduated? What's your current position, and what do you like best about your current position?
The day after convocation in 2002, I hopped on a flight to Pittsburgh, PA, to start my next academic venture. I was accepted into the Doctor of Physical Therapy program at the University of Pittsburgh.
While I was pursuing my Doctorate of Physical Therapy, I certified as an Athletic Trainer through the National Athletic Trainers Association, and I certified as a Strength and Conditioning Specialist through the National Strength and Conditioning Association.
I obtained my Doctorate of Physical Therapy in 2005, and accepted a job in Pittsburgh at the Centers for Rehab Services, Center for Sports Medicine, at UPMC Sports Medicine. I worked there from 2005-2009, starting as a Staff Physical Therapist and was promoted to Senior Physical Therapist, as well as Clinical Coordinator of Education.
In 2009, I decided to move to Minneapolis, MN, where I accepted a job offer from TRIA Orthopaedic Center as a Senior Physical Therapist. I worked there from 2009-2013. During my time in Minneapolis, I got involved with the NHL's Minnesota Wild, treating their players who were not traveling because of injury. I also got involved with the NFL's Minnesota Vikings, where I started to help them with pre-season physicals, and then to mini-camps. For two seasons, I ended up helping the athletic training staff out on the sidelines during home games. I also became Board Certified in Sports Physical Therapy.
In 2013, the Philadelphia Eagles called me regarding a position with their athletic training staff, on recommendation from the Minnesota Vikings athletic training staff. I accepted a position with the Eagles and became their Physical Therapist/Assistant Athletic Trainer.
I have been with the Eagles since then, and I just finished my fifth season with the organization.
What I like best about working for the Eagles is that it feels like being part of a family and has felt that way from the very beginning. They welcomed my family with open arms, and having that has been tremendous, especially coming to a city where we did not know anyone. The mentality about being a family, with this season in particular, definitely showed. We overcame a lot of adversity and everyone stuck together, pulling for each other and fighting for each other. From top down, we are all together and the outcome was the perfect ending. The city of Philadelphia and the Philadelphia Eagles organization couldn't have deserved this championship anymore. My family and I are forever grateful to be a part of this group.
How did your time as a student in the faculty of kinesiology and recreation management help in your career and personal goals?
As I reflect on my career, there have been many people in my life that I am forever indebted to, as I would not be the clinician and person that I am now. Jackie Elliott [Athletic Therapy program director] was the very first person to take a chance on me to be a part of the Athletic Therapy Program. I wouldn't be where I am now if she didn't believe in me. My Athletic Therapy Supervisors pushed me and taught me to be a professional, to be creative, and to work hard. I received a tremendous education from the professors, particularly Dr. Elizabeth Ready and Dr. Marion Alexander. They prepared me for my studies in the Doctor of Physical Therapy program at the University of Pittsburgh. I had the opportunity to work with Bison Sports for four years, and having that experience working with the collegiate athletes and coaches, was invaluable.
I also had the opportunity to be a part of Bison Women's Volleyball coach Ken Bentley's staff over two seasons, and I am grateful that he gave me the chance to express and shape how I wanted to be as a clinician.
My classmates have also helped in my career and personal goals. All of us studied together. All of us pushed each other to be the best. I learned about what the definition of perseverance is with this group. I couldn't be more proud of my peers and what they have accomplished in their careers, and I continue to keep in contact with them. People such as Amy Young, Jenn Romanoff, Lana DeBeer, Jason Moniz, Paul Ayotte, Dong Lien, and Rob Milette to name a few.
What were some of your greatest challenges as a student, and what were some of your best experiences?
I have always believed that you can always take positives from any experience, and I had a ton of great experiences while I was a student in the Athletic Therapy Program at the University of Manitoba.
One of my fondest memories was being a part of the 2001 national champion Bison Women's Volleyball Team. There was a lot of similarity in character between that team and the team that won the Super Bowl this year. The resiliency that these two teams had were uncanny.
What advice would you give to the current students and students interested in studying Athletic Therapy at U of M?
Be open to any type of opportunity, because you will learn something regardless of how big or small that opportunity is. Be honest, humble and positive. Dream big.
How would you describe your journey this year as a part of the Super Bowl winning Philadelphia Eagles? Can you describe the intensity of the game?
It was an incredible journey this past season with the Philadelphia Eagles. A lot of people counted this team out but we rallied together every time adversity hit. This was a special group because we all believed in each other. It was a strong locker room. For the game itself, the Super Bowl was intense, but it was a good intensity because everybody brought in so much energy, positivity and confidence the week leading up and then the day of the game.
Do you get to have a day with the Lombardi Trophy?
I believe the Lombardi Trophy is displayed in the trophy case at the complex. Winning the Lombardi trophy is not like winning the Stanley Cup, where people get a day with the trophy.
What does a typical day look like for you from a professional working standpoint? It sounds like even in the off-season you're quite busy.
Besides treating the players, we collaborate with the equipment staff to prepare for practices and games, as well as the strength and conditioning/sports science staff to figure out how to maximize athletic performance. This collaboration occurs during the regular season and off season.
You're clearly at a pinnacle in your industry- do you have any other professional goals you'd like to attain?
As a professional, regardless of whether you're at the top of your industry or not, the goal is to continually work on improving your skill set. It would be a disservice to you and others to be complacent. My goal has always been to improve patient care. It benefits the athlete, the organization, but it strengthens myself as a clinician.
The goal is to consistently be in the situation of playing and competing at the highest level every year. On the medical side, it is our responsibility to make sure that our athletes are in top physical condition to perform at their best.