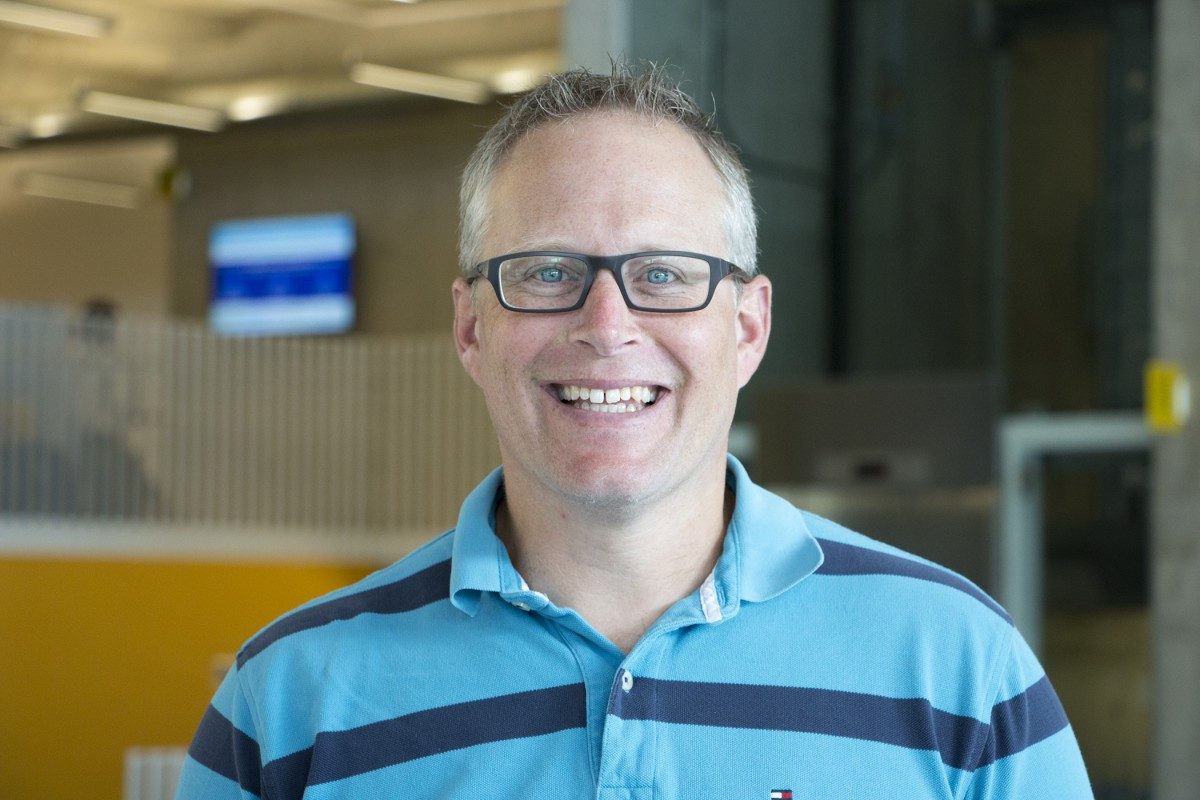 KINREC CONNECT: Dr. Stephen Cornish
October 21, 2016 —
Every so often, we will profile and highlight a person of interest from our faculty through an informal, off-the-cuff Q & A feature entitled KinRec Connect. This offers a chance to meet and learn about the catalysts behind our exciting and dynamic faculty.
Get to know FKRM assistant professor Dr. Stephen Cornish a little better:
Where did you grow up?
I grew up in Moose Jaw, Saskatchewan, home of the world's largest moose.
Where did you complete your undergraduate degree?
University of Saskatchewan
What teams, clubs, or groups were you a member of during your undergraduate years?
I played U Sports (formerly known as CIS) football for the University of Saskatchewan Huskies for 5 years from 1992-1997. We went to two Vanier Cups during my time there in 1994 and 1996. 1994 has been called the most exciting Vanier Cup in history as we came back from a 3 touchdown deficit but then lost in overtime to the Western Mustangs. In 1996 we beat the St. Francis Xavier X-Men to secure the national championship.
Where did you complete your master's degree, what did you study, and what were your main findings?
I completed my MSc in Kinesiology at the University of Saskatchewan. I studied the effects of creatine monohydrate supplementation on repeated bouts of sprint skating on a skating treadmill. The main results indicated that creatine did not improve sprint performance more so than a placebo.
Where did you complete your Ph.D. degree, what did you study, and what were your main findings?
My Ph.D. degree was also completed at the University of Saskatchewan. In these studies I evaluated the potential for components of flaxseed (both the oil and the lignan) to act as a nutraceutical in lowering markers of inflammation and improving health outcomes in older adults. In one study we had older people complete a standardized walking exercise program and then randomized them to either a lignan supplementation group or placebo. This study showed that there was a reduction in a composite metabolic syndrome score in the older men supplementing their regular diet with the lignan from the flaxseed. In another study we gave people a standardized resistance training program and randomized them to supplement with the oil from flaxseed or placebo oil. The main results indicated that the oil (which is high in omega-3 fatty acids) is effective for lowering inflammation but it had no greater effect on improving muscle mass than the placebo oil.
What is your favourite course to teach and why?
KIN 4560 – Advanced Fitness Appraisal and Lifestyle Counselling. I enjoy teaching this course as it lets students start to apply a lot of the theoretical knowledge they have learned in their 4 year undergraduate degree program.
Who are your favourite musicians, performances, sports teams, etc?
I'll probably receive a lot of flak for this but I still cheer for the Saskatchewan Roughriders (although we don't have much to cheer for this year). I also enjoy watching NFL football and cheer for the Chicago Bears and Denver Broncos. My musical interests are broad as I like everything from classical to hard rock.
What are your hobbies?
I enjoy playing the drums occasionally and recently my family has inherited an acoustic guitar so I pick it up and try to play a few cords once in a while as well
If you could be or do anything else, what would it be?
I enjoy being a professor but if I could do anything else it would probably be farming. I worked on a couple farms during my undergraduate days and really enjoyed it. Of course, it may be easier to just work on a farm versus actually dealing with the headaches of owning a farm!
What one word would you use to describe yourself?
Dependable
What are you reading at the moment?
I am actually reading a Louis L'Amour book called "To the Hills". It's a Western novel and quite entertaining.
Which living person do you most admire, and why?
I really admire my mom. She sacrificed a lot for me while I was growing up and she is still one of my strongest supporters and encouragers to this day.
Who would play you in the film of your life?
Maybe Bradley Cooper … he is able to take on different acting roles and does a great job with them.