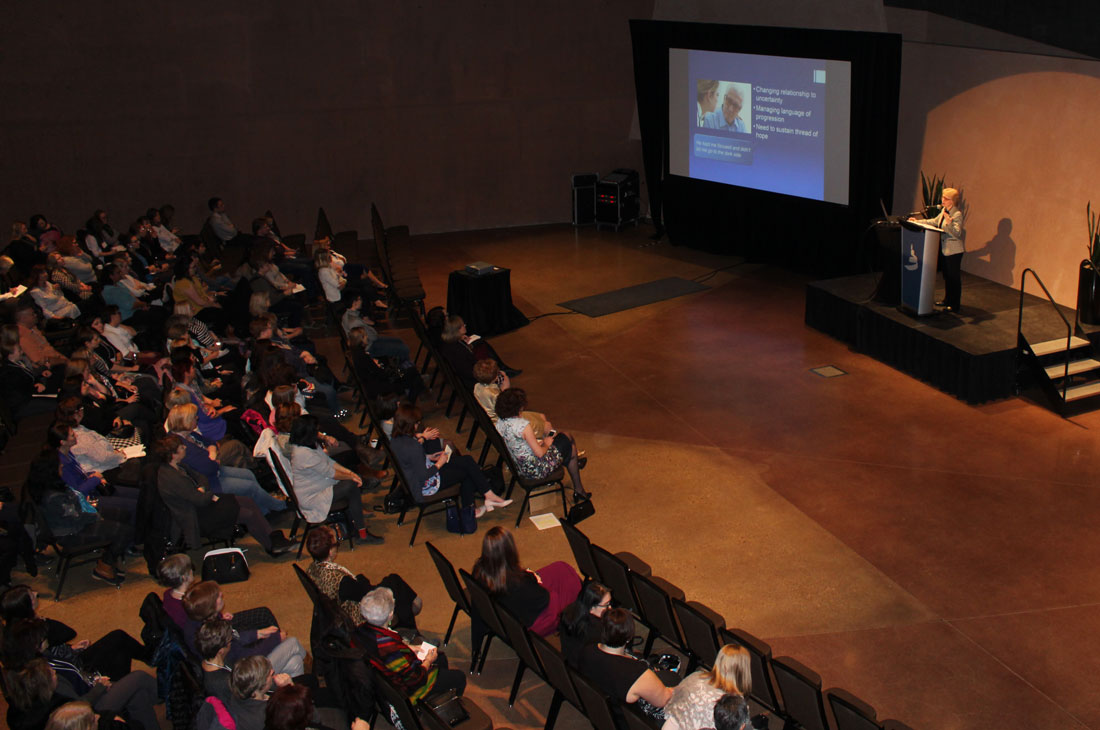 Health communication expert: Kindness counts
March 22, 2018 —
About 20 years ago, Dr. Sally Thorne was involved in public consultation sessions aimed at improving care for patients with cancer in British Columbia.
"In almost every session," recalls the professor of nursing, "we heard that 'George the Doorman' was among the most important people in our Vancouver cancer centre.
"It turned out that George had been the ambassador of welcome, human connection and friendliness for thousands upon thousands of people. Many of us would not have thought to seriously consider the importance of that initial welcoming moment."
Today, Thorne is a leading expert on the patient experience and relational practice in cancer care. Her research, which she has presented internationally, demonstrates that the "human connection" in health-care delivery has measurable benefits, while its absence can cause measurable harm.
"In the name of accountability and efficiency, the health-care system steers us toward being clinical, efficient and dispassionate, rather than kind and compassionate," Thorne says. "There's a critical need to bring quality communication back onto the agenda."
Thorne, former director of the School of Nursing at the University of British Columbia, is now associate dean of applied science at that university.
On March 19, more than 175 people gathered at the Canadian Museum for Human Rights to hear Thorne deliver the 2018 public Helen Glass Lecture on "Communication in Cancer Care: Health Systems in Transition and the Patient Experience."
The presentation was part of the second annual Helen Glass Research Symposium, hosted from March 19 to 21 by the U of M College of Nursing, Rady Faculty of Health Sciences.
We spoke with Thorne in advance of her visit to Winnipeg.
What can happen when quality communication with patients is not treated as a priority?
Poor communication is associated with higher levels of fear, anxiety, stress and pain for patients. It can lead to mistakes, misunderstandings and lack of coordination in care.
Among health-care providers, distress, depression and burnout are all more likely if communication skills are lacking.
What are some of the key elements of communication that patients with cancer need?
Patients and their families need to feel "known," and to feel a connection to those who are caring for them.
They also need to feel informed. Some need to become highly knowledgeable about their disease and treatment. Others are overwhelmed by complex information and need primarily to be reassured that it's understood by those around them.
What is the No. 1 complaint you hear about cancer care communication?
Probably the worst violation is telling a patient, "There is nothing more we can do." While most clinicians would deny ever saying that, somehow it seems to be what patients hear. Good health-care communicators know how to convey bad news in a manner that allows the patient to maintain some hope, even if the thing they are hoping for has to change.
One myth is that good communication is about being an extrovert or highly articulate. Patients actually have a lot of tolerance for the shy or awkward clinician, as long as they can see the clinician's authentic self, trying and caring.
What are some of the steps to improving "communication safety" for patients?
We need to buffer patients from the negative effects of poor communication. There may be some physicians, for example, who should never give bad news unaccompanied by a nurse who can support the patient in receiving it.
We need mentorship systems. Quality communication requires a refined skillset, learned over time and practice, often from observing mentors and being critically reflective about one's own practice.
We need to wrestle through the challenges of communication together, the way we would a complex technical challenge in cancer intervention.