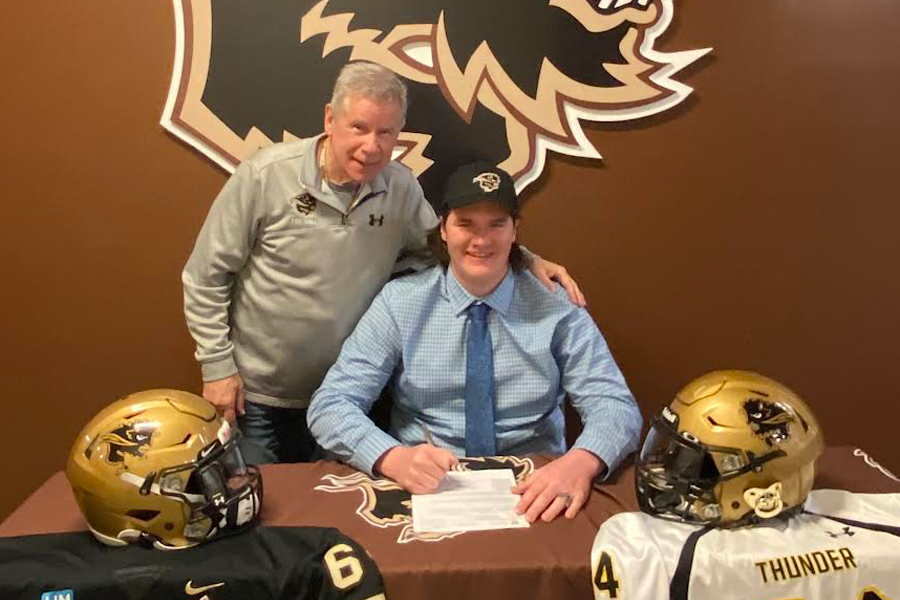 Keenan Karish touches down with both academics and athletics
New Bisons recruit wins a prestigious BMO Future Indigenous Leader of Tomorrow Scholarship
June 1, 2022 —
The University of Manitoba has announced that Keenan Karish, who is also one of the newest Bisons Football recruits, is one of three recipients receiving a BMO Future Indigenous Leader of Tomorrow Scholarship, valued at $ 16,000 over the course of four years. Karish will be the first Bisons student-athlete to win this prestigious award.
Karish, who was born and raised in the Interlake and is currently finishing his grade 12 year at Gimli High School, caught the attention of both the scholarship committee and Brian Dobie, Bisons Football head coach. Both Dobie and Jane Lastra, associate register and director, financial aid and awards, agreed that Karish stood out athletically and academically because of his presence, passion, and determination.
"Keenan really sold me as a person," Dobie explained. "He was really engaging, really articulate, he had a really great presence . . . I was flat out impressed with him."
Lastra said nearly the same thing about the impression Karish left after the BMO Future Leader of Tomorrow Scholarship interviews.
He's someone whose determination "leaves you with goosebumps," she explained, "someone who went above and beyond, someone who is thoroughly engaged with his student body now and his community."
Karish began playing football with a new team that was brought together in Stonewall and Selkirk out of the Interlake Thunder Football Club in 2015.
"If you had asked me back in 2015, I never would have thought I'd be in the position I am in today," Karish said, explaining that there weren't tons of opportunities to play football in his area growing up.
Dobie noted that the Interlake isn't usually a major recruiting target for the Bisons.
"Unless there's some reason that distinguishes a player in some way shape or form that comes across our path, we just wouldn't have known about him," he explained.
Thankfully Karish had a supportive coach—Chris Johnston—who had a pre-existing relationship with Dobie and reached out on Karish's behalf to connect them.
Dobie admitted that choosing new recruits is never an easy task. He explained that recruits generally fall into one of two categories—either in the "immediate impact" category, those meant to fill a particular position or need, or in the "long-term" category, those who show potential for major development within the team.
I "just felt that his ceiling is way up there" Dobie said, explaining that he was ultimately swayed by Karish's athleticism and drive. "I see him as a long-term guy, that he's going to grow within the program and become better and better to the point where he'll excel and hopefully become a top player in Canada West. That's how I see Keenan."
In addition to his athletic achievements, Karish is a high-performing student and a committed community member.
Every year, the University of Manitoba gives out a total of six Future Leader of Tomorrow Scholarships and three Indigenous Future Leader of Tomorrow Scholarships. These scholarships are all based on the same criteria, which includes having at least a 90 per cent average in grade 11 classes, demonstrating community involvement, leadership qualities and high-level communication skills. "We're looking for students have the academics but who also show a well-roundedness," explained Lastra.
She said that Karish stoodout in the process because he is "so passionate about coming to UM and how he plans to get involved . . . He really wants to do his academics and football, but he really wants to give back to the student body and he wants to get involved to make a difference, and that just jumped right out at me."
As someone who grew up on a family farm, Karish said he is interested in pursuing Agriculture at UM.
He'll probably pursue "a degree in animal systems and then possibly become a vet eventually," he says, "but that's up in the air, so I still haven't really decided. We'll see where the next couple years take me."
Referring to receiving this award and also being recruited by the Bisons, Karish said "words can't describe it," adding that he is really excited to start this new journey at UM.
Ultimately, it was Karish's personality that really shone through and impressed the coaches and scholarship decision-makers.
"The person he is and his drive to be the best he can be . . . he's an extraordinary person," Dobie said.
Lastra explained that in the scholarship interview he simply "demonstrated a leader of tomorrow."
The University of Manitoba welcomes Keenan and congratulates him on both his recruitment by the Bisons and on receiving a prestigious BMO Future Indigenous Leader of Tomorrow Scholarship.
Prospective students who are interested in applying for the 2023 round of Leader of Tomorrow Scholarships are advised that applications will open in September, and that the application deadline will be on December 1, 2022. Please check the awards and financial aid webpage in September for additional details.