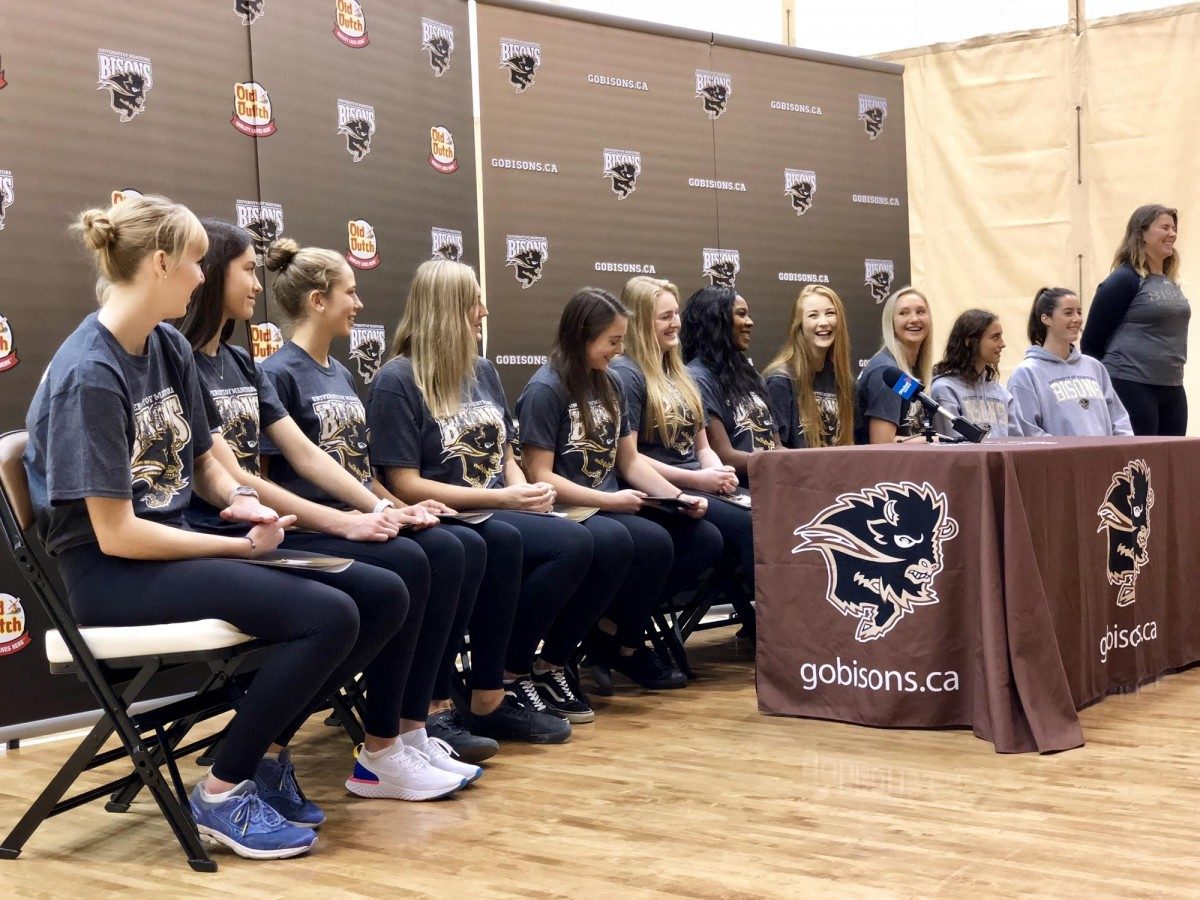 Junior Bisons programs help to build success for varsity teams
With more camps in different sports, the Junior Bisons club program are preparing recruits for the heavy competition of Canada West sports
April 30, 2019 —
Year after year, the University of Manitoba Bisons are in the conversation for different national championships due in part to the character and work ethic of recruits.
It's almost become routine to see mention of Junior Bisons in the bios of many current Bison student-athletes. Offered for individuals aged 8-18, Junior Bisons' mission is to "be the instructional and high performance organization of choice for players and coaches who seek and promote personal and team development skills."
Leading the charge is coordinator Lisa Peters. At the time of her appointment nearly a decade ago, a well-established girls volleyball program existed under Bisons head coach Ken Bentley. Peters, however, was tasked with expanding Junior Bisons' reach.
"The hope was basically to grow [Junior Bisons] into all of the sports that we offer here at the varsity level," Peters says.
Peters' ambitions have paid off. On top of girls' volleyball, the U of M offers club teams for basketball, hockey and swimming.
And the evolution continues. Last year, the model was changed to a skills academy setup in the spring and summer.
There are also fall and winter breakfast clubs that occur in the hours before school for kids ages 6-16 who want extra work on their individual hockey skills.
"The biggest thing is to know our community and know our network," Peters adds.
"[Women's hockey head coach] Jon Rempel has kids in the program as far as hockey goes, so we're in the rinks and we're recruiting kids already at bantam ages. I'm at the rinks meeting parents, we have parent meetings every year where I chit chat with parents and chum with them. It's about adapting and kind of knowing our surroundings."
Another example of adaptation can be found in the Junior Bison High Performance Summer Camps. Occurring annually for the past seven years, they provide further skill development in an intense and challenging environment.
Running from mid-July to late August, the camps—which this year features track and field (girls and boys ages 8-18), boys' basketball (ages 8-13), girls' basketball (ages 8-15) and girls' volleyball (ages 11-14 and 14-18)—are led by U of M head coaches, assistant coaches and current and former Bisons. They offer athletes a solid base once their school seasons are done and also further enhance the relationship between player and coach.
"It helps you recruit good people," Peters says.
Find more info on Junior Bisons programs and Junior Bisons High Performance Summer Camps.