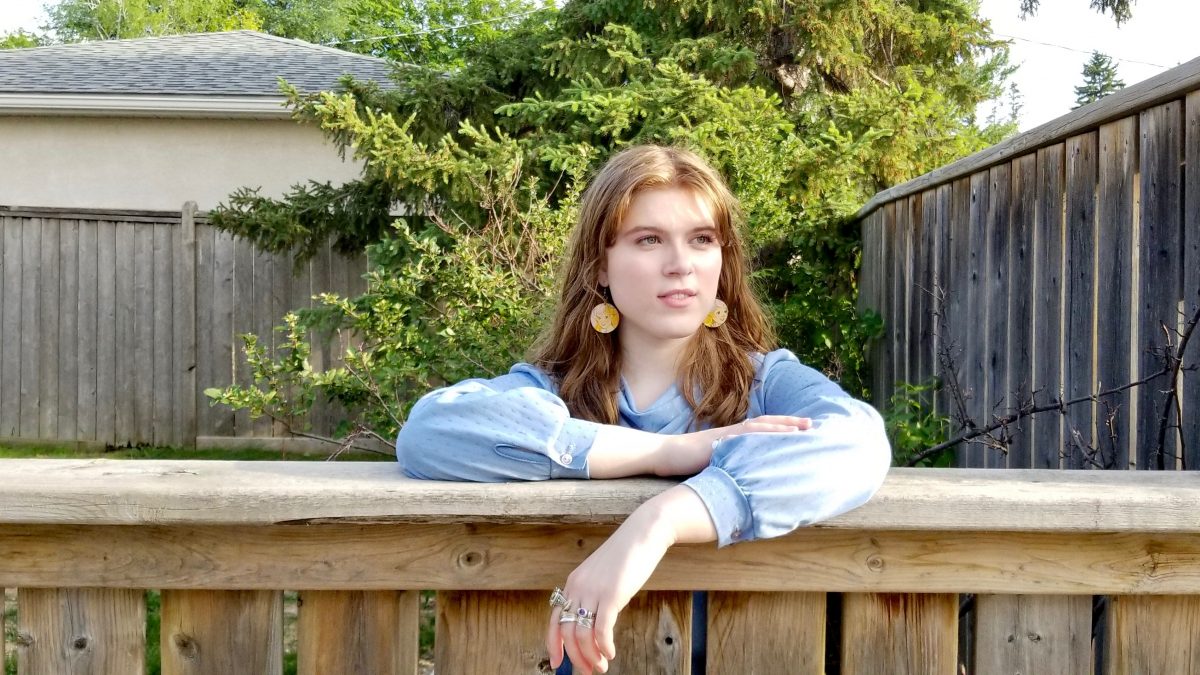 Jane Petroff has gone from "quiet sparrow" to "electric bombshell"
2020 DFOM graduate Jane Petroff has an incredible talent for arts, advocacy, and performing
June 26, 2020 —
NOTE: We in the Desautels Faculty of Music are incredibly proud of our students. While COVID-19 is sidelining in-person commencement ceremonies around the globe, we want to find alternate ways to celebrate our graduates and give them the recognition due to them. Until we can gather together to properly applaud the years of study and practice that have led to this milestone, please join us in congratulating our 2020 Desautels Faculty of Music graduates.
Today we celebrate Jane Petroff!
It would be a real challenge to imagine the Desautels Faculty of Music without Jane Petroff. She has been a staunch advocate for students throughout her time in the faculty, and the committed work she has done beyond her academic and musical pursuits has resulted in lasting change that will benefit DFOM students for years to come. However, even though she has been devoted to music for her entire life, we nearly lost her to another faculty at the University of Manitoba.
"Ever since middle school I knew I was really passionate about performing, but in high school I also became highly involved in academics," she says.
"I applied for and was accepted into the Department of Agriculture, and I was floundering between that and Music while I waited to hear back from the DFOM," she admits.
"However, as soon as I got the email from Mel Braun saying I was accepted, my mind was made up. I haven't looked back since," she says of the moment she chose her path.
How lucky we are that she chose us!
In the faculty
Four years later, Petroff has now earned her Bachelor of Music. In the process, she also became an integral voice, both in her singing – she performed with the University Singers, the University of Manitoba Musical Theatre ensemble, and also the University of Manitoba Women's Chorus – and also as a representative of music students. Through her degree-long work in the Faculty of Music Students' Association (FMSA), she has organized and hosted many events that build community and friendship. In her final year in the faculty, Petroff served as the Senior Stick of the FMSA, where she organized a slew of social events, faculty events, and advocated for student wellness.
"Pulling off events is always a great feeling," Petroff says.
"I think my favourite FMSA event that I helped run was our Cookies and Carolling event. Seeing the student body laughing and making colourful cookies together was so gratifying, and I had so much fun participating!" she says.
Not only that, she has been instrumental in systemic change both in DFOM policies, and also for the health and wellbeing of music students.
In only her second year in the faculty, Petroff and the FMSA successfully lobbied for in-faculty counselling services, and then furthered the conversation by procuring a University of Manitoba Success Through Wellness grant for music-specific health and wellness activities. The workshops that the group has implemented with that grant have included yoga workshops, Feldenkrais sessions, stress management courses, and self defense workshops, among others. This past year, Petroff helped to write another successful grant that will further the wellness initiatives, and will include the creation of a quiet space in the faculty in which students can recharge and de-stress.
"She has such strong beliefs about how things should be, and about how best to help students," says DFOM associate professor of music Laura Loewen, who worked with Petroff on the grant continuation this past year.
"Her contributions will allow us to move forward with confidence and integrity, which is so exciting. She's helped to create this strong foundation that will support all of us and help us to lead more balanced lives," adds Loewen.
"I adore Jane's commitment to her fellow students," says Petroff's major practical study instructor Donna Fletcher, who serves as both a voice instructor and the director of the DFOM's Musical Theatre ensemble.
"Her calm and quiet nature belies her deep strength and ability to lead. People are drawn to Jane and you can't help but admire her deep intelligence – an intelligence that served her well in her role in student government. She was a wonderful advocate for all the students at the Faculty," says Fletcher.
Additionally, Petroff used her meticulous organizational skills and outstanding student insight to help re-imagine expectations of students and policy formation.
"I think one of my proudest FMSA moments was being asked to work on the Undergraduate Handbook," she says of her work this past year.
"I had been wanting to see change in the handbook for a while and so I was really excited to have the opportunity to make a difference. I'm really proud of the feedback I was able to give," she adds.
Performance
Petroff's favourite performance moment came out of work that she did in Opera NUOVA, the Edmonton, Alberta-based non-profit that offers training courses for Canadian operatic performers and collaborative pianists, in which Petroff participated in the summers of 2018 and 2019. The workshops culminate in the performance of a show at the annual NUOVA festival.
"I am proudest of my performance in Kiss Me,Kate! at Opera NUOVA," she says.
"I played the role of Lois/Bianca, which is way outside of my comfort zone. I didn't think I could pull it off and was quite literally worried sick right up until the performance," she admits.
"Lo and behold, I survived! I'm proud of myself not only for surviving, but also for digging deep and accessing a treasure trove of confidence I didn't know I had," she says.
"She was glowing and vibrant, just absolutely amazing," says Loewen, who has also served as a core faculty member for Opera NUOVA since 2002.
"There's such a beauty in watching someone onstage be vulnerable and take risks in their performance. Their instinct is working with their intellect as one, and their best work comes out. I definitely saw all of that in Jane's performance," she says.
"One of my favourite memories of Jane came as we worked together to prepare the role of Lois Lane, a vampish Broadway ingénue," agrees Fletcher, who coached Petroff for the performance.
"Seeing her fearlessly step into this role, embrace the vocal demands and joyfully realize her potential as a leading lady was so exciting. Jane was astonishing," Fletcher says proudly.
Petroff was not put off by her anxiety during that first year, and returned to Opera NUOVA the following summer, where she was awarded the role of Rose in the company's production of The Secret Garden.
Of her favourite pieces learned and performed in the faculty, it is perhaps not surprising that the student who nearly pursued agriculture should include a botany-inspired piece in her list: "Air vif" from Airs chantés, by Poulenc, which includes the (translated) line "What splendor, the blossoming fruit trees and the garden are in a festive mood,/The wild flowers, the woods, are rejoicing,/Beware! Beware! The wind's voice is already rising above their heads."
Other favourites include "Perfect" from Edges by Pasek & Paul, "When You Come Home To Me" from The Last Five Years by Jason Robert Brown, "Mandoline," by Faure, and "Selbstgefühl" by Mahler.
"All of these pieces have opportunities to be highly emotional, which is my favourite part of performing. I also really love the imagery used in "Mandoline," and in all French Impressionist music," says Petroff.
Faculty mentors
"My voice instructor Donna Fletcher has been immensely supportive throughout my degree," says Petroff.
"She has always been so invested in my journey at the DFOM, and so willing to listen. She has taught me so much, not only about performing, but about the arts industry and about myself," she says.
"I am thankful for the challenges she's given me, and for the confidence she has that I will rise to those challenges. I left every lesson with a smile on my face," she adds.
Fletcher feels the same.
"Jane is a very special person. Gentle, funny, inquisitive, dedicated and most importantly kind. She has been, at every lesson and in every class, a true joy to teach – a gift to have in my studio," says Fletcher.
"I first met Jane as part of the Pembina Trails Voices, where she played the role of the Sparrow in Brundibar, a children's Opera I directed with the Manitoba Chamber Orchestra," says Fletcher of the opera that was written during WW II to be performed by the children of the Bergen-Belsen Concentration Camp.
"An old soul with a deep emotional life that she easily accesses, the sparrow was perfectly fitted to Jane – especially with her gift of perfect pitch and beautiful tone. Her performance was deeply moving and mature beyond her years," says Fletcher of her early interaction with Petroff.
NOTE: We're very sorry, Jane, but, like a proud parent, Donna sent us a photo she dug up of you in that early star turn, so we're including it in your profile because it is adorable!
"Imagine my joy when Jane became my student at the U of M!" says Fletcher.
"It has been exciting to watch her work and grow as she is not afraid to be vulnerable or take chances. Jane is an earnest and truly kind young woman – Music pours from her soul. Jane was never a student who was "in love" with the idea of being in music. Rather, she constantly delighted in developing her craft – always passionate about the process of true learning," says Fletcher of what it was like to have Petroff as a student.
"She diligently worked to question, to learn and to be eternally curious. I was constantly amazed and filled with gratitude by how Jane embraced her studies – always searching for ways to improve her skills and add to her Musician/Actor's toolbox," says Fletcher.
"From a quiet sparrow to an electric bombshell – this sums up Jane's incredible journey at the Faculty of Music. I truly believe that Miss Jane is on the threshold of accomplishing anything she puts her mind to – all the while acting with class, grace and a little va va voom," says Fletcher.
"Laura Loewen was a great support for me in my year as Senior Stick," says Petroff.
"I appreciate her commitment to creating a better student experience, and all the time and effort she puts in to make change happen at the DFOM. I'd also like to thank her for being understanding when I came to her in times of stress, and for offering her advice," she says.
"Jane has such strong beliefs about how things should be, and about how best to help students," says Loewen.
"Her contributions will allow us to move forward with confidence, which is so exciting. Jane has helped to create this strong foundation that will support all of us and help us to lead more balanced lives," adds Loewen.
"I'm really grateful to have worked with [executive assistant to the dean] Sarah Rout this year," says Petroff, who worked with Rout on the student handbook.
"I think we're on the same page about a lot of things – I hope she agrees! – and it was nice to have someone who I could speak so candidly to and could expect the same in return," she says of their meetings.
"Thank you Sarah for being so friendly and welcoming to me, and for helping make sure student input has a place at every table!" she adds.
"Jane is one of the most well rounded students I've had the pleasure of knowing during my time at the DFOM," responds Rout.
"She is thoughtful, intelligent, hard working and determined – all things that will serve her well as she moves on to the next chapter of her life. I wish her the absolute best and can't wait to see what she accomplishes next!" Rout adds.
Advice to incoming students
Given all of her accomplishments in the faculty, Petroff is a great person to ask for advice, and she has some suggestions for future DFOM students.
"Your degree doesn't have to follow the traditional, performance or education-based, trajectory," she says.
"Take any and every class that sounds interesting to you, regardless of whether or not you think you will pursue it. If nothing else, it will help you to rule out a career possibility, but in the best case scenario, you'll discover a new passion. And try not to get too wrapped up in the career part of things- above all else, you are here to learn, and learning should be fun!" she says.
Acknowledgements
As Petroff begins the next chapter of her life, she would like to offer the following thanks:
"I would like to thank my family, especially my parents, for supporting me throughout my degree. Their enthusiasm towards both my performances and my schoolwork means a lot to me," she says.
"I'd also like to thank my friends, both the new ones I made at the DFOM and my friends from many years before, for having my back and bringing such joy to my life as I completed this degree," she says of the connections she's made.
"Thank you to all the DFOM professors, instructors, and staff who were invested in my journey and who strive to make the DFOM a wonderful place for students."
"Special thanks to my voice teacher Donna Fletcher and my previous teacher Kelly Robinson for being such positive role models and helping ignite my passion for performing," Petroff says of the teachers who have guided her down her chosen path.
"Lastly, I'd like to thank the FMSA Council for providing me with a home in the faculty. The FMSA gave me a place to grow both professionally and personally, a built-in yet always expanding group of friends, and a place to anchor myself to when I felt lost. I will forever be grateful for the opportunities I was given by being a part of this council!"
Next Steps
As part of her final bow with the faculty, Petroff had originally planned to spend this summer touring with the University Singers, something she had been looking forward to since her first year in the faculty. Unfortunately, due the current pandemic, the tour to Europe was cancelled. However, Petroff remains undeterred.
"As soon as it's safe, I will be travelling to the UK and other parts of Western Europe for a few months," she says.
"I've been saving up to travel after what I thought would be the University Singers tour since first year, so even though there's no tour, I'm putting that money to use!" she says.
"I also plan to look for jobs in arts administration in the near future, as I really enjoyed my time doing admin-type work on the FMSA Council. As far as long-term plans go, I'm not really sure where I'll end up, but it will definitely be in the arts!" she says.
Given her talent, inquisitive mind, impeccable organization, and can-do attitude, Jane Petroff would be an amazing addition to any arts administration team, and we look forward to seeing what she accomplishes. Whatever it is, we know it will be amazing, because Petroff always gets it done!
Congratulations, Jane!