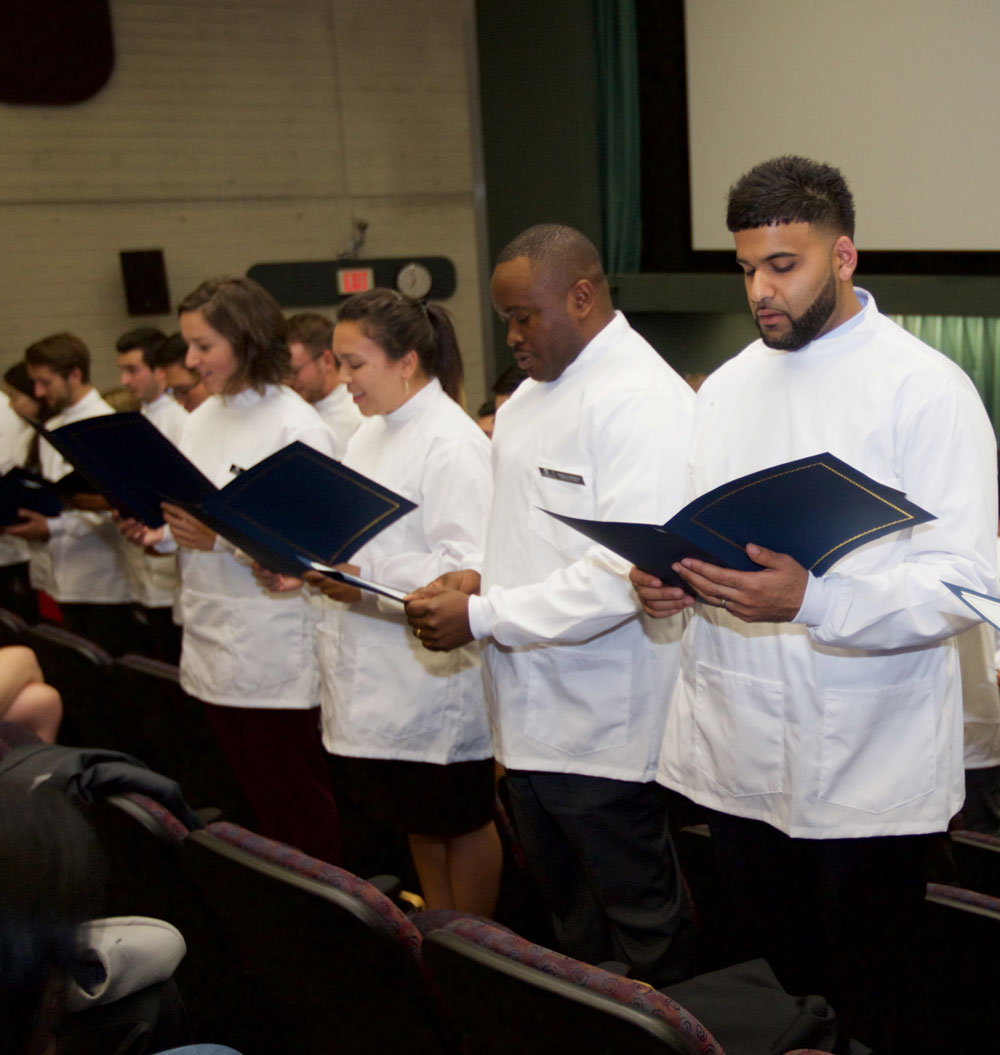 'I've wanted this for so long':
White coats mean the world to determined dental students
September 12, 2017 —
On the long path to dental school, Mahtab Ghazvini has endured dislocation, culture shock and extended bouts of family separation.
On Sept. 7, when the Iranian-born student received her first white coat and recited the Community Code of the oral health professions, she felt all her years of perseverance crystalize into a powerful sense of accomplishment.
"It's not like I'm dreaming anymore," said the 26-year-old at the College of Dentistry's Opening Assembly for first-year students in dentistry and dental hygiene, held on the Bannatyne campus.
"I've wanted this for so long," said Ghazvini, one of 29 incoming students in the Dentistry Class of 2021. "I'm like the poster girl for people who are thinking they can't do it. They can. It will happen if you keep trying and put your heart and mind to it."
Ghazvini left Iran at the age of nine, when her father brought the family to Winnipeg so he could pursue doctoral studies in plant biology at the U of M.
"When I first came to Canada, it was very hard," Ghazvini recalled. "I didn't know English. I was bullied a lot in school."
Seven years later, when she had completed Grade 10 at Fort Richmond Collegiate, the family moved back to Iran. She had to readjust and complete high school in a system with a vastly different curriculum.
Then her parents sent her back to Winnipeg for university. Living alone at age 19, she felt isolated and struggled to support herself while completing her bachelor of science.
Still, she refused to give up her dream of becoming a dentist. "I want to care for people, especially those in need," she said.
Ghazvini's younger sister, Matin, who recently graduated from the Rady Faculty of Health Sciences as a physiotherapist, was at the Opening Assembly to support her.
The future dentist now dreams of organizing oral-care outreach trips to rural Iran. "Because I've been given this opportunity, I would love to give back," she said.
Another student feeling gratitude for his inaugural Canadian white coat was Ehiedu Osemiha, a dentist from Nigeria who arrived in this country two and a half years ago. Along with three other dentists who were educated in Hungary, Poland and Venezuela, he is starting the International Dentist Degree Program. The two-year program prepares foreign-trained dentists for accreditation in Canada.
"Being here is the achievement of a dream," said Osemiha, 40, whose wife and two young sons were on hand to cheer for him, having watched him study for months for the qualifying exams to get into the program.
"I was accepted at a couple of different schools," he added, "but I think U of M is the most sensitive to cultural diversity, and I appreciate that."
Ariane Manabat, 21, was born in the Philippines and came to Canada 11 years ago. She enrolled in the U of M's Asper School of Business, but realized it wasn't for her. She changed direction, took prerequisite science courses and earned her white coat as one of 27 students in the School of Dental Hygiene Class of 2019.
"It was great," Manabat said about receiving her white coat. "I've been working for this for a long time. This is what I really wanted – providing health care and helping people."