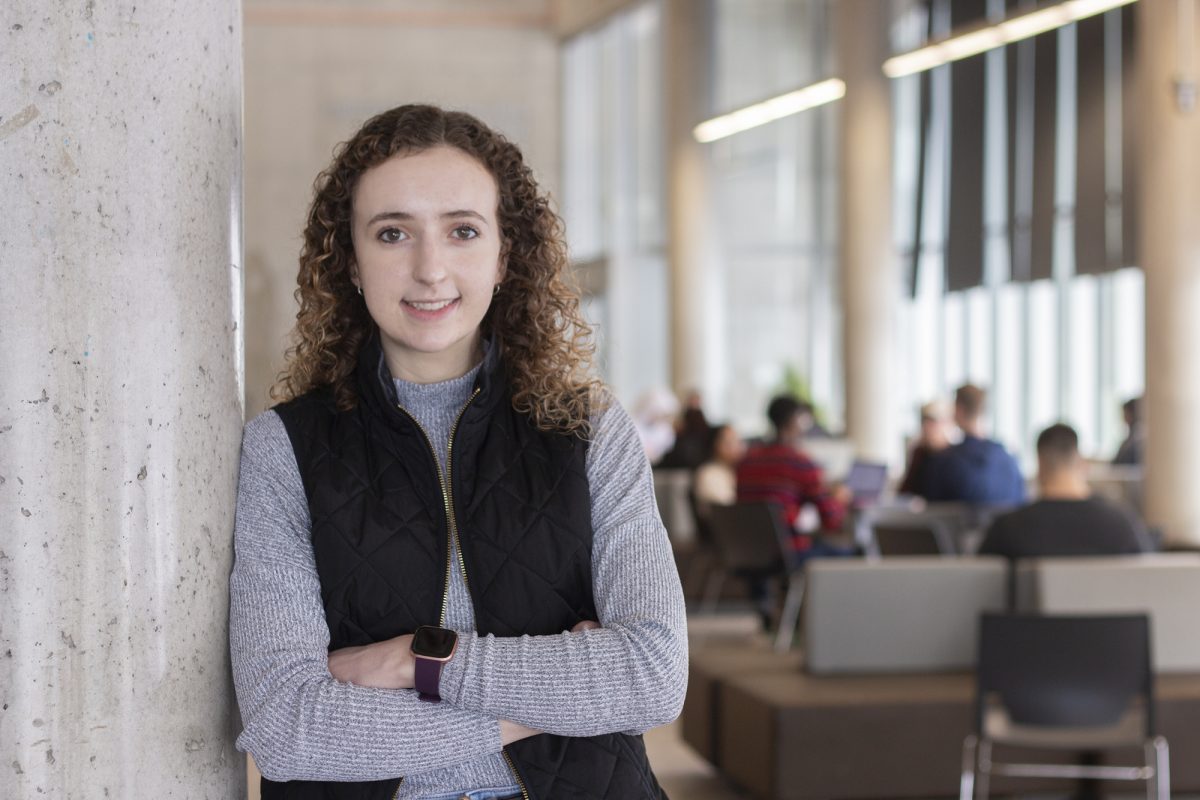 A clean sweep of UM students on Canada's junior women's curling team
Manitoba's Zacharias Rink takes home gold at nationals; vies for world championship in Russia
January 30, 2020 —
Up by a single in the seventh end of the Canadian junior curling championship's gold medal game, Mackenzie Zacharias, skip for Team Manitoba, peered down the length of the ice from her perch in the hack. It was her turn to throw, and the pebble looked like a minefield.
"It was a messy end with a lot of rocks in play," Zacharias recalled. It had been a tight affair against Alberta up until that juncture, as gold medal finales tend to be.
Although four-point ends are an unlikely occurrence in games this big with squads this good, Zacharias knelt down a little further, gazed a little deeper. The chance to put four points on the board was within her sights. "[Alberta] had attempted a freeze. I could see about half-rock, which is all we needed to hit," she said.
Curling requires razor sharp precision. Hitting a rock too thick or too thin could spell disaster. Even how you sweep could drastically alter the trajectory of a rock. "If we had hit it wrong and jammed on something, we may have only scored one or two," she said.
Curling's skip, a position akin to the quarterback in football or the striker in soccer, is often solely credited as the catalyser of the big shot; The one taking centre stage after a victory. In fact, curling teams (or rinks, as they're called) are customarily identified by their skip's surname. Zacharias, however, a skip since age 6, doesn't hesitate to shower her teammates with praise—especially on this play.
"Our third called the line for us really well after I threw it. We were able to hit the rock just right to punch it through a small hole and stick around for four," she said. "Every shot, especially my shots, are definitely team shots. Sweepers have to sweep them right, the person in the house has to call it right. All I have to do is throw it," she added with a chuckle.
The play broke the game open, resulting in a 10-3 win for Manitoba Sunday, Jan. 26 in Langley, B.C. The team will now represent Canada at the world junior championships in Krasnoyarsk, Russia Feb. 15-22.
Although the University of Manitoba Bisons don't boast a U SPORTS curling team, the Zacharias rink is as close as it gets. The quartet are all UM students. Zacharias, her sister Emily (second) and Karlee Burgess (third, who also studies at Dalhousie University) are Faculty of Kinesiology and Recreation Management kinesiology majors. The lead Lauren Lenetine is a UM Faculty of Science student.
Growing up in Altona, Man., about an hour's drive south from Winnipeg, Zacharias, 20, didn't only have rocks and curling tracksuits on her mind. "A lot of fastball, too," she said. She decided to study kinesiology because of her interest in sports and exercise.
Though not sure where she wants her degree to take her ("I have some ideas," she said), she's enjoying the journey. "I definitely like what I'm studying and I'm going to stick with it," said the third-year student.
She pinpoints Motor Control and Learning, a course taught by FKRM associate professor, Cheryl Glazebrook, as one of her favorite classes. "I also enjoy the anatomy classes and have made a few friends there which helps with the enjoyment of school," she said.
Practising three days-a-week and competing in tournaments virtually every weekend doesn't leave a lot of time for anything else. "It can get hard sometimes," she said on navigating the student-athlete balance beam. "We take a reduced course load (three or four classes a semester). But profs are usually super accommodating with our schedule. We basically study whenever we have downtime," she added.
Zacharias hasn't quite packed her suitcase for world's in Russia, but she's excited to represent Canada on the international stage. Her rink will be doing so along side Canada's junior men's team, also hailing from Manitoba.
The trip to Russia will be a big one for her in more ways than one. "The furthest I've ever been is Vancouver," she said.