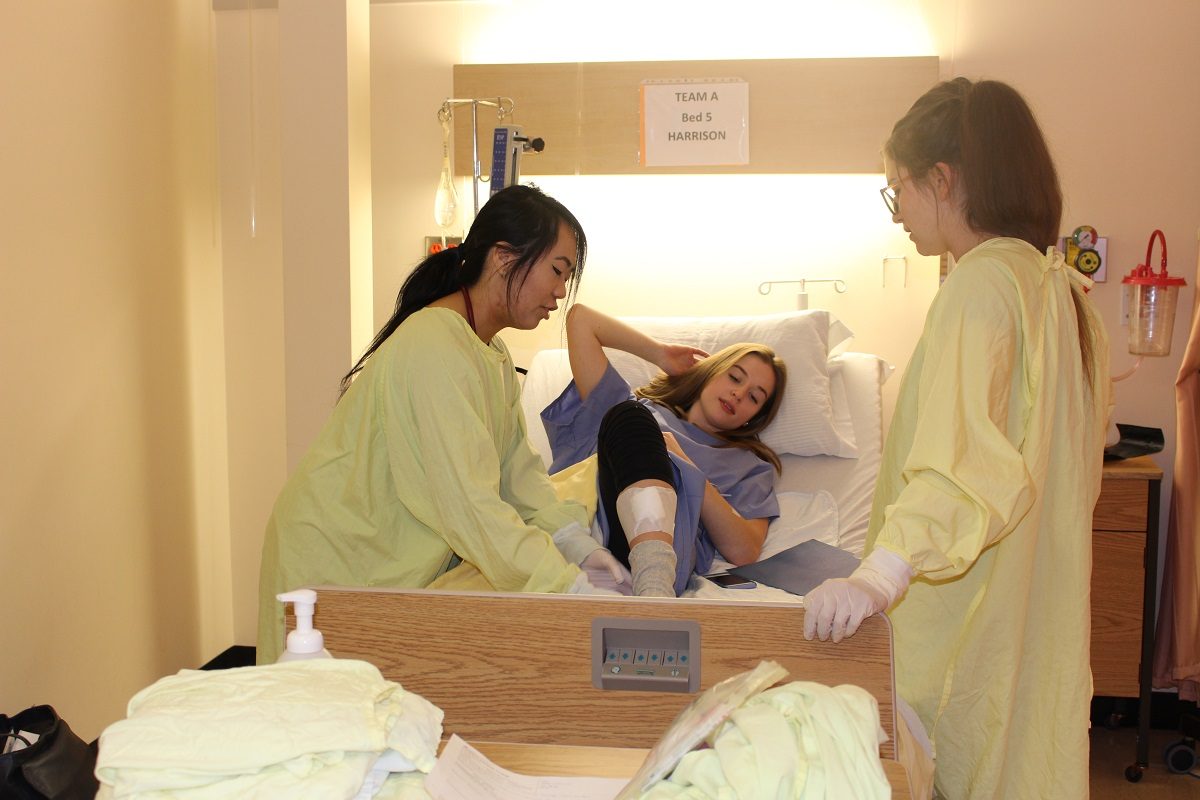 Students work together for better patient care
February 6, 2018 —
Health care in hospitals is increasingly collaborative.
That means students in the U of M's Rady Faculty of Health Sciences need practice at sharing information across disciplines, working respectfully with colleagues whose expertise and training are different from their own, and taking a team approach that results in the best overall care for patients.
In a simulated hospital ward at the Helen Glass Centre for Nursing on the Fort Garry campus, the annual Interprofessional Education (IPE) Day Shift event recently gave students practical experience at making patient care a team effort.
The day-long workshop on Jan. 27 brought together about 50 students from the Max Rady College of Medicine, the Colleges of Nursing, Pharmacy and Rehabilitation Sciences, and the Faculty of Social Work.
"Interprofessional learning provides an opportunity for students to learn with, from and about each other," said Fiona Jensen, senior instructor and interprofessional education coordinator at the College of Nursing.
With student volunteers playing the roles of patients, the seven-hour "shift" began with rounds to assess the medical "cases." Each interprofessional team was assigned to assess and treat four patients. The teams moved around the ward, obtaining patient histories and reviewing X-rays and medications.
"What I've learned so far is you're not alone, and it's important to work together," said third-year nursing student Allen Cabato.
Learning to review patient charts and develop patient care plans with other disciplines offered the students insight into alternative thinking outside their disciplines. "I think the main point of this is that in every intervention, there is not always one solution or result," said Cabato.
Third-year medical student Muzeen Ismath was getting practice at directly conveying his observations and recommendations to his teammates. "I think communication is one of the most important parts of being able to function well as a team," he said. "Finding ways to communicate instead of just leaving notes is the challenge."
Nursing instructor Stephanie Nunes, who was serving as a mentor, emphasized the importance of probing for information and listening. "Speaking to patients, and knowing what questions to ask a patient, a doctor or a physiotherapist, is part of the communication process that students need to become comfortable with," she said.
Kara Lipski, a third-year pharmacy student, hadn't had much experience in a hospital environment and welcomed the chance to confer and cooperate.
"As pharmacists we're very focused on drugs, but it's good to see other aspects of a patient and propose ways we can help," Lipski said. "Like with physiotherapy, they look at getting patients moving, so my role would be to look at the drugs, to make sure they don't make the patient dizzy."
As the day wound down, the teams were challenged with co-creating a discharge plan for each patient. This was the first year that Day Shift included social work participants, who contributed their perspective on the need for post-discharge support.
"In discharge situations, there may be real barriers that are blocking the patient from being independent at home," said Dylan Howell, a second-year social work student. Ismath, the medical student, agreed. "Social work is a vital part of the health-care team, especially when it comes to discharge planning," he said.
Asked to assess their "hospital day shift" overall, students made comments such as: "It's really great practice" and "A really cool experience and opportunity to meet other people and understand each other's professional roles."