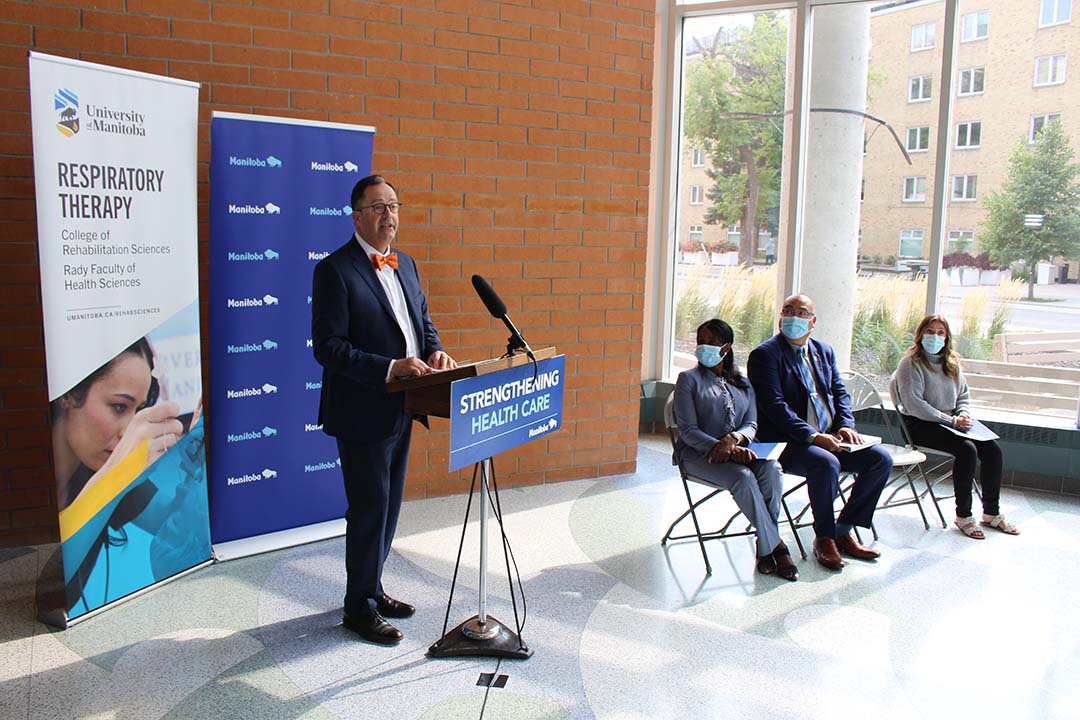 Investment to increase class size for respiratory therapy
September 15, 2022 —
The respiratory therapy program at the College of Rehabilitation Sciences, Rady Faculty of Health Sciences will see a 20 per cent increase in its class size starting this fall to address a projected shortage of respiratory therapists in Manitoba.
Health Minister Audrey Gordon and Advanced Education, Skills and Immigration Minister Jon Reyes announced a Manitoba government investment of $482,000 for the program on Sept. 14.
"Investing in training additional respiratory therapists who play an important role on a health-care team and increasing capacity in the program by 20 per cent represents our ongoing effort to build our province's health-care human resource capacity," Gordon said.
Class sizes for the three-year Bachelor of Respiratory Therapy program will increase from 16 to 20 students per year.
The ministers said the investment will help offset the operating costs of the four new seats and necessary equipment and renovations to support expansion this fall, as well as lay the groundwork for further expansion.
Dr. Peter Nickerson, vice-provost (health sciences) and dean, Rady Faculty of Health Sciences, said Statistics Canada has identified a labour shortage for respiratory therapists in Canada over the next 10 years with an estimated 20-25 per cent vacancy rate in Manitoba.
"It has become abundantly clear over the past two-and-a-half years, the need for more human resources and for supporting the expansion of RT education and training at UM," Nickerson said.
"The program is the only respiratory therapy program in Manitoba, educating the majority of our province's respiratory therapists and contributing significantly to the respiratory therapy human resource needs across Manitoba."
Nickerson said the increased class size is vital for the province's health-care teams, as the projected shortage has already started placing a strain on acute care services, emergency transportation and care of chronic conditions in the community.
"Like every part of the health-care system, this labour shortage has been further exacerbated by the COVID-19 pandemic," Nickerson said.
In 2020 and 2021, Manitoba Association of Registered Respiratory Therapists enabled all students in their final year to graduate four weeks early and enter the workforce to assist with the need created by the COVID crisis.
Lisa Birchard, who recently completed the program and will graduate at UM fall convocation October 27, said the increased class size will fulfill the growing need for respiratory therapists.
"These last two years that I spent in the respiratory therapy program prepared me with excellent training in their state-of-the-art simulation facilities, providing online education for the first time during COVID-19 to ensure on-time graduation, and access to the most up-to-date research in respiratory health," Birchard said.
"I thank the college for allowing me the privilege of becoming part of a profession that provides care not just in ICUs, but in clinics, the community and patient homes."