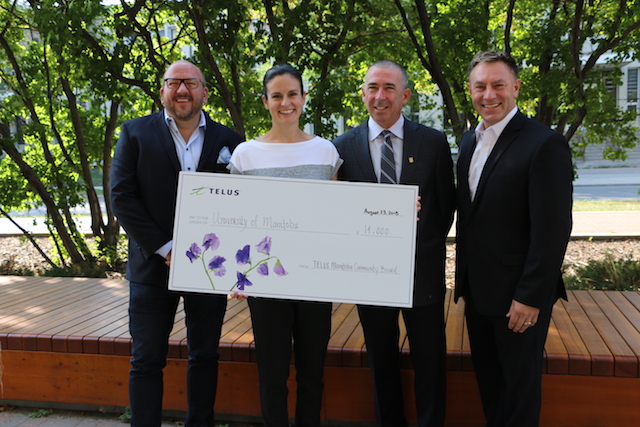 Investing in a better future
Rec and Read program receives significant contribution from TELUS
August 23, 2018 —
The Faculty of Kinesiology and Recreation Managment's Rec and Read Program received a made-in-Manitoba boost this morning.
The TELUS Manitoba Community Board has made a significant contribution to our culturally-based community sport program for Aboriginal youth and young people by donating $14,000 to help encourage youth volunteer mentors of the program succeed academically.
"We are humbled by this generous—and important—contribution by the TELUS Manitoba Community Board, to a program which creates safe, relevant, and meaningful sport spaces for Indigenous youth and young people living in diverse communities to rediscover the joy of sport and to share this experience by becoming sport leaders in their community, " said Dr. Douglas Brown, Dean, Faculty of Kinesiology and Recreation Management.
The Rec and Read program consists of interconnected levels of multi-age mentoring, whereby adults (recognized young adult community health leaders, supporting teachers, or "young adult allies") will work with high school mentors to design and deliver an after school nutrition, physical activity and education program for early years students that is tailored to the needs of each school/community.
There are eight sites within Winnipeg. These include:
The Maples/James Nisbet
The Maples/Elwick
St. Johns/Ralph Brown
Children of the Earth/Niji Mahkwa
Daniel McIntyre/Shaughnessy
John Taylor/Buchanan
The majority of these schools are located in inner Winnipeg neighborhoods with high numbers of families in low socioeconomic groups.
Since 2006, over 2,761 junior high school and elementary students and 246 university students and community mentors have participated in the program.
Each year, program participants are attracted to Rec and Read because of its strength-based programming philosophy as well as its holistic health and wellness benefits. These benefits include:
Increased knowledge about and access to healthy nutrition.
Increased opportunities to participate in moderate to vigorous physical activities.
Increased opportunities to acquire and/or develop literacy skills and practices.
Increased opportunities to build inter-cultural relationships that are meaningful, supportive and enjoyable.
Increased opportunities to be playful, which is always good for the spirit.
Career and Educational Pathways.
Integral in the process of donating these funds to Rec and Read is TELUS Manitoba Community Board member, Tim Prokipchuk [B.Comm.(Hons)/88], who was on hand to present the cheque to Dean Douglas Brown and Rec and Read Director, Dr. Heather McRae.