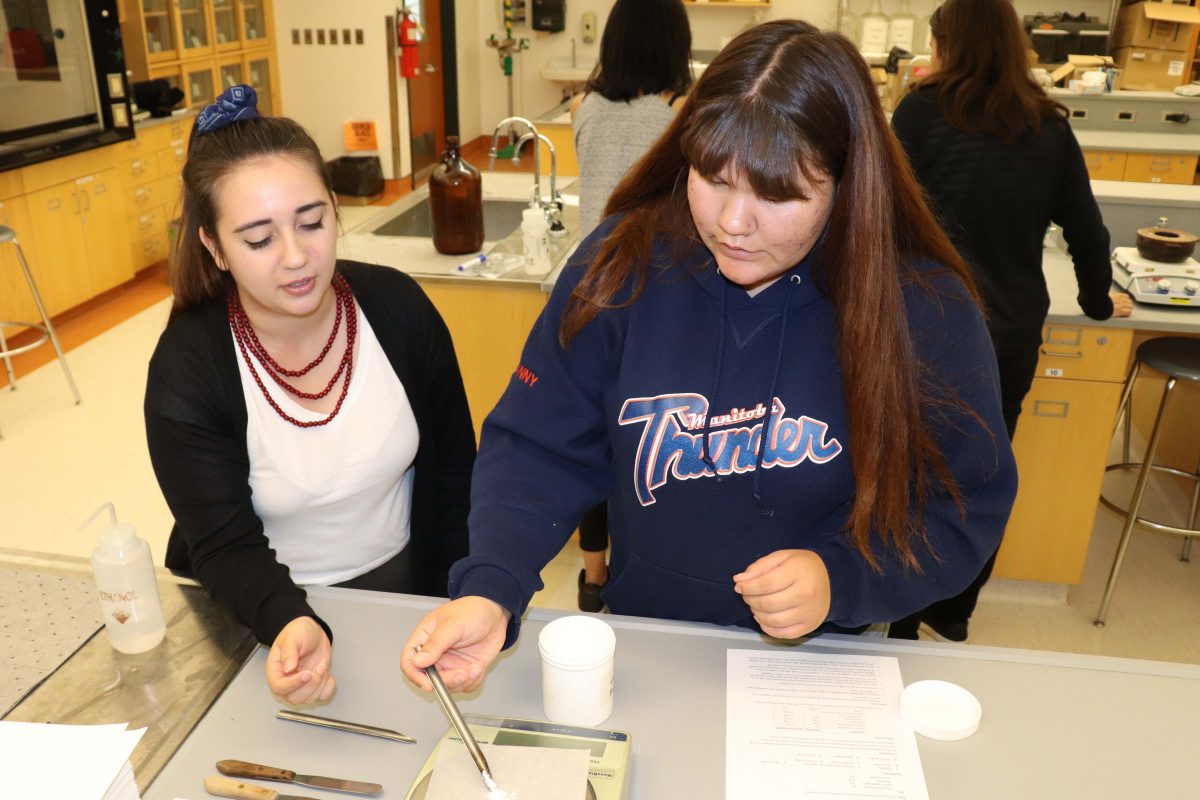 Inuit teens explore health careers at U of M
August 30, 2019 —
Grade 11 student Carmello Swan has been interested in a health-related career for over a year, a passion that was further confirmed after a visit to the Rady Faculty of Health Sciences this summer.
On Aug. 15, the Windsor Park Collegiate student was one of three Winnipeg-based Inuit teens who visited Bannatyne Campus as part of Manitoba Inuit Association's (MIA) Inuit Education Connections Program. The program, which helps increase Inuit student graduation and enrollment in post-secondary education, is in its third year and has been designed from an Inuit perspective.
The U of M's Ongomiizwin – Education, is one of the program's partners and provides funding from its Indigenous Initiatives Fund. One of the partner objectives is that the MIA program could assist Inuit student recruitment and retention at the Rady Faculty of Health Sciences.
The group toured the College of Pharmacy, College of Rehabilitation Sciences and Dr. Gerald Niznick College of Dentistry and met with representatives from Ongomiizwin – Education. They learned about the physical, occupational and respiratory therapy programs, and received hands-on experience with orthodontics and making lip balm and sunscreen.
Swan said she has been interested in becoming a surgeon after taking part in a program for Indigenous students in Winnipeg high schools run by local health and education groups, including the University of Manitoba Access Program.
But following this summer's visit, she said she knows there are even more career possibilities in health-related fields.
"Something I learned about today that I never knew about was physiotherapy," Swan said. "I didn't know some of those careers existed and it was really an eye-opener to see what else is out there and what the world has to offer."
Part of the physiotherapy demonstration included a quiz on various bones that were on display, most of which she could identify through her previous experience.
"In Grade 10 I learned about the anatomy of the human body – all the bones and muscles," she said. "I also went to the Pan Am Clinic and got to see two surgeries. Once I saw those I instantly knew I wanted to be in the medical field."
Kimberly Hart, senior lead, Indigenous Health Student Affairs with Ongomiizwin Education, noted this was the first time students visited the Rady Faculty through this program, which exposes Inuit youth to the university and its programs, while offering a safe, culturally-appropriate space for them to explore their future careers.
"University offers an opportunity to develop not only professionally but personally as well, and it's exciting to show the students that," she said. "We're very inclusive and want to connect and make sure that Indigenous students have a really positive and successful time while they're at the U of M."