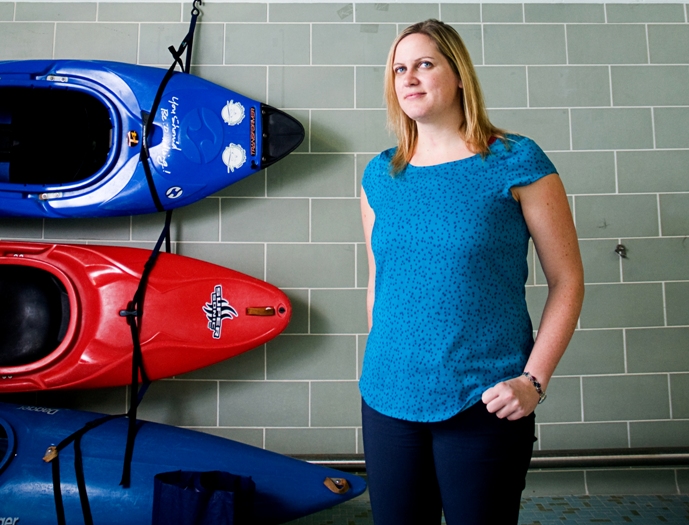 International Women's Day celebrated at U of M
March 7, 2014 —
This year's International Women's Day celebration at the U of M featured Sarah Teezel speaking on the topic, "Women and Sport: Issues and Opportunities." The 12th annual dinner took place last evening at Marshall McLuhan Hall.
The assistant professor in the Faculty of Kinesiology and Recreation Management has a research focus on applied ethical issues in sport with emphasis on the intersection of rules and value. Her research examines equity, justice and fairness in sport.
Her projects include an analysis of the gendered nature of doping research and anti-doping education campaigns and an examination of whether drug testing in sport is a justifiable violation of an athlete's right to privacy and autonomy. Teetzel has also written about fairness for transgendered athletes.
During the Olympics, the Winnipeg Free Press published her analysis piece on sex testing for athletes, which, as she points out, targets female athletes.
She wrote, "Concerns about terrorism, homophobia, free speech and athlete safety have been widely discussed, but half of our Canadian athletes face one additional uneasy prospect: the possibility of having to assure a committee of "experts" they are eligible to compete in the women's events.
"As has been the case throughout the history of the Olympics, sex verification requirements are only for women."
Originally, a doctor's note declaring a competitor to be a woman sufficed. With such a note, the International Olympic Committee issued a "femininity certificate."
At the event yesterday, said Teetzel, the focus of her presentation was "whether a glass ceiling remains in place for the current generation of female athletes to reach the highest levels of decision-making in international sport."
Her presentation examined several myths about women's sport that M. Ann Hall and Dorothy Richardson attempted to debunk in 1982 in their book (Fair Ball: Toward Sex Equality in Canadian Sport), which are still perpetuated in media sources today. Without evidence to support these views, some people with considerable decision-making power in sport, including some International Sport Federation presidents and national team coaches in some countries, continue to question the biological suitability of women for sport and suggest sports harm women's reproductive organs.
Teetzel cited statistical evidence that women do not yet hold parity in sport, and provided examples of the impact of sexualized media coverage.
She concluded that while opportunities for female athletes have improved substantially, there are still persistent problems with respect for women and gender parity, including equity in high-performance sport, gender inequities going unchallenged in the media, and the need for more women on boards at all levels of sport, from the local level to international sports federation and organizations.