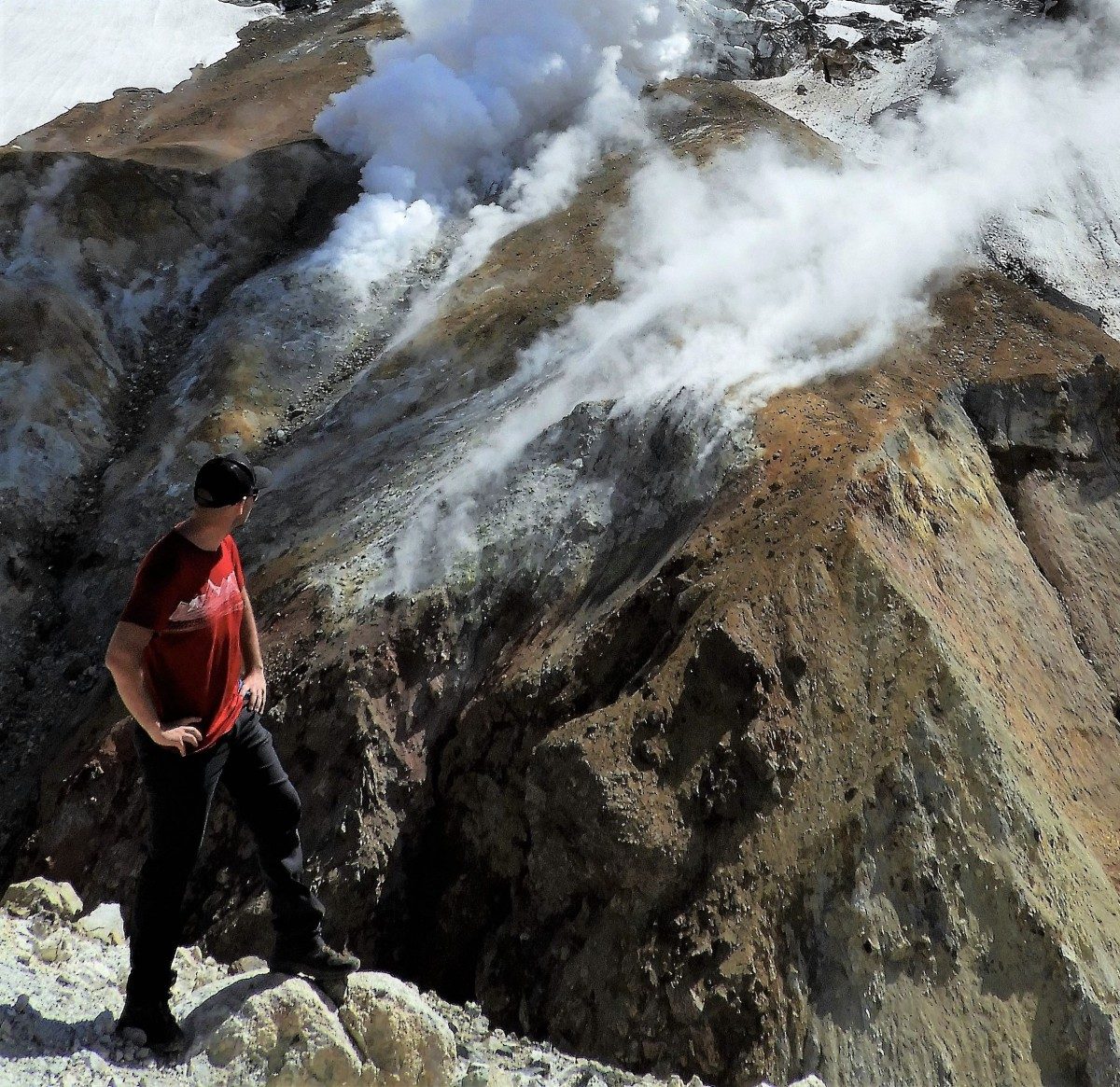 International Volcanic Field School in Russia
October 15, 2018 —
Over the month of August, I had the pleasure of participating in the 2018 International Volcanology Field School, Kamchatka session and the following 10th Biennial Workshop on Japan-Kamchatka-Alaska Subduction Processes (JKASP-2018). Both events took place in Kamchatka, Russia at a field camp for the field school and the city of Petropavlovsk-Kamchatsky for the conference. The whole trip was a great opportunity to see some amazing volcanoes and witness international collaboration of scientists all working from remote areas of Russia, North America, and Japan.
The field school was held over two weeks at a base camp between Mutnovsky and Gorely volcanoes. The area is incredibly diverse in the types of volcanoes present, active and remnant volcanic features, and geologic diversity. Excursions were made every day to a new location including the summit of both volcanoes. A specific highlight for me was a trip to Russia's largest geothermal power plant and an adjoining hydrothermal field on the flank of Mutnovsky volcano. This was my first time visiting a geothermal power plant, which was fascinating to see in person, and witnessing a hydrothermal field allowed me to draw some interesting comparisons to my project area in Costa Rica.
The conference was held over a week and is designed to highlight geological and geophysical observations from researchers and volcanic observatory employees in Kamchatka (Russia), Alaska (USA), and Hokaiido (Japan). All these areas are linked by the same tectonic plate movements that are responsible for volcanism, but still have a wide variety of volcanic by-products. The entire region is still incredibly active, presenting one of the most opportune research stations for gathering geological and geophysical data. Two of the field excursions were offered through this conference: a visit to Klyuchevoye volcano and Khodutka hot springs by helicopter, and a climb up Avachinsky volcano totalling about 6,000 m of elevation gain in 4 miles.
My participation in this field school and conference was made possible with support from my Supervisor, Dr. Feiyue Wang (CEOS), the Clayton H. Riddell Faculty of Environment, Earth, and Resources, the Deep Carbon Observatory, and the University of Manitoba Graduate Students Association.