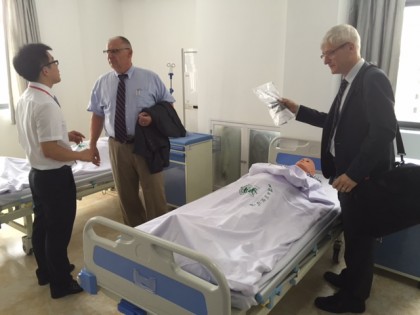 International visionaries: U of M, Shantou U forge new partnership
September 23, 2015 —
A new centre focusing on family medicine training, the "Shantou University-University of Manitoba (Canada) Family Medicine Centre" opened September 17 in Shantou, China strengthening the partnership between the University of Manitoba and Shantou University.
"We are delighted we were able to partner on this new family medicine centre with Shantou University Medical College," said Dr.  Brian Postl, Dean, Faculty of Health Sciences (FHS) who attended the opening with Dr. Jose Francois, head, department of family medicine, and Dr. Clayton Dyck, U of M Coordinator of the joint U of M/SUMC academic exchange program. "It will provide academic clinicians, as well as our learners, with opportunities to share knowledge and expertise and experience different cultures."
In 2009, the Central Government of China launched a series of comprehensive health system reforms, which included strengthening the role of primary care and training up to 400,000 general practitioners by the year 2020.
The Shantou University-University of Manitoba (Canada) Family Medicine Centre, intended to provide clinical training for postgraduate and undergraduate learners in the disciplines of family medicine and primary care, was established by SUMC and the SUMC First Affiliated Hospital in response to these and other national reforms in med
ical education.
Based on its longstanding relationship in these teaching activities, the U of M DFM was invited to assist with development of the training centre.  Hospitals in Shantou currently do not have family physicians on either their clinical or academic medical staff; this centre is to be initially staffed by specialist faculty who will receive additional training in family medicine concepts and principles.
The U of M DFM will provide assistance with training new teaching faculty, along with providing faculty development for administrative and nursing staff at this new facility.
Shantou University Medical College (SUMC) was established in 1981 through the support of the Li Ka Shing Foundation.  Since 2002, the U of M FHS and SUMC have participated in an academic exchange program which includes robust student and faculty exchange activities, productive research collaborations and multiple scientific symposia, supported through $3 million in donations from the Li Ka Shing Foundation and Husky Energy.
The UM department of family medicine (DFM) has participated in the academic exchange since 2006.
In 2015, DFM exchange have included extended UM DFM visits to Shantou for assistance with family medicine curriculum and faculty development, as well as student teaching; student exchange visits to DFM teaching sites; and consultation visits by family medicine leaders from both institutions.
To date, more than 125 medical learners, researchers and faculty members have participated in this visionary academic exchange program.
"I look forward to watching this number increasing in the coming years with new collaborations at the Shantou University/University of Manitoba Family Medicine Centre on the development and promotion of family medicine and excellence in medical education at an international level," said Dr. Postl.