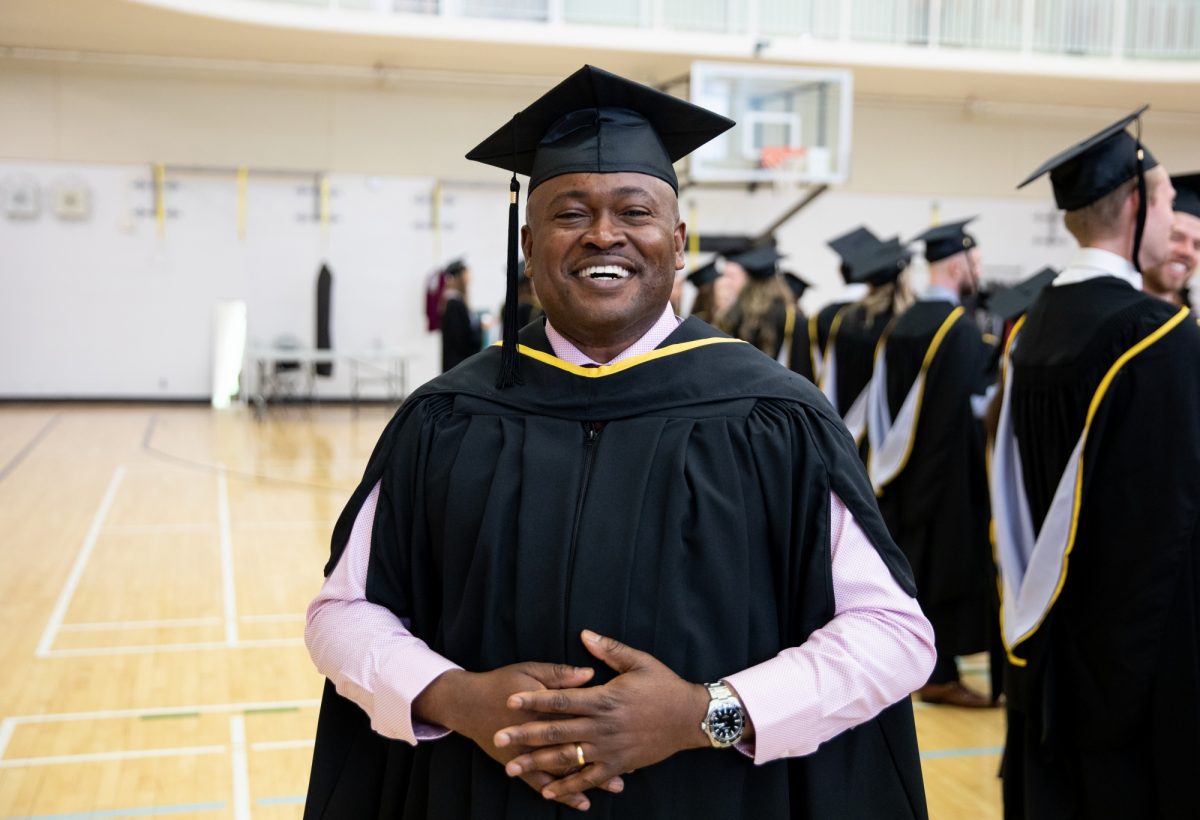 Dentist who escaped violence in Nigeria now a U of M success story
July 15, 2019 —
Every immigrant comes to Canada with visions of achieving success and stability, says Dr. Ehiedu Osemiha, who left Nigeria with his wife and son in 2014.
But for Osemiha, a dentist in the Nigerian Air Force who narrowly escaped a terrorist attack, the dream of qualifying as a dentist in Canada seemed almost too elusive to hope for.
"Leaving Nigeria for Canada was like jumping into the ocean, hoping to catch a goldfish," says the genial 42-year-old, known by the nickname "Chuks."
It took great perseverance, but on May 23, Osemiha caught his fish. He walked across the U of M convocation platform to receive his doctor of dental medicine degree. "I've reached the end of the whole struggle," he says.
Now a Canadian citizen, he is practising at a downtown Winnipeg clinic two days per week, and in Portage la Prairie three days per week.
"Everyone says, 'Chuks, you smile a lot!' I say, 'Yeah! I'm happy to be here, and every day is part of the happiness.'"
The International Dentist Degree Program (IDDP) at the Dr. Gerald Niznick College of Dentistry in the Rady Faculty of Health Sciences was Osemiha's pathway to Canadian accreditation. Each year, it accepts a handful of foreign-trained dentists, adding them to an existing class for the final two years of the four-year degree program.
About 110 applicants compete for roughly six spots in the program each year. Along with Osemiha, the Class of 2019 included dentists trained in Colombia, Hungary and Poland.
Osemiha, who first graduated in dentistry in 2004 from the University of Lagos, recalls that he joined the military "solely for adventure," attaining the rank of major. In 2014, he was providing dental care at a camp in northern Nigeria.
When he left the camp in a vehicle with five other people, they were ambushed by Boko Haram terrorists. Osemiha was shot through the lower leg while escaping. He was the only survivor.
"It jolted me to the reality that I had to think of a better, safer life for myself and my family," he says.
That same year, he and his family immigrated. After landing in Alberta, Osemiha spent months studying for the qualifying exams for the IDDP while he and his wife held various jobs to make ends meet. In 2017, after moving several times and welcoming another son, they came to Winnipeg, where Osemiha had earned a coveted spot in the IDDP.
He found that a key difference between dentistry back home and here is that the former is more paternalistic. "In Nigeria, the dentist decides what's best for the patient. In Canada, we give the patient all the options so they can make an informed choice."
Osemiha was accustomed to taking impressions for restorations, such as crowns, and sending them to a lab to be fabricated. At the U of M, he says, "you have to do the lab processes yourself. That was the most difficult part for me, but it turned out to be the biggest advantage. Now I can spot a wrong job from afar."
Dentistry professors often comment that the international dentists bring life experience and global perspectives that benefit the rest of the class.
Osemiha was awarded the Class of 1999 Dr. Lawrence Stockton Memorial Prize for the IDDP graduate who demonstrates the greatest improvement in restorative dentistry, as well as excellent communication skills and the qualities of a positive role model.
He recalls one Canadian classmate making a comment about Nigeria as a place of dusty rural roads. "I showed him pictures of three Nigerian cities, showing him that it was more cosmopolitan than rural. That interaction opened up his mindset about the developing world. It's not all poverty, pain and suffering."
Osemiha believes in paying his good fortune forward. Recently, a foreign-trained dentist who arrived in Winnipeg to interview for the IDDP was in need of emergency dental care. Someone put the applicant in touch with Osemiha, and he didn't hesitate to stay after hours at his Winnipeg clinic to provide treatment.
"Having gone through it, I appreciate what the opportunity to attend U of M means to international dentists," he says. "I tell them, 'This school supports you, irrespective of the baggage that you carry. It leads to life.'"