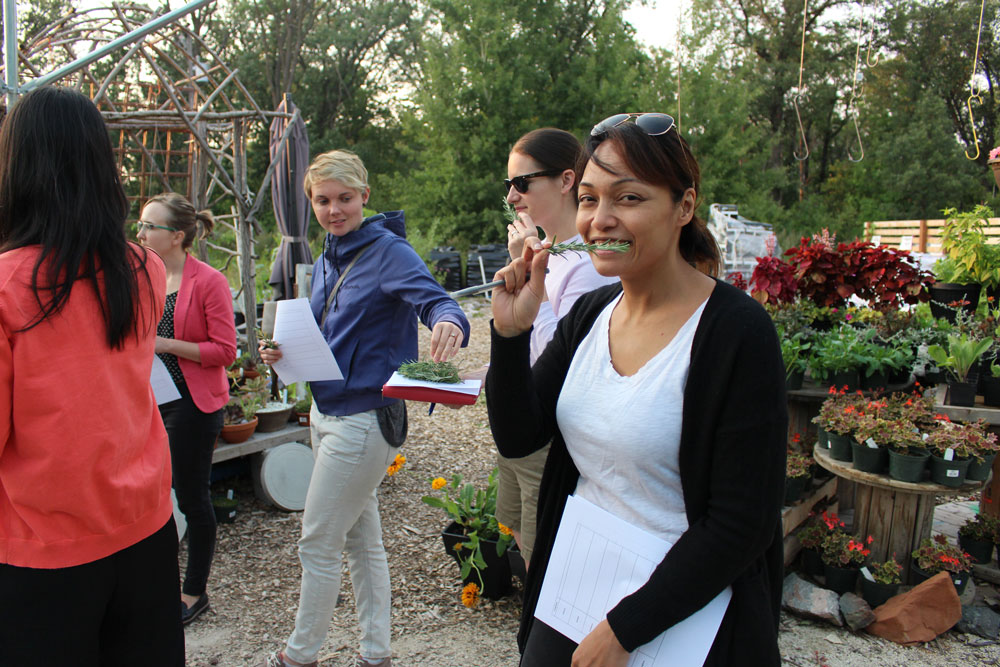 Integrative Medicine in Residency Program teaches respect, understanding of complementary practices
September 19, 2017 —
At Winnipeg's Sage Garden Greenhouses, owner Dave Hanson unpots a plant with long, thin leaves, revealing tangled roots. He says it's called sweet flag, also known as calamus.
A circle of family medicine residents leans in to see the part that many locals harvest in northern Manitoba, the fleshy rhizome near the stalk. "You'll sometimes see people with a piece of it tucked in the sides of their mouths," he says, describing how it can be used to comfort a toothache. "You can feel the analgesic effect immediately."
The plant has been used as a healing medicine by Indigenous people in Canada and beyond since long before Europeans arrived. And many people still use this plant and other herbal remedies today, Hanson points out.
That's why the group of residents made the trip to his greenhouse on the outskirts of Winnipeg, after an already full day. They're part of the Integrative Medicine in Residency Program (IMR) in the Department of Family Medicine, Rady Faculty of Health Sciences, and they know that the patients they see may have different perspectives on health care than what they might learn in the classroom.
"Through this program, residents become familiar with a wide variety of complementary therapies," says Dr. Shandis Price, postgraduate faculty lead for IMR. The idea isn't that they'll necessarily become experts on natural herbs – or any of the other treatments they explore through the program – but that they encounter and gain respect for a whole range of medical traditions. "When they understand more of what's out there, it enables them to effectively counsel patients on the potential risks and benefits."
IMR is a two-year program of study offered in conjunction with the University of Arizona Center for Integrative Medicine. It is comprised of 200 hours of online study and regular journal clubs, such as the trip to Sage Garden Greenhouses, which provide the opportunity for hands-on experiences. The program runs concurrently with the University of Manitoba two-year family medicine residency program, exploring the integration of complementary and alternative therapies with conventional family practice.
First-year family medicine resident Rukhsana Foster said she was interested in complementary therapies long before her professional studies, which made her want to learn more about them in a formal setting. "Before I went into medical school I'd experienced a lot of different things myself," said Foster. "I've done yoga, I've done acupuncture. I wanted to learn more about it as a physician."
Andrea Wilson completed the program during her first year of residency in family medicine's northern remote stream. She says the program allowed her to broaden her treatment options beyond what she might have learned through her mainstream studies.
"Patients are interested in a whole range of things that we don't touch on in medical school," she said, citing supplements, herbal remedies, nutrition, chiropractic, osteopathic care and more. "Now, when a patient comes to me with low back pain, I have more to offer than just a trational medical workup. I have other evidence-based options I can recommend – I feel like I have more tools in my toolkit."