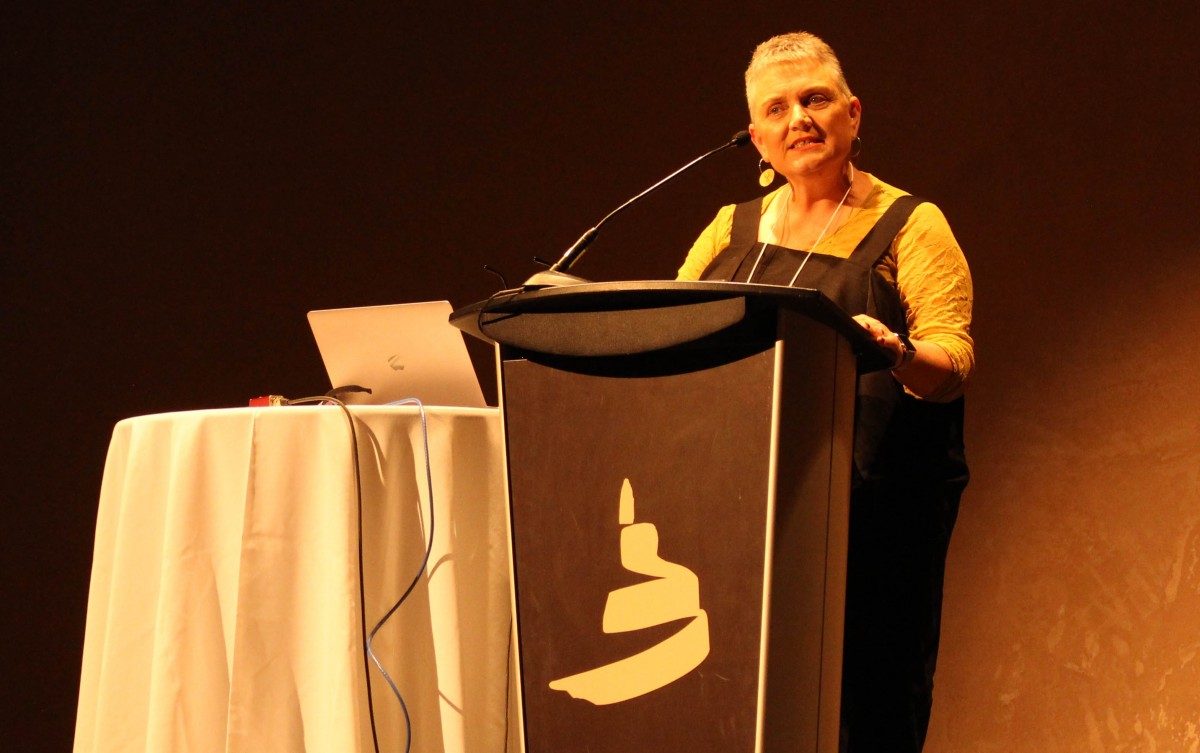 Innovative research and 'disruption' highlights of Helen Glass Research Symposium
March 25, 2019 —
Changing health systems to make them more inclusive to vulnerable people was the focus for the 2019 Helen Glass Lecture, held, fittingly at the Canadian Museum for Human Rights (CMHR).
Keynote speaker Dr. Amanda Kenny, Violet Marshman professor of rural health in the La Trobe University Rural Health School in Bendigo, Australia, presented her lecture on the global need to "disrupt" health systems by investing more in services that will help Indigenous populations, people with disabilities or those that live in rural areas.
"I think many of the major health issues we have are not health issues, but social issues," Kenny said. "In Australia, our hospitals are full of people. And why are they there? They're there because we have these big hospitals that are symbols of political power, largely of men who like to cut ribbons and take photos outside them. They are full because we have a massive failure of social care and primary care."
The event, attended by approximately 160 faculty, students and the public kicked off the Helen Glass Research Symposium, hosted by the College of Nursing, Rady Faculty of Health Sciences. This is the third year the lecture was held at CMHR and the first time the entire symposium was held there.
The three-day, annual event also included workshops, doctoral student presentations and a graduate student research poster competition.
Social concerns continued to be a theme in the poster competition, where PhD candidate Tara Horrill won first place for her project that looks at access to oncology care for Indigenous people in Canada, a subject she became interested in while working at CancerCare Manitoba.
"During that time I noticed we were seeing a number of Indigenous patients being diagnosed with cancer at quite late stages, which is unusual in this day and age with the health-care system we have and the screening tools we have," she said. "It turns out Indigenous people face a number of barriers to accessing care that other people may not encounter."
Second place went to Nicole Shead for her entry on inter-professional team empathy among perioperative team clinicians. Shead, who graduated from the College of Nursing in June 2016 and now works at the Selkirk Regional Health Centre, discovered in her practicum experience that a communication gap exists between nurses, surgeons, health-care aides and other members of the perioperative team.
"This lack of team communication was leading to a loss of job satisfaction, burnout, anxiety and stress among team members," she said. "Empathy is essential in health care and it has been a popular topic in nursing, but focusing on the relationship between the patient and the health-care provider. What about empathy between health-care providers and teams?"
April Gage placed third for her project on Towards Flourishing, a mental health promotion strategy offered through Manitoba's Families First Home Visiting (FFHV) program. Through interviews with 10 parents and 10 home visitors, she found the strategy is positively promoting the mental health and well-being of families by giving them tangible ways of coping with life stressors.
"I learned that the social determinants of health, such as housing, finances and transportation, greatly impact the mental health of families, and that families benefit from having the support of a home visitor," said Gage, who works as a public health nurse in the Interlake Eastern Regional Health Authority.
Dr. Christina West, assistant professor at the College of Nursing and chair of the event, called the students who took part in the competition the "future leaders of the nursing profession."
She added that the event was a great way to honour its namesake, the late Dr. Helen Glass, former director of the University of Manitoba School of Nursing and a dedicated pioneer of the nursing profession.
"Dr. Helen Glass was a national and international nursing leader, who continues to inspire us today," she said.