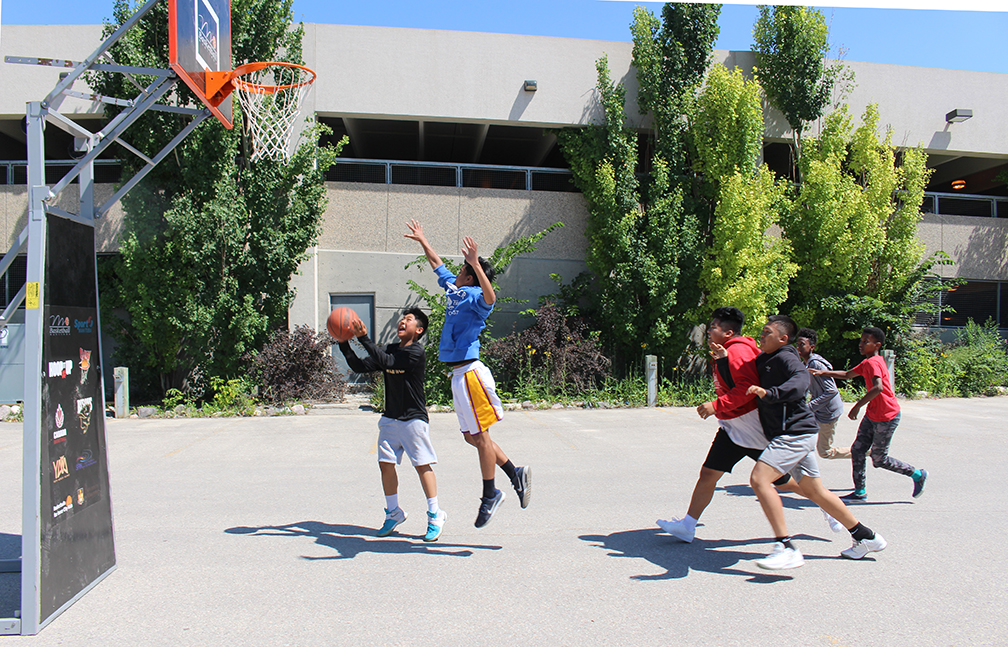 Inner-city sports program scores big results
July 17, 2017 —
During the week, lot E at the University of Manitoba's Bannatyne Campus is just a parking lot. But every Saturday, it transforms into a place where inner city youth are making their hoop dreams come true.
The Summer Weekend Inner-City Supervised Hoops (SWISH) program, now in its fifth year, has a dedicated following amongst the neighbourhood kids. Josh Teano, heading into Grade 12 this fall, comes out for Saturday pick-up games as often as he can. He calls his best move "unguardable." It's not so much a move as it is a mindgame, Teano explains. "I change directions and it fools the defender," he says. "It makes me look like I'm driving one way and I'm switching onto the other."
Justin Ducusin, also going into Grade 12, prefers the "in and out crossover." He talks with his hands, ducking from one side to another as he tries to explain to a non-athlete what that looks like. Eventually, the pair decides it's easier just to demonstrate—they grab a ball and race over to one of the empty courts.
None of the young athletes that came out for the first day of the new season are all that interested in talking, anyway. They've been patiently waiting for the program to start (it runs July 8 – August 19) and all they want to do is grab a ball and go.
For these guys, it's an obsession. For Yassin Ahmed, it's been so much more than that. For him, it's been an escape. "It was never safe to go outside because of gangs, violence and trouble," said Ahmed, talking about his home in the North End. "I got bullied, called mean racist words. I had the worst memories there."
By that time in his young life, Ahmed had already been through a lot. His parents are from Somalia, but had to flee their home when war broke out. They travelled to Khartoum, Sudan, where they were placed in the refugee camp where Ahmed was born and where he lived the first years of his life. In 2010, the United Nations helped them relocate to Canada where they got a new start in Winnipeg.
"My father wouldn't usually let me and my younger siblings go out alone or to anywhere that he didn't feel it was a safe environment for us," said Ahmed. They were allowed to go to the YMCA, but other than that, options for fun were pretty limited. That's where SWISH comes in. It was free and it was safe. Dad approved.
Ahmed quickly became a regular, always one of the first to arrive and help set up. "On Saturdays I used to wake up early and take my bike or walk—it was a nice walk." It was also a far walk, all the way from the far side of the Slaw Rebchuk Bridge to McDermot Avenue. But Ahmed says it was worth it. "It got me away from all the negative things that were happening around me at that time." There were always caring people there, he said. "They became my role models."
He's talking about people like Xavier Smith BA/13, who has been with the program since its inception. As a former U of M Bison athlete and current coordinator for SWISH, Smith says he's already seeing the difference the program has made for kids like Ahmed. "Basketball is all about fun," he says. "It's huge for the youth in this area." They can hang out, shoot hoops, or work on their skills with trained staff and volunteers. Just as important, Smith points out that it creates a distraction from less positive influences. "Some of the kids that started out in the program weren't focusing on the greatest things," Smith said. Like staying out late, getting into trouble, mouthing off and fighting. "You could see that compounding and not leading to the best things."
Five years later, Smith says he's thrilled to see the way the young athletes are handling themselves, both on and off the court. "They've got bright futures," he said. As for Ahmed, he's got one more year of high school ahead of him and he's now a junior staff member with the program, plus one more bit of exciting news. "I got my citizenship last year December. I am a proud Canadian now that is hoping to join the army or Winnipeg police after high school, so I can help out the country that help me and my family." And play basketball, of course. "It's been part of my life and I hope it always will be."