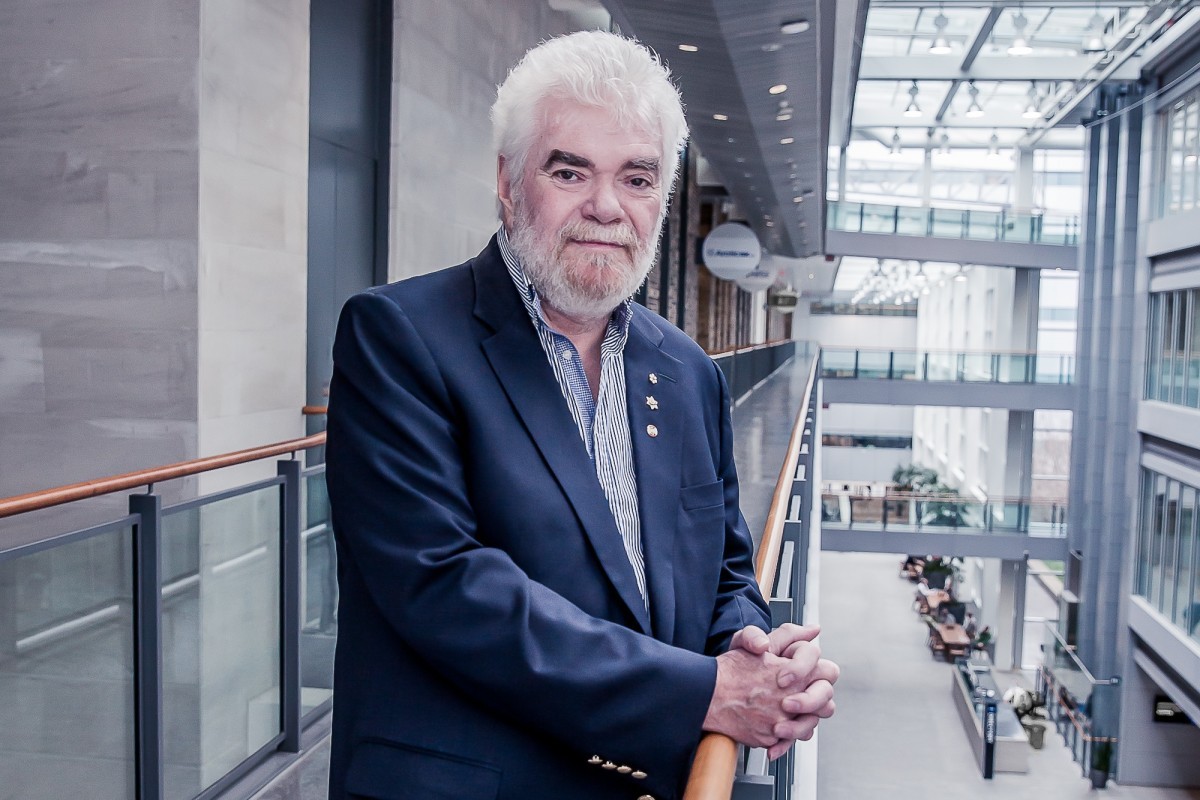 Infectious disease research pioneer Frank Plummer to present Annual Gairdner Lecture
October 7, 2016 —
The University of Manitoba, Rady Faculty of Health Sciences is pleased to welcome U of M Distinguished Professor Dr. Frank Plummer, winner of the prestigious 2016 Canada Gairdner Wightman Award, to present the annual Gairdner lecture. The Gairdner awards, considered amongst the most esteemed medical research prizes, distinguish Canada as a leader in science and provide a $100,000 (CDN) prize to each scientist. Of the 344 Gairdner winners to date, 83 have gone on to win the Nobel Prize. Dr. Plummer will be presented with his award October 27 in Toronto at the annual Gairdner Awards Gala.
Who:     Distinguished Professor Dr. Frank Plummer, 2016 Gairdner Wightman Award winner
What:  "The Untold Story of the National Microbiology Lab"
When:   Noon – 1:00 p.m. on Wednesday, October 12, 2016
Where:  Frederic Gaspard Theatre, Basic Medical Sciences Building, University of Manitoba, Bannatyne Campus, 745 Bannatyne Ave.
The Gairdner Foundation celebrates biomedical science across Canada. Each year the Foundation hosts a 10-day National Program to connect Gairdner winners to the current and emerging generation of Canadian researchers and anyone else who is interested. Gairdner recipients lecture to over 6,000 people at over 20 universities across Canada every year.
Frank Plummer [MD/76] is the Recipient of the 2016 Canada Gairdner Wightman Award for his groundbreaking research in Africa in understanding HIV transmission and his leadership at the Canadian National Microbiology Laboratory with pivotal roles in SARS, influenza and Ebola epidemic. He serves as senior advisor to the Deputy Minister and Chief Public Health Officer, Public Health Agency of Canada ; Distinguished Professor, Medical Microbiology, Max Rady College of Medicine, Rady Faculty of Health Sciences, University of Manitoba and is a former Tier 1 Canada Research Chair in Resistance and Susceptibility to Infections (2001-2014).
Dr. Plummer was born in Manitoba and received his medical degree from the University of Manitoba. He trained in internal medicine and infectious diseases at the University of Southern California, the University of Manitoba, the University of Nairobi, and the Centers for Disease Control in Atlanta. He joined the University of Manitoba faculty in 1984 and spent 17 years in Nairobi as the leader of the world-renowned Manitoba Nairobi collaboration. From 2000-2014 he was Scientific Director of the National Microbiology Laboratory in Winnipeg, building it into a globally preeminent public health laboratory.
Dr. Plummer is recognized internationally for his work in public health and science, having published over 375 high impact original articles.  He has received numerous honours, including; Officer of the Order of Canada, Order of Manitoba, Killam Prize; Prix Galien; two honorary degrees; Rh Institute Award; Achievement Award from the American Venereal Disease Association; I.S. Ravdin Award, American College of Surgeons; St. Boniface Hospital Research Foundation International Award; Canadian Institutes of Health Research Researcher of the Year  2007; Scopus Award, Hebrew University of Jerusalem.
He has been elected to the American Society of Clinical Investigation and the Association of American Physicians and advised has the National Academy of Sciences in the US, the World Bank, the World Health Organization, and the Governments of Kenya, India and Lesotho.