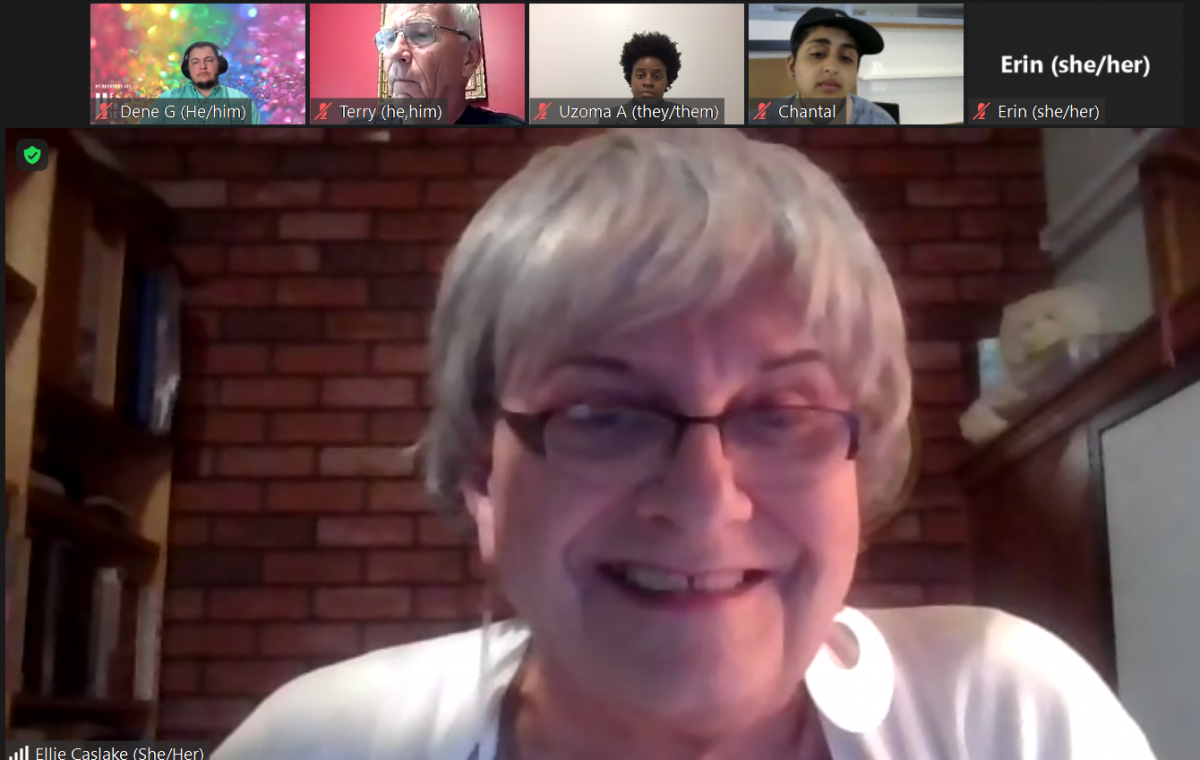 Inequity in health care focus at virtual Pride 2021 town hall
September 22, 2021 —
Prominent 2SLGBTQIA+ community members discussed their perspectives on challenges with the health care system at the virtual Pride 2021 Town Hall September 13. The event, Creating Positive Change in Health Care – A 2SLGBTQIA+ Perspective, was presented by the Office of Equity, Diversity and Inclusion (EDI) at the Rady Faculty of Health Sciences.
The virtual panel discussion was moderated by Ellie Caslake, a transgender women, artist and EDI project developer and included four panelists who took turns answering Caslake's questions on a range of health-related topics. One of the main themes discussed by the participants was how negative experiences in seeking health care can often lead people in marginalized communities to avoid seeking treatment, and results in dire health consequences for the individuals.
Other topics of focus included government funding cutbacks for therapy and treatment centres, long wait times and prohibitive costs of private therapy, and inappropriate questions and comments from health-care practitioners.
Uzoma Asagwara, a registered psychiatric nurse, Black, queer, gender non-conforming MLA was passionate in expressing that they are tired of giving examples of mistreatment, and would prefer to see action. "So often targeted and marginalized people are expected to regurgitate their traumatic experiences to justify change. We have articulated our suffering in health care – we would like folks in positions of power to be proponents of positive change," said Asagwara.
Chantal Ramraj, a non-binary Queer woman and teacher, talked about their inability to find a family doctor they were comfortable with, and the consequences this can have on safety for themselves and their family. "I don't know what to look forward to. I don't know when I will have a family doctor, or if I will."
The role of education was discussed as one of the most important ways to improve treatment of marginalized groups in the future. By having health practitioners better educated to the sensitivities and health needs of 2SLGBTQIA+ people, they could be more compassionate and better equipped in serving those communities.
"Education is at the top of the list on how we can make changes and move forward," said Dene Guillas, an Indigiqueer, transgender man, and school equity and inclusion coordinator at the Rainbow Resource Centre.
It was acknowledged that the University of Manitoba has made strides over the years, although there was a common sentiment that more could still be done. "Too often we are brought in to supplement course content – that our communities are an afterthought," said Asagwara.
"These conversations are so important and we are at crucial moments in so many ways. There are changes that are going to come only if we are more politically engaged, because we are crushed by systems," said Ramraj.
This was the first Pride Town Hall event organized through the EDI department and an introduction was given by Jackie Gruber, director of EDI, Rady Faculty of Health Sciences. Also included on the panel was Terry Sykes.