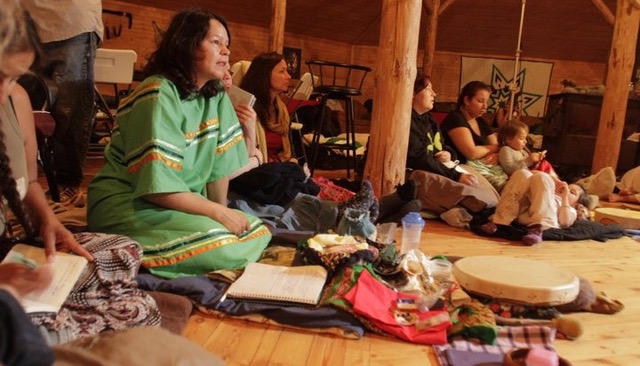 New analysis finds that Indigenous-led health care partnerships improve health outcomes
April 2, 2020 —
A new analysis in the Canadian Medical Association Journal by researchers in the Rady Faculty of Health Sciences and Indigenous elders says evidence is emerging to suggest that Indigenous-led health care partnerships are improving health outcomes in Indigenous peoples.
Indigenous-led health-care partnerships are modes of collaboration grounded in and informed primarily by traditional Indigenous knowledge — maintained and upheld by local Elders, healers and Knowledge Keepers — rather than being grounded in Western medicine, structures and knowledge. They then bring in, or are supported by, biomedical knowledge and expertise as desired.
"Our understanding of wellness as Indigenous Peoples is that to be healthy, we need to be rooted in our identity, which is very spiritual and land-based. We regard the land as a living entity with an intelligence that can be accessed to help heal and guide us," said co-author Dr. David Courchene, Elder and founder of the Turtle Lodge Central House of Knowledge on Sagkeeng First Nation.
These partnerships are providing innovative models of interprofessional collaboration in community-based healing lodges, remote clinics and urban hospitals and are being found to improve holistic (inclusive of mind, body, emotion and spirit) health outcomes, as well as access to care, prevention uptake and adherence to care plans.
Dr. Andrew Hatala, a co-author and assistant professor in community health sciences, Max Rady College of Medicine, said the partnerships are primarily about Indigenous communities taking the lead and having the power to determine their own approach to health care and healing.
"It is important to acknowledge and honour the leading role that Indigenous Elders, healers and Knowledge Keepers play and the steps they are taking to build health care models centred on traditional Indigenous knowledge. These Indigenous-led approaches have become an important feature of the Canadian medical landscape," said Hatala.
The article highlights the need to educate new doctors to be more open to embracing holistic approaches to well-being and to show empathy.
"Indigenous-led approaches to health care address the health inequities that have arisen from complex historical and contemporary traumas faced by many Indigenous communities. They are more responsive and culturally appropriate to revive, support and strengthen the worldviews and lifestyles underlying diverse Indigenous conceptions of health and wellness, particularly in terms of nurturing the spirit," said the authors in the article.
Dr. Sabina Ijaz, a co-author and board member and volunteer at Turtle Lodge Central House of Knowledge and volunteer medical consultant at Giigewigamig First Nation Health Authority and Giigewigamig Traditional Healing Centre, said that Indigenous peoples seeking health care in Canada often do not have the same access to medications or timely services and are frequently re-traumatized by the care they receive.
"Health services for Indigenous Peoples are often culturally unsafe and can be traumatic. Social determinants of health that include racism, poverty, cultural dislocation and powerlessness have historically, and continue to, impact Indigenous Peoples on a daily basis," said Ijaz.
The article provides numerous examples of these types of partnerships in Canada and around the world, documenting how they have improved health outcomes.
The Turtle Lodge and the Giigewigamig Traditional Health Centre, located northeast of Winnipeg, are local examples. The Turtle Lodge, built in Sagkeeng First Nation in 2002, hosts frequent events (round tables, ceremonies, conferences and gatherings) to address health issues in a traditional way.
"The main focus of the lodge has been on taking a ceremonial approach to teaching and healing," said Courchene.
They have built a network of partnerships with health-care providers, administrators, Elders, healers, Knowledge Keepers, political leaders, and international visitors. Youth and community members on staff work on behalf of Giigewigamig's efforts to educate and reintroduce traditional healing and teachings to community members.
Additionally, Ijaz said Indigenous medicine can offer huge insights into addressing mental health, addictions and chronic disease in more effectively.
"We need to continue to build bridges between Indigenous and Western medicine, creating and supporting Indigenous-led environments of healing and teaching. Both systems have something to offer our general understanding of wellness and medicine," she said.
The article's co-authors are Lindsay Allen M.Sc., Andrew Hatala PhD, Sabina Ijaz MD, Elder David Courchene Hon LLD, Elder Burma Bushie.