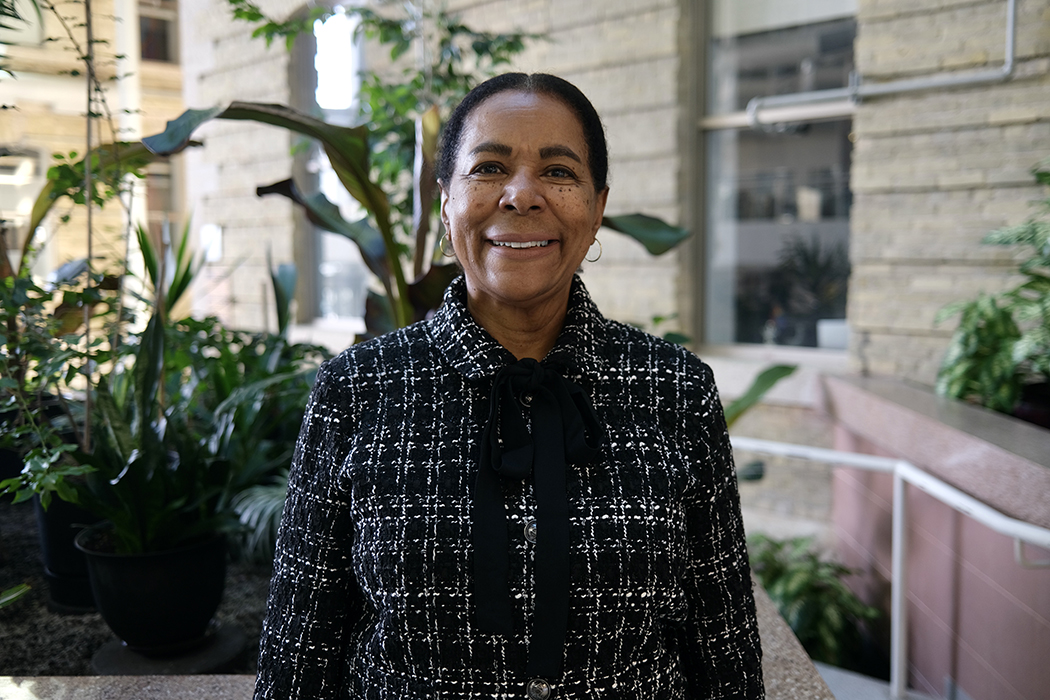 'Inclusion is a right,' says leader of Rady Faculty drive for equity, diversity, inclusion
January 12, 2023 —
Valerie Williams is inspired to do the pivotal work she does in the area of equity, diversity and inclusion because she believes deeply that every person – regardless of their identity – should be treated with dignity.
"I like to see any wrongs righted," says Williams, director, Equity, Diversity and Inclusion (EDI), Rady Faculty of Health Sciences. "It is wrong to discriminate. So I feel passionately about every person being treated with dignity and respect."
Williams took on the director role nearly a year ago, after working as an EDI facilitator with UM human resources for the previous 10 years. She has a certificate in human resources management through UM and also holds Chartered Professional Human Resources and Canadian Certified Inclusion Professional designations.
Her expertise is in developing, carrying out and managing strategic initiatives that strengthen EDI.
"Let's embrace our diversity," she says. "Let's create a culture where if we witness or experience discrimination, we speak up with kindness and compassion to build understanding."
Williams' goal when starting the position was to bring the Rady Faculty community together, create progress in the area of EDI and build an effective team. She's been busy with several projects and initiatives that align with the Rady EDI strategy.
One initiative is the Rady Learner Diversity Survey, an optional demographic survey of students. The results are giving Williams and her team insight into learner diversity in the Rady Faculty's colleges and departments.
Williams has also overseen a series of workshops and given talks related to EDI. She was recently a facilitator for a session titled Equity-based Practices for Learner Selection held by the Pediatrics Medical Education Interest Group.
Williams is working hard to build relationships and serve the five Rady Faculty colleges, which educate students in dentistry/dental hygiene, medicine, nursing, pharmacy and rehabilitation sciences.
"Let's look after ourselves," she says. "Let's recognize this is difficult work and we have to sometimes step back from it. Let's leverage every opportunity we have to promote equity, diversity and inclusion, using an anti-oppression and anti-racism lens."
Dr. Tina Chen, distinguished professor of history and executive lead (equity, diversity and inclusion) for the university as a whole, says Williams has been a leader for EDI at UM.
"As one of the first people hired to advance EDI at the university, Val has tirelessly built networks for transformative change," Chen says. "Val has been a strong advocate of decentring whiteness and ableism in EDI work, and thus ensures that the University of Manitoba incorporates anti-racism and anti-oppression into all of the work.
"It's a true pleasure to learn, listen and act in collaboration with Val to make the university a more accessible, equitable, diverse and inclusive community."
Williams' plans for the new year include the creation of an anti-ableism strategy, which she says could be the first of its kind at a post-secondary institution in Canada. The focus this year will be on equitable hiring practices and encouraging accountability for every individual in the Rady Faculty, she says.
Williams would also like to create an advisory circle. It would be made up of five or six people, including an Elder, who would advise her using the racial justice approach.
While Williams and her team are working hard to implement equity, diversity and inclusion initiatives, she says it will take all of us to make a difference.
"Each one of us has a responsibility to create an inclusive environment," she says. "Inclusion is not a privilege. Inclusion is a right – everyone's right."