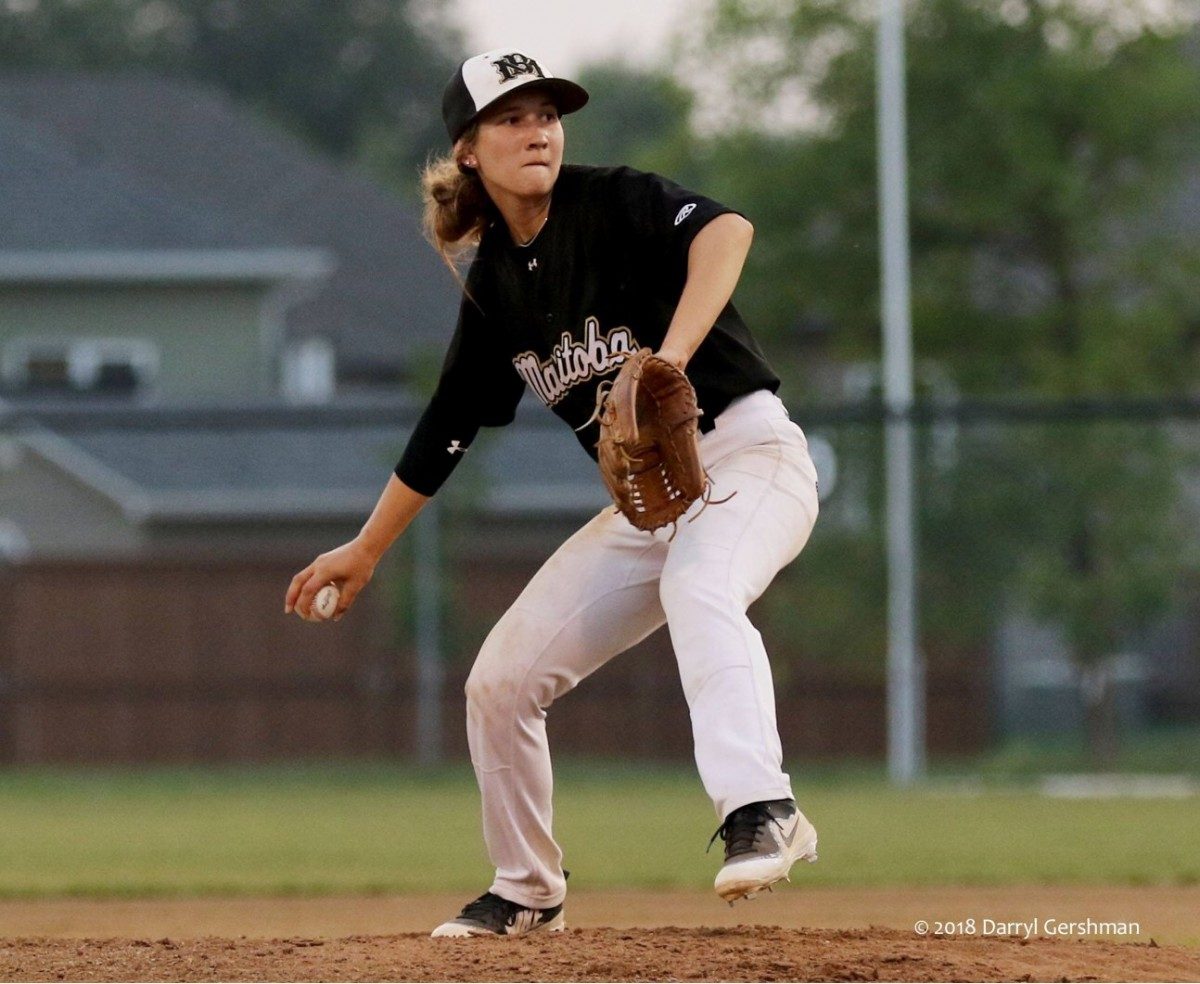 In a league of her own
Kinesiology student named Manitoba's female baseball player of the year
November 9, 2018 —
Brittany Langlais says she's always felt at home on the baseball diamond; digging her cleats into the pitcher's mound, staring down opposing batters—and then usually striking them out.
So many strikeouts, in fact, that Baseball Manitoba couldn't help but notice. For her efforts this season, the province's baseball body named her its female player of the year.
"The award means a lot to me," says Langlais, a student in the Faculty of Kinesiology and Recreation Management, majoring in kinesiology.
"It means the hardwork I've put in over the year hasn't gone unnoticed."
Langlais played plenty of baseball this year en route to the honour. Stops with Team Manitoba at the 21U Women's Championship, a city title with the Triple-A North Winnipeg Pirates, and Baseball Canada Women's Prospect Team in July, where she helped the team to a silver medal in the senior invitational event.
As the season winded to a halt, Langlais was preparing herself for full-time studies. Then Australia came calling. A semi-professional baseball club in New Wales, the Rouse Hill Wildcats, was interested in inking her to a deal. It was an offer she couldn't refuse.
"This opportunity has allowed me to compare myself to players across the world and has allowed me to see what I need to achieve and work on if I want to compete with the best people in the world," Langlais adds.
She's been keeping up with her course work through correspondence. Langlais says the faculty's academic advisors were nothing short of supportive and helpful in her transition to Australia while earning her degree.
"Not only did they suggest which courses I should take by correspondence, and which courses I needed to take to remain in the faculty while taking this opportunity of a life time, they also left me feeling great about my decision to move across the world and were very supportive," she adds.
The Garson, Man. native plans on playing one season down under, then returning home to Manitoba in time for the summer baseball season. Her sights are set on earning a roster spot on the national team for a chance at the 2020 World Cup.
She's also eager to continue on her path to earning her degree, and then potentially pursue studies at the graduate level.
"I would like to be a physiotherapist or occupational therapist in the end, although I have not 100 per cent decided as I have a few years to think on it."