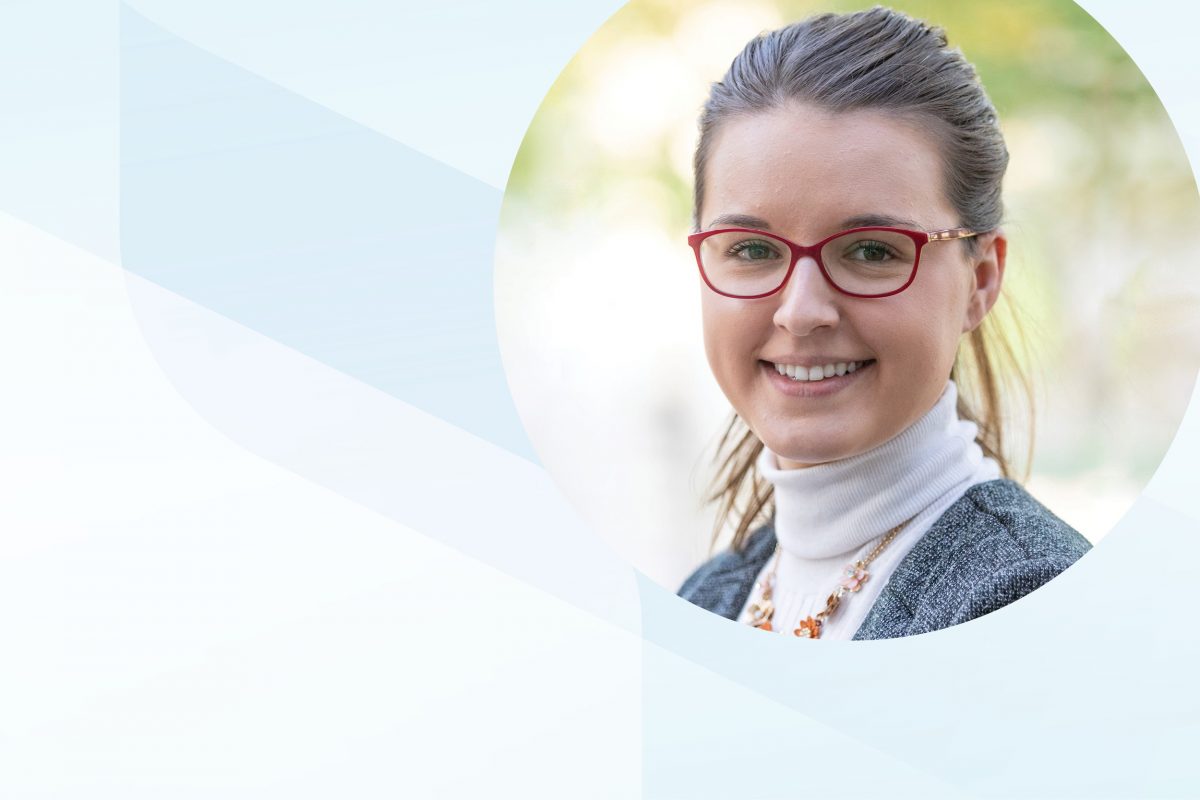 Improving treatment options for postpartum depression
Kayla Joyce joins UM as a 2022 Vanier Scholar
November 28, 2022 —
For years, Kayla Joyce bore witness to the struggles of substance use among those closest to her. She saw how those identifying as women, in particular, had fewer treatment options and faced greater stigma. Now as a graduate student, she is using research to take action against this inequality.
Joyce is one of nine Vanier Scholars who is attending UM this year – the highest number in the university's history. Vanier Scholars are considered Canada's top graduate students and receive a scholarship of $150,000 over three years towards their research.
UM Today caught up with Kayla Joyce to learn more about her and the research she'll be doing at the department of clinical psychology in UM's Faculty of Arts.
WHAT WILL YOU BE WORKING ON IN THE FACULTY OF ARTS?
My research focuses on the treatment of co-occurring substance use and depression in postpartum individuals. Since the onset of the COVID-19 pandemic, there has been alarmingly high rates of mental health concerns among postpartum individuals. Despite a critical need for more postpartum social supports and mental health services, there are significant barriers to accessing these services. Postpartum individuals are reporting high levels of distress and low coping resources, which can lead to increased substance use to cope with depressed mood. Indeed, my recent research showed a 40 per cent increase in substance use in mothers one month into the COVID-19 pandemic; those who used substances to cope with their depression were more likely to increase their substance use. My PhD research aims to build on this work by examining how an existing program for postpartum individuals with depression influence outcomes for those with co-occurring depression and substance use concerns. I will work hand-in-hand with postpartum individuals using interviews to identify how we can develop better treatment programs for postpartum individuals struggling with depression and substance use concerns.
HOW WILL THIS IMPACT THE BROADER COMMUNITY?
To address the unmet needs of individuals with substance use concerns, I will use my studies and career path to address large-scale problems in the addiction field, devote my time to providing others with evidenced-base knowledge on substance use, work alongside those with lived experience, and mentor others using an equity-based approach to push the addiction field beyond what I could accomplish alone. I envision a society where individuals are no longer ashamed of having an addiction and are not underrepresented or underserved by society; a vision I will devote my career to as an aspiring clinical psychologist.
WHERE DO YOU SEE YOURSELF IN FIVE TO 10 YEARS?
I envision myself having a private practice or hospital-based career where I offer treatment and assessment to individuals with a range of mental health concerns. My prominent clinical interests include depression, post-traumatic stress, substance use, psychosis, and personality disorders. I also hope to balance my clinical work through involvement with research focused on the efficacy of psychological treatments.
HOW DOES IT FEEL TO RECEIVE A VANIER SCHOLARSHIP?
To say I am honored would be an understatement. As a graduate student, I have often felt like I was in over my head when trying to succeed in various areas, such as research, clinical work, course work, and volunteerism. I would be lying if I said the thought of giving up on graduate school has never crossed my mind at times. Being awarded with the Vanier scholarship highlights for me the importance of persistence. Persistence with trying to have manuscripts published after several rejections and continuing to apply for scholarships (as this was not my first time applying to PhD-level funding, nor the Vanier), to name a few.
Meet the rest of UM's nine Vanier Scholars.