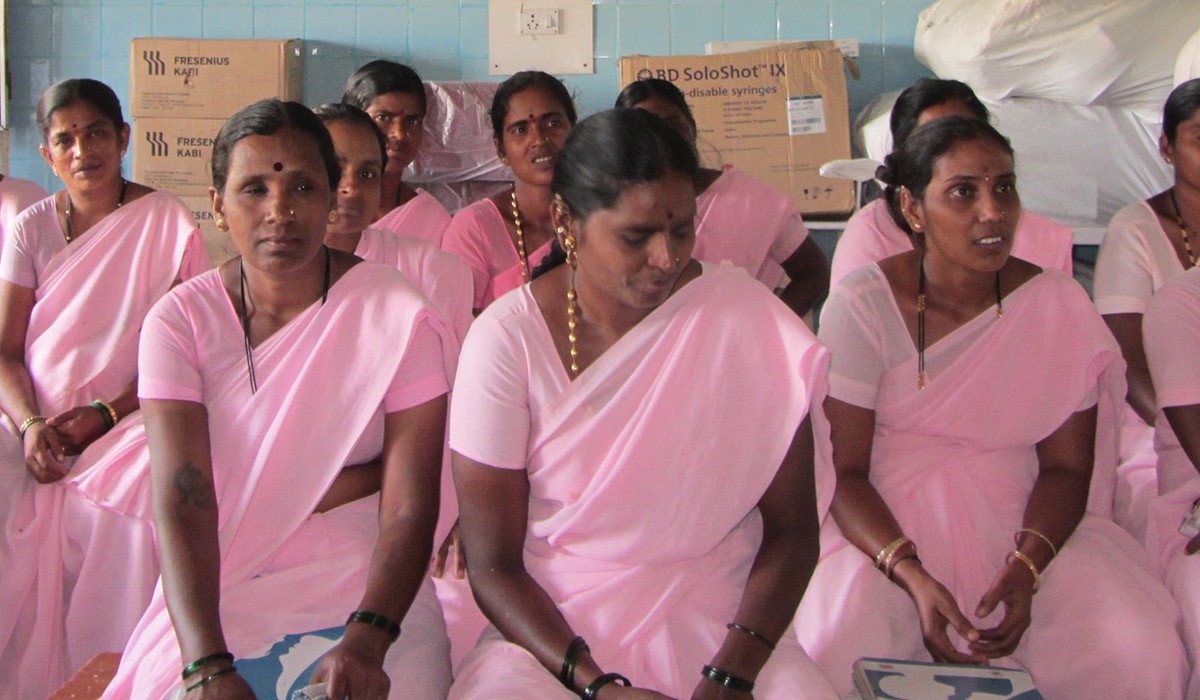 Improving health in India's poorest regions
February 2, 2015 —
James Blanchard recalls a recent visit to a small shanty village on the outskirts of Lucknow, the capital city of the state of Uttar Pradesh in Northern India. He was in a ragpickers colony, where the rows of uneven huts are constructed using layers of discarded cloth salvaged from nearby dumpsters and landfills.
Living in this impoverished resettlement colony are groups of people who come from other cities, a large number hailing from Bangladesh or its surrounding borders. They earn a living by gathering bits of cloth; some gather plastic bottles and bags to repurpose into other items — a bit like an up-cycling system, explains Blanchard, director of the Centre for Global Public Health (CGPH) in the Faculty of Health Sciences.
"In these villages you have women who are trying to have healthy lives and healthy babies, but quite often are facing various barriers in terms of accessing care, [barriers that] can vary from knowledge to finances or gender roles and lack of power in making decisions related to their own health," says Blanchard, who is also a professor in the departments of community health sciences and medical microbiology and a Canada Research Chair in Epidemiology and Global Public Health.
In June, the CGPH announced it had received funding from the Bill & Melinda Gates Foundation to establish a Technical Support Unit (TSU) led by a team of global public health experts from the university's College of Medicine. Blanchard is principal investigator on the project, which includes co-principal investigators: Lisa Avery, an assistant professor in the departments of community health sciences, obstetrics, gynecology & reproductive sciences, and medical microbiology; Maryanne Crockett, an associate professor, in the departments of pediatrics & child health and medical microbiology; and Stephen Moses, a professor in the departments of medical microbiology and community health sciences, where he also serves as head of the department.
Through the five-year $21.1-million project called "Technical assistance to the Government of Uttar Pradesh to improve health, nutrition and development coverage and outcomes," the TSU's goal is to support the government and to increase the efficiency, effectiveness and equity of the delivery of key reproductive, maternal, new born and child health services and outcomes.
At 210 million, Uttar Pradesh is the country's most populous state: close to 78 per cent live in rural areas across nearly 100,000 villages. According to the Census of India's 2012-13 Annual Health Survey, it also continues to report the highest maternal mortality ratio, of 258 per 100,000 live births, and an infant mortality rate of 72 deaths per 1,000 live births.
"The reason we were selected, we believe, and we've been told by the Gates Foundation, is because we have the capacity, capability and track-record of incorporating learning and data into the development and design of programs," explains Blanchard. "The 'program science' approach [a newly evolving approach to prevention science] is really a unique thing for the U of M."
One facet of program science is incorporating research into the development and implementation of evidence-based interventions. This approach also provides information on how interventions can be adapted to specific situations or communities.
Avery focuses her research on inequities in health care access and outcomes, particularly the determinants of health and their impact on sexual and reproductive health (including maternal, neonatal and child health) of low and middle income societies.
"The old way of doing things were you would get funding, you would do a program and you would try to get the government to be involved, or like what you've done, and roll it into something," she says. "We've found through experience, especially our previous India projects, by directly linking to and partnering with the government from the start, they became involved with all decision-making steps from the beginning and it was much easier to take something to scale and make it sustainable."
Avery adds that in order to enable sustainable change, experts are embedded in the government system to provide technical support. "Our innovation is working at the community, health facility, and policy-making level, with data, monitoring and evaluation at each tier."
At the outset of the project, the TSU completed a rapid assessment of the potential critical needs or gaps. With this particular project, this involved mapping health care facilities and services and qualitative research within the community in order to fully understand the issues and impact on utilization or behaviors at the community level, Avery explains.
One approach is to utilize frontline health workers, such as India's accredited social health activists (ASHAs). Instituted by the Government of India's Ministry of Health and Family Welfare as part of the National Rural Health Mission, these women are trained to act as health educators and promoters within their communities.
"They have learned to track women and their children across the continuum of care in a continuous manner. We use that information to micro-plan," says Avery. "They are then able to actually identify who potentially isn't accessing care or … not getting appropriate nutritional services. The ASHA then puts that all together to try and problem solve with the woman and the community."
The ASHAs relay back issues related to social, cultural, gender and resource constraints. Once the TSU establishes the constraints within a specific village, they work with the frontline workers towards finding solutions.
"That's our mandate. We want to be able to give them the tools on how to problem-solve around the issues that are facing them as individuals or as a community," Avery explains. "We know that communities often have their own solutions, but having them come together and brainstorm informs our programs. We incorporate the issues they are problem-solving around and the solutions they come up with into broad program content."
Avery says she sees similarities to her clinical and program work in Winnipeg. "It isn't just women overseas who potentially lack power or who have limited education. Sometimes some of the work we're actually doing overseas is based on learning from here."
She thinks people often forget that in Canada, especially in Manitoba, there are a large number of vulnerable, marginalized populations living in remote communities, similar to the ones in Uttar Pradesh.
"We've developed innovation models to try and better serve the health-care needs of Manitoba," says Avery, pointing to the College of Medicine's J.A. Hildes Northern Medical Unit, which provides medical services for northern and remote residents who are temporarily in Winnipeg, and helps to train medical residents to become family physicians who will work in northern and remote locations.
"I think that's actually influenced a lot of the type of thinking we do with our global health programs and vice-versa. Many of these issues are far reaching and impact all of us in some way or another. The world is a small place; what happens locally also impacts things globally and the other way around."
Avery hopes that by the end of the five-year funding, the TSU has worked itself out of a job and that the women and children in Utter Pradesh will be doing much better than they are today.
Blanchard visited the ragpickers colony just days before he got on a plane back to Winnipeg to speak at the formal Gates Foundation funding announcement. Looking back, he remembers thinking, as he stood in the impoverished community: "It was really something, the fact that this project, which at one level is an academic institution in Winnipeg, Canada, is able to actually project its skills. Our experts in obstetrics, gynecology, and our trainees — we're able to basically take the resources, experience and expertise that we have and develop programs.
"It really struck me that a project like this really does have an impact within the village, within these homes."
Story originally appeared in the Winter 2015 issue of Research Life.
Research at the University of Manitoba is partially supported by funding from the Government of Canada Research Support Fund.