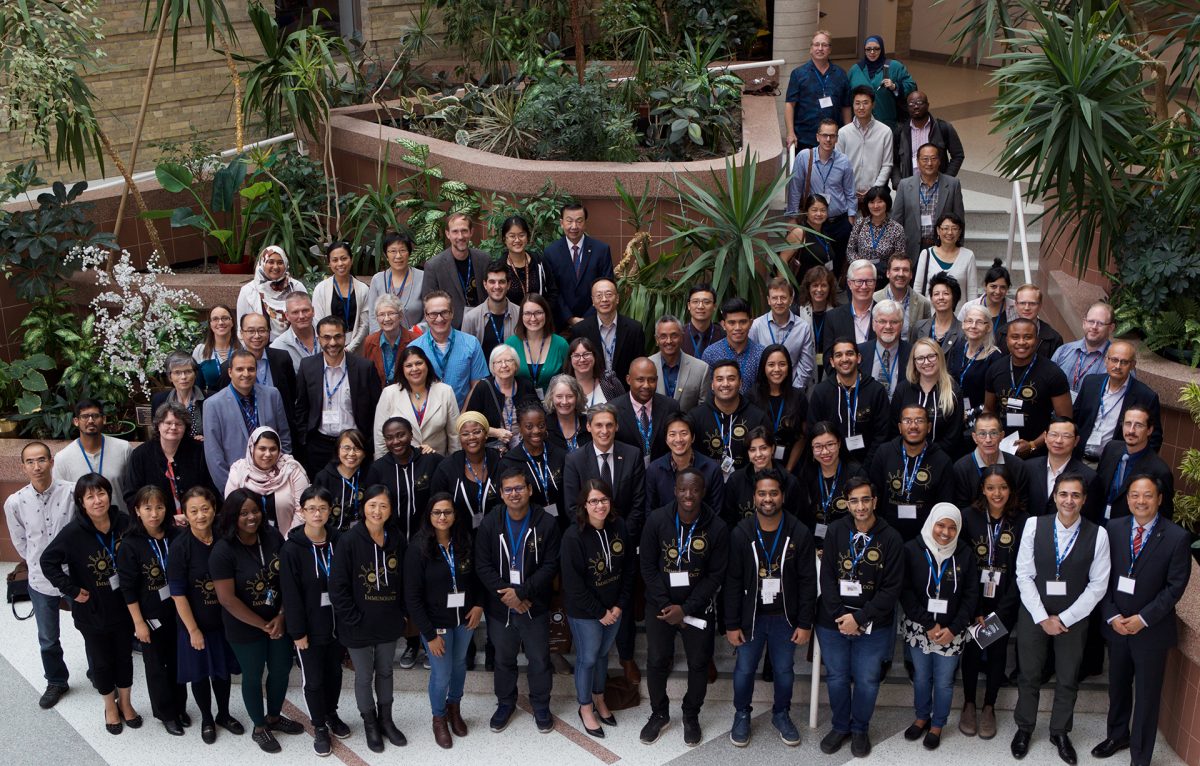 Canada's first department of immunology celebrates 50th anniversary symposium, accomplished alumni
October 9, 2019 —
The Max Rady College of Medicine's department of immunology marked its 50th anniversary with a symposium entitled "Immunology: Translating Creativity into Better Health," an anniversary dinner and the celebration of immunology education and research at the University of Manitoba.
The event attracted nearly 100 alumni, faculty, graduate students, trainees and researchers.
Events took place Sept 26-27, 2019 at Bannatyne Campus and included an opening reception, poster session, dinner at Ft. Gibraltar and a guided lab tour. Distinguished University of Manitoba immunology alumni from academia, clinical, industry, government and not-for-profit sectors presented a series of lectures reflecting their expertise and the broad reach of the department's graduates.
In his opening remarks, Dr. Aaron Marshall, head of immunology, noted how the field of immunology has evolved since the department's founding in 1969.
"Immunology has really grown at an incredible pace over the past 50 years. It's moved from being a minor offshoot of infectious disease research to being, in my mind, a central pillar of the biomedical sciences, and a leader in innovations in treatment of chronic diseases and cancer," said Marshall.
"The department has received international recognition for major research involving fundamental biology of the immune system, translational immunology and collaboration with industry. After half a century, the impact of the Max Rady College of Medicine's immunology department is felt world-wide," said Dr. David Barnard, president and vice-chancellor, University of Manitoba.
Dr. Digvir Jayas, vice-president (research and international), University of Manitoba, added, "The reach of the Department of Immunology has been felt across Canada, in the US, the UK and beyond. Since 1995, $40 million in research has been garnered by immunology faculty. This is very impressive for a small department."
The department of immunology was founded in 1969 by a group of 35 visionary scientists and trainees from McGill University who seized the initiative to spearhead something new in Winnipeg.
Today the department is known and respected internationally as a unique centre for immunology research and teaching.
A major strength of the program is the excellent research environment, reflected in the strong research faculty, award-winning students, and high levels of external research funding and availability of leading-edge facilities.
Over the past 50 years, the department has produced 247 graduates. Department of Immunology faculty members include six Canada Research Chairs (two current), three endowed clinical chairs, three Manitoba Health Research Council chairs and one industry-partnered chair.
Strong scientific links exist with the Children's Hospital Research Institute of Manitoba, Research Institute of Oncology and Hematology, Manitoba Centre for Proteomics and Systems Biology, National Microbiology Laboratory and Health Sciences Centre, all located on or nearby the Bannatyne campus.
Dr. Kent HayGlass, professor and former department head, gave the audience a look back at the department through the years, sharing many anecdotes and old photos to the delight of the crowd. He talked about what the department could learn from its own success, when so many immunology departments at other institutions have disappeared or changed their focus.
"You need to be willing to take a chance, do different things, and be hungry for success," he said, "You have to decide that you're just going to give it a go, sometimes it doesn't work as well and other times it leads you to places you wouldn't have expected, which are far better than your goal."
Immunology graduate student Ashley Ste-Croix, paid tribute to the gathered alumni and, like HayGlass, pointed toward a promising future for the department.
"Every day we are mentored by incredible individuals, much like all of you here today," she said, "You teach us about the discoveries of the past and push us to somehow use that knowledge to dig even further so that we can push the boundaries of immunological studies and innovations."
University of Manitoba alumnus Youhai Chen, MD, [PhD/93], professor of pathology and laboratory medicine at the University of Pennsylvania's Perelman School of Medicine, delivered the keynote lecture titled "New Immune checkpoints for cancer and inflammation: From c-Rel to TNFAIP8 family." Chen was a student of the department founder, Dr. Alec Sehon, and is a recipient of the Colyton Prize for Autoimmune Research.
Other notable alumni who presented at the symposium: http://umanitoba.ca/faculties/health_sciences/medicine/units/immunology/media/UM_Immunology_50th_Program_V5_FINAL_28_pgs.pdf