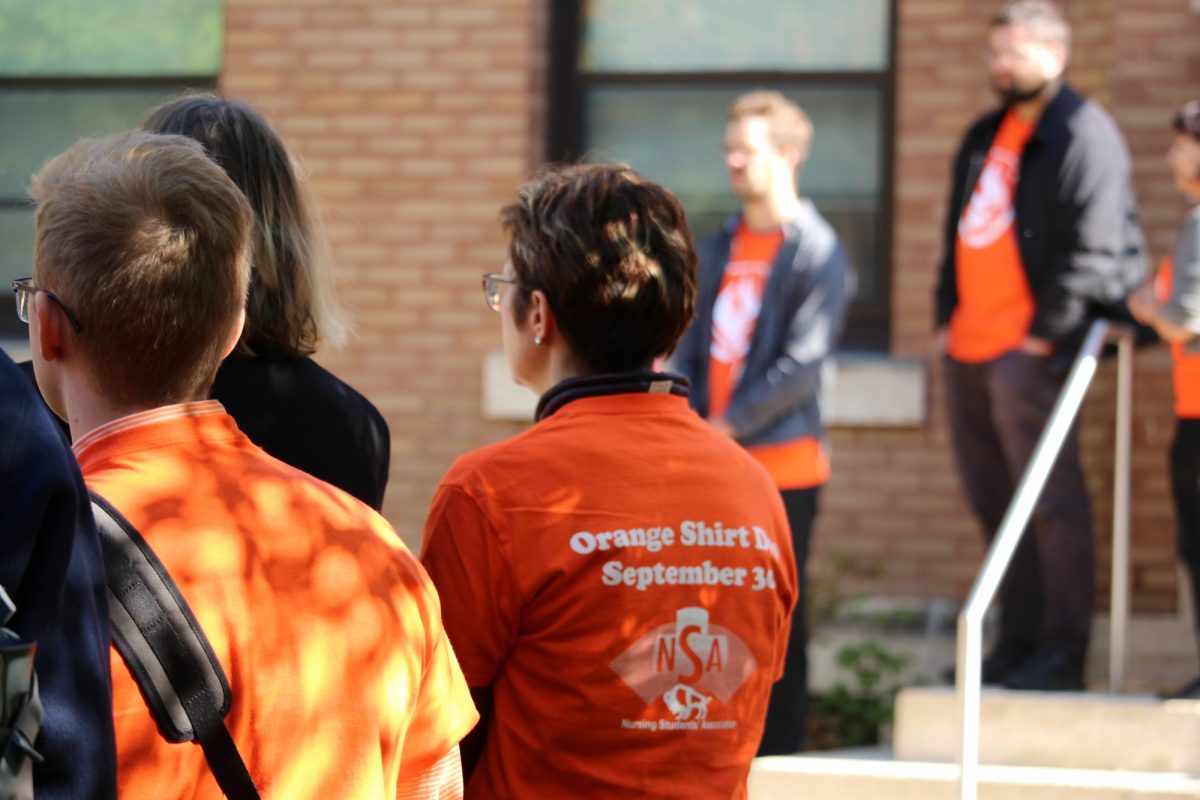 Hundreds walk in solidarity for Orange Shirt Day
October 4, 2019 —
You couldn't miss them as they marched on Ft. Garry campus from the Helen Glass Centre of Nursing to the National Centre for Truth and Reconciliation (NCTR) on Sept. 27. Over 200 people, including students, staff and faculty from the College of Nursing, Rady Faculty of Health Sciences and the Faculty of Education, dressed in orange and walked in solidarity for those affected by Canada's residential school system.
Orange Shirt Day is an annual event held in honour of Phyllis Webstad, a residential school survivor who had her new orange shirt taken away on her first day of school in Williams Lake, B.C. At the U of M, the annual walk is organized by the Nursing Students' Association (NSA).
"The history and the story of our residential schools, and what the children experienced at that time, should always be remembered," said Aderin Solaovafisoye, a fourth-year nursing student who takes part in the walk annually. "This event acknowledges that something bad did happen and we should work toward a future that is better for everyone."
The day began with an opening prayer and song by Elder Carl Stone, a student, spirit and cultural advisor with the Indigenous Student Centre. He then led the walk with Elder Elaine McIntosh, holding a braid she made that represents intertwining spirits and the community.
Following the walk, the NSA renewed its pledge to practice culturally-safe nursing care in partnership with Indigenous people and their families. Everyone present was then given the opportunity to pay tribute to those affected by residential schools by saying a prayer and throwing tobacco into the sacred fire.
College of Nursing dean Dr. Netha Dyck said it was an honour and a privilege to commemorate Orange Shirt Day, which she noted had the largest turnout in the college's five-year history of hosting the event.
The event was organized by nursing students River Steele, Sochimaobi Nweze, Oghogho Okoro and Chloe Koop, along with education student Kristen Flattery and representatives from the Aboriginal Nursing Cohort Initiative (ANCI).
Steele, who also emceed the event, said he was impressed by the turnout and the diversity of the crowd.
"I'm really glad that this started from the Nursing Students' Association," he said. "This started from non-Indigenous people acknowledging what happened and they wanted to take direct action to change things. I think it's important to see people support us and stand in solidarity with us, and that they want to raise awareness for everyone else in this community."
Nationally, Orange Shirt Day is held every Sept. 30, but organizers decided to hold the event on Sept. 27 to work it into the schedules of the nursing and education students.
Steele said there was some concern about attendance when the Winnipeg Climate Strike, a high-profile protest inspired by Swedish teenage activist Greta Thunberg, was announced for the same day at the Manitoba Legislature.
"There were definitely a lot of people here again this year, even with the climate strike going on, which we didn't plan for," said Steele. "A lot of people found time for both, which says a lot."