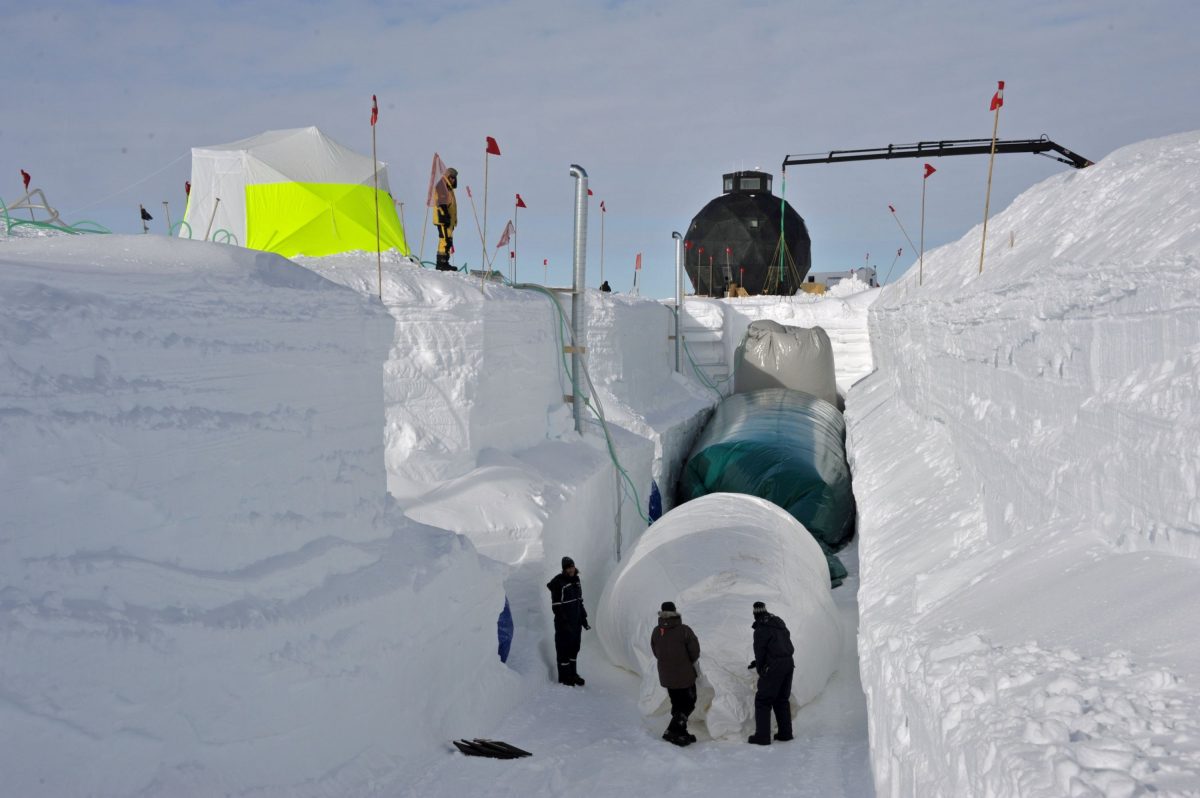 How fast can Greenland flow?
Researchers hope to reconstruct 100,000 years of Greenland ice flow history and you can follow their progress through an online diary
April 25, 2023 —
As the world continues to warm in response to human activities, glaciers and ice sheets continue to melt, which leads to sea-level rise.
Scientists, including Dorthe Dahl-Jensen, Canada Excellence Research Chair in Arctic Ice, Freshwater-Marine Coupling and Climate Change, are studying how this happens by drilling and retrieving ice cores from the Northeast Greenland Ice Stream – and you can follow along through their field diary.
One way that a big ice sheet like the Greenland Ice Sheet can add to sea-level rise involves changes in glacial dynamics. What's that? Simply put, a glacier or ice sheet isn't just a pile of snow and ice – it's an actively flowing pile of snow and ice. The snow and ice at the top of the Greenland Ice Sheet is constantly moving toward the coast, and when it reaches the ocean, it calves off icebergs.
This motion is slow – ranging from less than 1 cm/day in the slow places to over 10 m/day in the fastest places – but recently, ice in the northeast of Greenland has started to speed up. The faster the ice flows, the more icebergs it produces – which means sea-level rise. About half of sea-level rise from Greenland is from extra melting, but about half is from this accelerated flow.
This begs a question: Will Greenland keep flowing even faster? And how fast can it flow, anyway?
That's where the "East Greenland Ice-core Project ("EastGRIP") comes in. The goal of this international collaboration is to drill an ice core 2,550 m deep, all the way to the bedrock.
Ice sheets form when layers of snowfall each winter in Greenland are pressed together, squeezing out (nearly) all the air that makes snow light and fluffy until it becomes solid ice. Those annual layers remain detectable, though, so similar to counting tree rings, we can analyze layers of ice to understand the history of the Greenland Ice Sheet going back about 100,000 years.
Of particular interest to the EastGRIP project is that any deformation of those layers will gives us evidence of how the ice in northeast Greenland has flowed in the past. Understanding the past will help us project what's possible in the future.
Drilling this ice core is no easy task. Northeast Greenland is remote and cold (-20°C in May is normal). With no permanent settlements on the ice sheet, the scientists must bring everything they need themselves (and take it back when they're done). Having 2,550 m of ice is a lot to store and manage, and even in cold Greenland, exposure to the summer sun and atmosphere can damage the ice. Therefore, the scientists use bus-sized balloons as molding for giant snow-tunnels in which to do their work. Check out the "Making of a Drill Trench" video to see how to make a tunnel out of a balloon!
This all started back in 2016, but it takes multiple years to drill 2.5 km deep. Additionally, this project was interrupted by the COVID-19 pandemic. Only now in 2023 does the team, which includes University of Manitoba's Canada Excellence Research Chair Dr. Dorthe Dahl-Jensen, aim to complete the drilling phase of the project.
You can follow their progress via the "Camp Life" field diaries, which includes a virtual 360-degree guided tour, watch a bird's eye view of camp, or follow the EastGRIP ninja LEGO figures communicating life and science from the camp.